All the losing that NBA teams like the Philadelphia 76ers and Milwaukee Bucks did throughout the 2013-14 season to earn those ping-pong balls may finally pay off Tuesday during the draft lottery.
While it is anyone's guess as to which team will land the top pick, we can project the entire first round in an updated mock draft. The order of the selections is borrowed from the latest mock from Draft Express, since it has not yet been determined.
1. Milwaukee Bucks: Andrew Wiggins, Kansas
With so much time between the end of the college basketball season and the NBA draft, it's easy to fall victim to over-speculation. However, sometimes it's as simple as taking the best player available with the first pick.
The Milwaukee Bucks need a face of the franchise, and that's exactly what the dynamic Andrew Wiggins can be. He is an athletic specimen who can score from anywhere on the floor, is a solid rebounder and a better defender than Jabari Parker.
This is a no-brainer.
2. Philadelphia 76ers: Jabari Parker, Duke
Sure, Wiggins may be the better player, but Parker is more than capable of being a franchise-changing prospect as well.
He needs to improve his defense and overall athleticism a bit, but his post-up game is what makes him intriguing as a top pick. He gradually improved down low for Duke as the season progressed, which makes him all the more dangerous because he can hit from behind the three-point line as well.
3. Orlando Magic: Dante Exum, International
A backcourt of Victor Oladipo and Dante Exum is flat-out frightening for opponents. That type of athleticism is borderline unfair, and ESPN Stats & Info, as well as Jeff Goodman and Chad Ford of ESPN, put Exum's athleticism in context:
Dante Exum's 3/4 court sprint time of 3.19 is better than Chris Paul (3.22), Steph Curry (3.28), Damian Lillard (3.34)

— ESPN Stats & Info (@ESPNStatsInfo) May 16, 2014
Dante Exum had a 31.5 standing vertical and a 34.5 inch max vert. Solid.

— Jeff Goodman (@GoodmanESPN) May 16, 2014
Dante Exum with a 10.75 sec lane agility drill score. Ran a 3.19 second 3/4 sprint. Both scores top among all 2 guards he's testing with.

— Chad Ford (@chadfordinsider) May 16, 2014
We are talking about a point guard in a small forward's body who flies in the open court, finishes at the rim, hits from the perimeter and plays stifling defense. The Orlando Magic will be set for years with him at the helm.
4. Utah Jazz: Joel Embiid, Kansas
Who would you rather have?
That means the Utah Jazz end up with the biggest risk/reward pick in the entire draft.
Joel Embiid has the potential to be a game-changing center who controls the lane on defense with blocks and contests, scores from the low post and swallows up rebounds, but he was crippled by injuries at the end of the college season and is still only 20 years old.
That is concerning.
5. Boston Celtics: Marcus Smart, Oklahoma State
The Boston Celtics could use a consistent playmaker in the shooting guard spot, and Marcus Smart is the way to go.
Smart can hit the three, attack the rim off the bounce, find open teammates and is a terrific defender. His overall game was overshadowed by Oklahoma State's up-and-down season and his own issue with a fan at Texas Tech, but we are still talking about one of the most dynamic players in the draft.
6. Los Angeles Lakers: Noah Vonleh, Indiana
Presuming the Los Angeles Lakers don't bring back Pau Gasol, they could use an interior presence next year and for the foreseeable future.
Noah Vonleh may be the best rebounder in this draft class, and the fact that he is still a teenager means there is plenty of development ahead. If he gradually improves his offense and continues to be a rebounding and shot-blocking force, Vonleh could turn into a legitimate superstar.
7. Sacramento Kings: Julius Randle, Kentucky
Much of what was said about Vonleh can be transferred to Julius Randle as well, although he may not have quite the upside as the Indiana product.
Still, Randle is a terrific rebounder and solid post scorer. He does have a tendency to go left almost every time he attacks the rim, but Randle is one of many franchise-changing talents in this draft.
8. Detroit Pistons: Aaron Gordon, Arizona
The stretch of power forwards continues with Aaron Gordon, but the Arizona product is the most athletic prospect of the bunch.
The Detroit Pistons saw their offense stifled far too many times this season, and Gordon can get out in transition and convert on easy opportunities. He is also a solid rebounder and shot blocker, but he will go in the top 10 for that speed and versatility.
9. Cleveland Cavaliers: Doug McDermott, Creighton
Doug McDermott is the best shooter in this draft class, and that skill set comes in a power forward's body.
He can help the Cleveland Cavaliers on the glass, but more importantly he can help an offense that ranked 22nd in the league in points per game put the ball in the hoop. He can clearly score from outside, but he has an underrated interior game as well.
10. Philadelphia 76ers (from Hornets): Gary Harris, Michigan State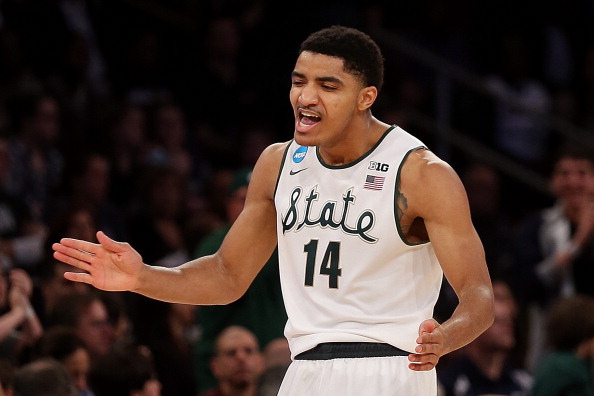 Bruce Bennett/Getty Images
The 76ers got their stretch forward in Parker, and now they add a shooting guard to the Parker, Nerlens Noel and Michael Carter-Williams mix with Gary Harris.
Harris will help space the floor for those other weapons with his lethal three-point stroke, and he will also bring a bit of Michigan State toughness to a defense that could use some.
11. Denver Nuggets: Adreian Payne, Michigan State
This is admittedly a bit early for Adreian Payne, but all it takes is one team to fall in love with his versatility and overall game.
Payne is a rebounding and shot-blocking machine, and he can also force the opposing big men out of the paint by hitting from mid-range and behind the three-point line. Throw in the rim-rattling dunks, and he will be a fan favorite in Denver in no time.
12. Orlando Magic (from Knicks): James Young, Kentucky
The Orlando Magic scooped up Exum earlier to complete their backcourt, and they will use the No. 12 pick to grab an athletic small forward who can get out in transition when Exum and Oladipo create turnovers.
James Young is quick enough to do just that, and he will also hit open shots from the outside when the two guards penetrate and force the defense to collapse.
13. Minnesota Timberwolves: Dario Saric, International
Chris Mannix of Sports Illustrated pointed out that Kevin Love's future in Minnesota is uncertain at best:
Several league execs expect bidding for Kevin Love to get aggressive after lottery. "Flip is going to have a decision to make," said one.

— Chris Mannix (@ChrisMannixSI) May 19, 2014
With the power forward position in flux, the Timberwolves will grab the lengthy and versatile Dario Saric with the No. 13 pick. Saric is far from a replacement for Love, but he will at least give Minnesota some offense and rebounding in the meantime.
14. Phoenix Suns: Rodney Hood, Duke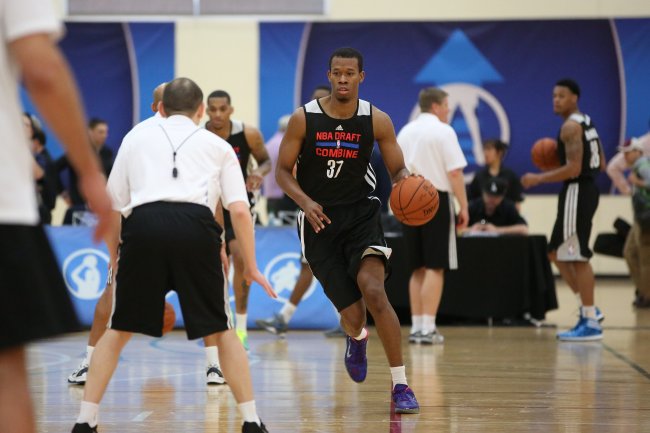 Gary Dineen/Getty Images
Lost in all the Parker love at Duke this year was the fact that Rodney Hood was a lengthy forward who can score from anywhere on the floor and provide stellar defense when engaged.
The Phoenix Suns will use their first of many picks to scoop him up as a potential game changer on both ends of the floor.
15. Atlanta Hawks: Zach LaVine, UCLA
Zach LaVine wasn't a dynamic scorer during his brief stay at UCLA, but his upside and overall athleticism are intriguing for NBA teams.
Those were both on full display at the NBA combine, where he had an impressive showing and undoubtedly helped his stock. His focus at the event should also please front offices, via Michael O'Brien of the Chicago Sun-Times:
I'm not scared of competition. I don't have doubts about myself. I'm not scared of anything. I was really just focused on myself, coming out here and trying to have a good workout. I didn't know about anyone else participating or not participating; I was just trying to do my best.
LaVine will get a chance to do his best in the professional ranks as a top-15 pick.
16. Chicago Bulls (from Bobcats): Nik Stauskas, Michigan
The Chicago Bulls are one of the top defensive teams in the league, but if they ever hope to challenge the Miami Heat in the Eastern Conference they need to find more scoring.
Nik Stauskas provides offense in spades.
The Michigan product is lethal from behind the three-point line, but he can also attack the rim and plays solid defense, which is basically mandatory in Chicago.
17. Boston Celtics (from Nets): Tyler Ennis, Syracuse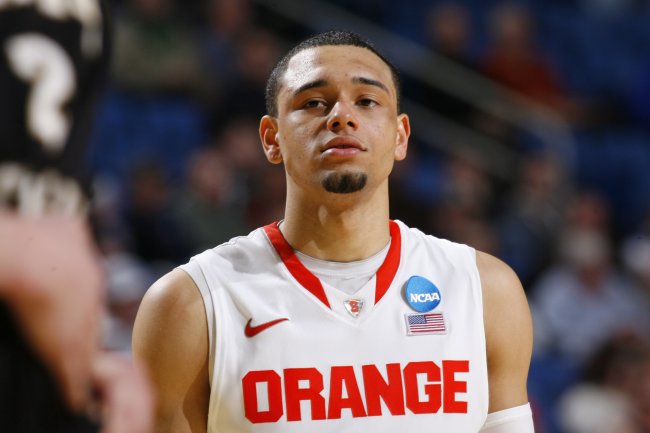 Bill Wippert/Associated Press
Rajon Rondo's future is uncertain at best, so the Boston Celtics will respond by taking a point guard of the future in Tyler Ennis.
Even if Rondo sticks around, Ennis can learn the ropes under one of the best lead guards in the league for a couple of years before eventually taking over in an ideal situation. Ennis is more than capable of asserting his own will in the scoring department, but his true value is as a floor general who controls the pace and involves his teammates.
18. Phoenix Suns (from Wizards): Jusuf Nurkic, International
The Suns already grabbed a versatile forward earlier in this draft, so now they will look down low at No. 18.
Jusuf Nurkic may be something of a project, but he is a physical force down low who can help Phoenix in the shot-blocking and rebounding departments. He may end up as something of a steal in the latter half of the first round.
19. Chicago Bulls: T.J. Warren, North Carolina State
T.J. Warren may be getting overlooked a bit between the end of the college season and the draft because his athleticism doesn't jump off the page like that of other prospects.
We are still talking about the ACC Player of the Year in a conference that featured Parker and Hood. He can score from nearly anywhere on the floor and create his own shot off the dribble, which will both come in handy in Chicago's sometimes stagnant offense.
20. Toronto Raptors: Jerami Grant, Syracuse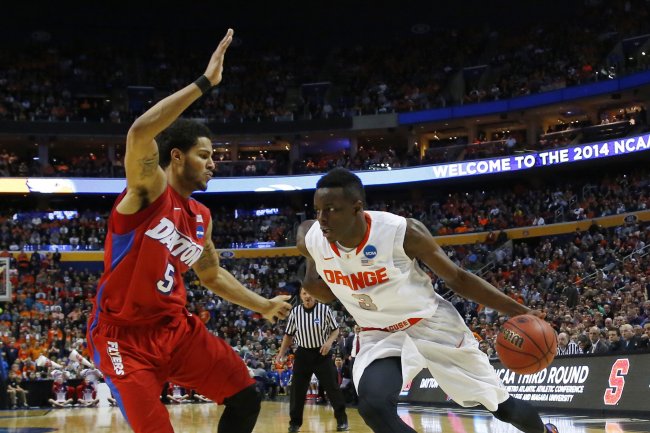 Bill Wippert/Associated Press
Some may see the lack of a true position as something of a red flag for Jerami Grant, but that versatility will be helpful to the Toronto Raptors.
Grant can serve as an athletic power forward or bigger small forward, attacking the rim off the bounce and grabbing rebounds on both ends of the floor. He may have some catching up to do on the defensive end, though, in the man-to-man schemes he will be asked to play at the next level.
21. Oklahoma City Thunder (from Mavericks): Clint Capela, International
Clint Capela has a lengthy wingspan and impressive athleticism for his nearly 7' frame, but he will need to add some strength to bang around down low against the best the NBA has to offer.
Still, he can find a role in the Oklahoma City Thunder's rotation right away because Kendrick Perkins' best years are clearly behind him. If nothing else, Capela can find the open spaces on the blocks when Russell Westbrook or Kevin Durant drive and convert on the easy opportunities that Perkins often struggles with.
22. Memphis Grizzlies: P.J. Hairston, North Carolina/NBDL
The Memphis Grizzlies may get the steal of the draft at No. 22 with P.J. Hairston.
The former North Carolina Tar Heel left the program after off-court issues crippled his college career, but the seasoning he received in the NBDL will come in handy in the Association.
He is a deadeye shooter and can play formidable defense. His offense will be most appealing to a Grizzlies squad that could certainly use a boost in the arm in the scoring department.
23. Utah Jazz (from Warriors): Kyle Anderson, UCLA
The Utah Jazz already scooped up their big man of the future in Embiid, so they will find a backcourt mate for Trey Burke with the No. 23 selection.
Kyle Anderson fits well in Utah because he can do a little bit of everything. He can hit the three if defenses collapse on Burke and Embiid, attack the rim if opponents come out too hard on him, contribute on the glass and spell Burke at the point spot if he needs a breather.
Anderson was a triple-double type player at UCLA, and all of those skills should translate to the next level.
24. Charlotte Bobcats (from Trail Blazers): Cleanthony Early, Wichita State
The Charlotte Bobcats need another playmaker outside of Kemba Walker and Al Jefferson, and Cleanthony Early is one of the more dynamic offensive players in the entire draft.
He can post up, attack the rim off the dribble and drill open three-pointers with ease. If nothing else, he is capable of racking up points as defenders double-team Jefferson in the post and collapse on Walker's penetration.
25. Houston Rockets: Elfrid Payton, Louisiana Lafayette
Ben Watanabe of NESN believes Elfrid Payton is the pick for the Houston Rockets at No. 25:
Payton struggles to put the ball in the hoop and turns it over a lot, but, man, can he go, go, go. His size, quickness and ballhandling ability will fit seamlessly into Houston's system, which desperately needs some oomph at the point.
Anyone who saw the Rockets lose to the Portland Trail Blazers in the first round of the playoffs knows Houston needs more depth in the backcourt.
26. Miami Heat: Jordan Adams, UCLA
Dwyane Wade is still more than capable of being one of the league's top players on a given night, but over the course of a long season he cannot maintain that pace.
That means the Miami Heat could look in the shooting guard section of the upcoming draft with the No. 26 pick. Jordan Adams isn't the most dynamic athlete in the draft, but he certainly finds the basket with regularity and is a solid rebounder, which is another thing the Heat could use more of next year.
27. Phoenix Suns (from Pacers): K.J. McDaniels, Clemson
K.J. McDaniels is the very definition of upside.
He brings impressive athleticism to the table and gets to the rim more effectively than everyone except the top picks in the 2014 class. What's more, he is a bulldog on the defensive side and will frustrate opponents with his physicality.
If only he was a better shooter, McDaniels could find himself getting taken off the board much earlier than No. 27.
28. Los Angeles Clippers: Shabazz Napier, Connecticut
Sometimes the draft is about building depth rather than replacing starters, and that is exactly what the Los Angeles Clippers will do with Shabazz Napier.
The Connecticut point guard carried his squad to a national title by excelling on both ends of the floor, and he is more than capable of giving Chris Paul some breathers when needed. Napier's excellent passing skills will keep the Lob City train rolling, and his defense will give the Clippers some more toughness on that end of the floor.
29. Oklahoma City Thunder: Isaiah Austin, Baylor
The Thunder added a high-risk, high-reward power forward earlier in the draft, and they will do the same with the center position with pick No. 29.
Isaiah Austin from Baylor is one of the better shot-blockers in the draft, and he can grab rebounds and score from the low block. His college production never seemed to match his potential, but Austin is a game-changing type of presence on the interior.
30. San Antonio Spurs: Mitch McGary, Michigan
The San Antonio Spurs are perennial contenders partially because nearly every hit-or-miss decision they make seems to work out in their favor.
Selecting Mitch McGary to end the first round will be the latest of those decisions, as he certainly flashed potential in the NCAA tournament as a freshman, but he missed the vast majority of his final collegiate season with injury.
The Spurs will gradually ease him into the NBA to the point that he will be a productive piece by year two or three.
Follow me on Twitter: