Nine Seems Like a Common Number For The Angels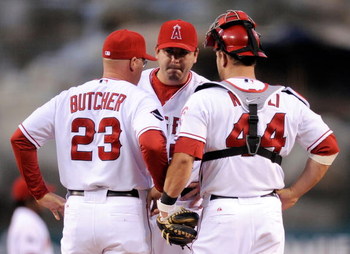 A number, not a word, has defined the Angels right now.
Nine is a number known to bring either the beginning, the end, good opportunities, or impulsiveness and bad habits.
Yet the number has helped the Halos with home runs, RBI's, and winning consecutive games.
Here are five reasons why the number nine is significant for the Angels:
Winning Streaks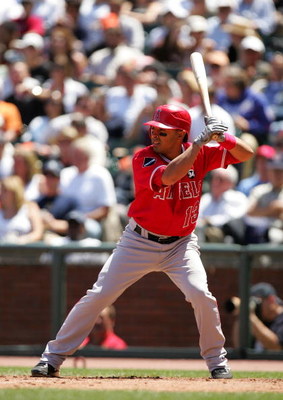 Including its most recent seven-game streak this month, the Angels have gone on winning streaks of two or more consecutive games nine times this season.
Macier Izturis (photo) went 4-for-4 with one RBI in the 11-6 victory versus San Diego on June 12, the game that started the season-high winning streak.
In the nine times they achieved consecutive victories, the Angels usually get two home runs, which includes five games in the month of June.
Field Percentage
The Angels have nine players with an fielding percentage of .960 or above. The Halos average fielding percentage is at .987.
Kendry Morales (photo) has a fielding percentage of .993 from his first base position in the 67 games he's played. He leads his team with 53 double plays.
Also providing help on the defensive end is Howie Kendrick with 34 double plays and a .992 fielding percentage.
Shortstop Erick Aybar, third baseman Chone Figgins and right fielder Bobby Abreu are among the other nine Angels with an fielding percentage of over .960.
Runner Batted In
Nine players have 20 RBI's or more for the Angels, with center fielder Torii Hunter leading the Halos with 54.
Hunter (photo) is currently behind Mark Teixeira, Justin Morneau, Evan Longoria and Jason Bay in the American League for most RBI's in 2009.
Bobby Abreu is second on the team with 40 RBI's. Chone Figgins, Erick Aybar and Maicer Izturis each have 20 RBI's.
Home Runs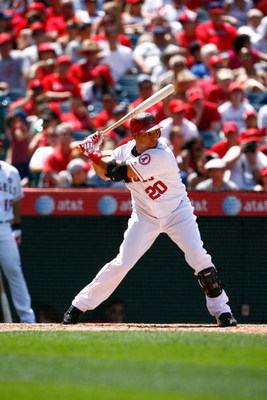 Four Angels have hit nine or more home runs on the season.
Juan Rivera (photo) has 11 for the Halos, ranking him third on the team. Mike Napoli, Kendry Morales and Torii Hunter are the other home run hitters for the Halos.
While also leading the way in RBI's, Hunter also leads the team with 16 home runs.
Runs scored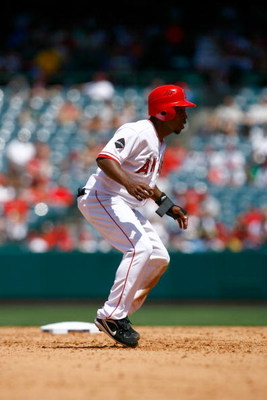 Eight times this season the Angels have scored nine or more runs. They won all eight games.
Leading the runs category is Chone Figgins (photo) with 53 runs on the year.
Nine players have 22 runs or more for the Halos. Aybar and Napoli both have 22 runs on the year while Hunter is second to Figgins with 48 runs.
Keep Reading

Los Angeles Angels of Anaheim: Like this team?