The 2014 NHL playoffs have a take-no-prisoners attitude when it comes to fans' attention spans. Every game seems mandated to be entertaining and wildly dramatic. The conference finals have brought more of the same brand of exquisite contests that were delivered in the first two rounds.
Who would have expected the New York Rangers to utterly demolish their old foe, the Montreal Canadiens, in Montreal? The Los Angeles Kings are already down a game to the defending-champion Chicago Blackhawks, but they've certainly found themselves in tougher situations.
All the drama makes it difficult to predict the outcomes, but let's make an attempt anyways.
Here's the updated schedule for the conference finals, followed by picks for the series' outcomes.
2014 NHL Western Conference Finals Schedule, TV Info

| | | | | | |
| --- | --- | --- | --- | --- | --- |
| Game | Away | Home | Date | Time (ET) | TV |
| 2 | Kings | Blackhawks | May 21 | 8 p.m. | NBCSN |
| 3 | Blackhawks | Kings | May 24 | 8 p.m. | NBC |
| 4 | Blackhawks | Kings | May 26 | 9 p.m. | NBCSN |
| 5* | Kings | Blackhawks | May 28 | 8 p.m. | NBCSN |
| 6* | Blackhawks | Kings | May 30 | 9 p.m. | NBCSN |
| 7* | Kings | Blackhawks | June 1 | 8 p.m. | NBCSN |
NHL.com, *if necessary
2014 NHL Eastern Conference Finals Schedule

| | | | | | |
| --- | --- | --- | --- | --- | --- |
| Game | Away | Home | Date | Time (ET) | TV |
| 3 | Canadiens | Rangers | May 22 | 8 p.m. | NBCSN |
| 4 | Canadiens | Rangers | May 25 | 8 p.m. | NBCSN |
| 5* | Rangers | Canadiens | May 27 | 8 p.m. | NBCSN |
| 6* | Canadiens | Rangers | May 29 | 8 p.m. | NBCSN |
| 7* | Rangers | Canadiens | May 31 | 8 p.m. | NBCSN |
NHL.com, *if necessary
New York Rangers vs. Montreal Canadiens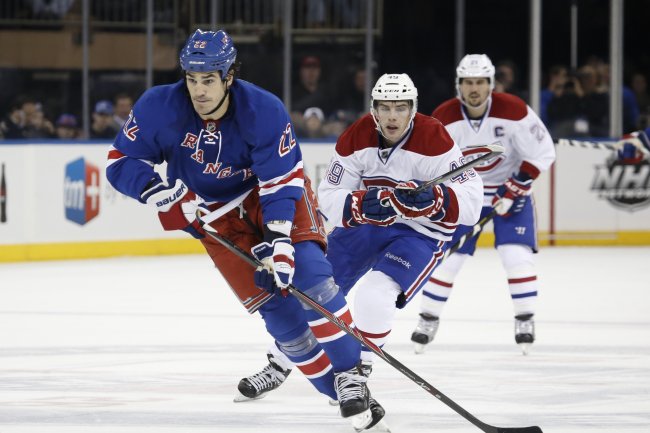 Kathy Willens/Associated Press
Goaltender Carey Price's injury dealt the Canadiens' Stanley Cup chances a mammoth blow. Rangers forward Chris Kreider barreled into the goalie during Game 1, and the lower-body injury will be enough to keep him out of the remainder of the series, according to coach Michel Therrien, via the Canadiens official Twitter account.
"Carey Price will not be available tonight, nor for the rest of that series"-Michel Therrien

— Canadiens Montréal (@CanadiensMTL) May 19, 2014
Price bravely stayed in the game after the collision but allowed four goals on 20 shots before Therrien pulled him for backup Peter Budaj in the third period. Budaj didn't fare any better, as he gave up a trio of goals on his own. The 7-2 loss, coupled with Price's injury, amounts to a huge psychological blow for the Habs heading into the rest of this series.
Price boasted a .919 save percentage and one shutout in 12 appearances during the postseason. The Canadiens will have to be much more disciplined on defense to contend with the continued stellar play of the Rangers' Henrik Lundqvist between the pipes.
The Canadiens were also highly undisciplined in Game 1, racking up a whopping 24 penalty minutes. The Rangers pounced on these opportunities, going 3-of-7 on the 10-plus minutes for which they had at least a man advantage.
Seven different Rangers scored in their well-balanced attack, and defenseman Ryan McDonagh stood out with four points (one goal, three assists).
With the Rangers firing on all cylinders and Price out of contention, the Canadiens' stirring season will soon become a thing of the past.
Prediction: Rangers in five
Los Angeles Kings vs. Chicago Blackhawks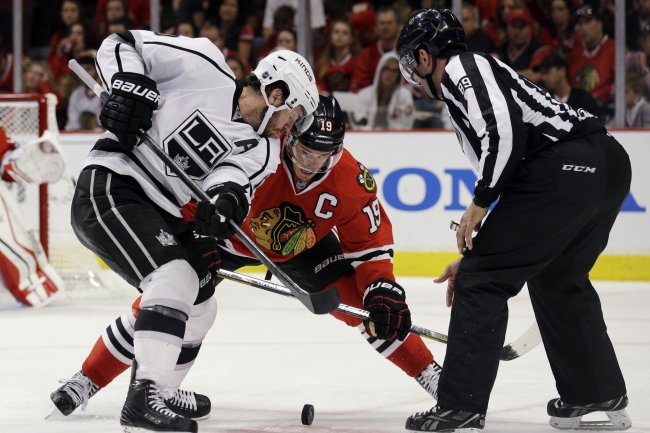 Nam Y. Huh/Associated Press
The Kings know that they must steal a game in Chicago, but hopefully no one other than ESPN's John Buccigross points out to them just how impossible that feat may be.
Blackhawks: only team to remain undefeated at home in postseason (7-0). Blackhawks: 8-0 in postseason when scoring game's 1st goal.

— John Buccigross (@Buccigross) May 19, 2014
The Blackhawks seemed quite pleased to be playing the swift-skating Kings after a tough series against the defensive-oriented Minnesota Wild.
They took the first game of the series, 3-1, and the team looked energized by the open play and rapid pace. Winger Bryan Bickell admitted the Minnesota series had been mentally frustrating, per Chris Kuc of the Chicago Tribune:
"It's nice to have a little space," Bickell said. "It was getting mentally frustrating in that Minnesota series. (The Kings) kind of have a different style, kind of what we bring with our speed."
Jonathan Quick remains the key to the series for the Kings. He's been brilliant at times—like he was through much of the Anaheim Ducks series—as well as truly terrible, if you hearken back to those first three games against the San Jose Sharks in Round 1.
He has an inflated 2.75 goals-against average in the postseason, but his .912 save percentage remains roughly in line with his regular-season numbers.
Blackhawks goalie Corey Crawford wasn't fazed by the prospects of facing Quick.
Crow, on if playing against Quick changes anything: "No, unless he skates down the ice and starts dangling around our guys." #CHIvsLAK

— Chicago Blackhawks (@NHLBlackhawks) May 18, 2014
The numbers are in the Blackhawks' favor, but there is just something undeniable about the Kings this year. Twice this year they've come up huge in a crucial Game 7s, seemingly impervious to the pressure and expectations.
They have the mental fortitude to take on the Blackhawks and all the statistics that suggest failure without the home-ice advantage. Kings regroup and move on from this series.
Prediction: Kings in seven