Updates from Sunday, July 20
Dwain Price of the Star-Telegram provides a statement from Donnie Nelson, Mavericks' president of basketball operations, discussing Dirk Nowitzki commitment to the organization:
As great a player as he is, he's a great person and he's got the ultimate commitment to winning. It's not just putting his money where his mouth is.

[...]

He's just such a unique bird. In a lot of respects, where the common stance in today's modern day game is guys are their own CEOs, and they've got a gazillion interests out there and endorsements, and they're like their own companies, Dirk is a true old-school throwback in that his craft is the most important thing to him.

He doesn't get distracted with a bunch of other ancillary, peripheral-type things. He's all about winning a championship.

[...]

He's got a huge heart and he's obviously one of the most talented basketball players on the planet, to boot. He's locked in on the things that are most important to him and doesn't really feel the need to go out there and chase a bunch of money.
Updates from Thursday, July 17
Dwain Price of the Star-Telegram broke down Dirk Nowitzki's deal in Dallas:
Breakdown of Dirk's 3-yr, $25 million contract: $7,974,482 next yr, $8,333,334 in 2015-'16, and a player option in 2016-'17 for $8,692,184.

— Dwain Price (@DwainPrice) July 17, 2014
Dirk is the 4th-highest career earner in NBA history ($200,338,546). He trails KG ($298,892,636), Kobe ($244,358,502) and TD ($220,019,604).

— Dwain Price (@DwainPrice) July 17, 2014
Updates from Tuesday, July 15
Marc Stein of ESPN reported on Dirk Nowitzki's deal with the Dallas Mavericks:
ESPN sources say Dirk Nowitzki has taken bigger pay cut than previously thought. Deal finalized today at three years, $25 mil for Mavs lifer

— Marc Stein (@ESPNSteinLine) July 15, 2014
Anticipated deal for Dirk was a structure like Tim Duncan's deal w/Spurs, but he took $5 mil less to help facilitate Chandler Parsons move

— Marc Stein (@ESPNSteinLine) July 15, 2014
Original Text
Dirk Nowitzki is a man of his word. After being quoted multiple times as saying he's willing to take a pay cut to allow the Dallas Mavericks financial flexibility, the All-Star forward signed a three-year deal with the team to back it up.
Marc Stein of ESPN was first to report the agreement:
ESPN has learmed that Dirk Nowitzki and the Mavericks have agreed to terms on three-year deal

— Marc Stein (@ESPNSteinLine) July 3, 2014
Dirk always likely to be first major free agent to decide. Sources say sides agreed today to three-year pact believed to be in $30M ballpark

— Marc Stein (@ESPNSteinLine) July 3, 2014
The deal will contain a player option for the 2016-17 season and gives Nowitzki an increasingly rare no-trade clause, per Stein.
Nowitzki, 36, made $22.72 million in the final year of the four-year, $80 million deal he signed in 2010. The future Hall of Famer has played all 16 of his NBA seasons with the Mavericks, earning 12 All-NBA distinctions, one NBA MVP and, notably, the 2011 championship.
Despite his advancing age, Nowitzki continued to adapt his game in 2013-14 to stay among the league's most deadly offensive weapons. He averaged 21.7 points and 6.2 rebounds while stretching beyond the arc more consistently than he had in a decade. In an effort to combat the wear and tear his body was going through banging down low and in the midrange—he missed 29 games in 2012-13—he greatly upped his three frequency and toned down on the post-ups.
A healthy Dirk allowed the Mavericks to earn the No. 8 seed out West, pushing the San Antonio Spurs to a seventh game. With a veteran-laden roster and owner Mark Cuban promising an even greater influx of talent this summer, Nowitzki's re-signing has long been a foregone conclusion.
"Like I always said, it wouldn't even feel right if I played somewhere else," Nowitzki told reporters (via ESPN) in May. "We'll get together at some point and talk about the future and see what we've got going. It hasn't gotten to that point yet."
From both sides, this seemed to be a negotiation of good faith throughout. The Mavericks only had $31 million on their books (not including holds) coming into this summer. Veterans Shawn Marion, Vince Carter, DeJuan Blair and Devin Harris are set for unrestricted free agency.
It is not clear which of those players will come back alongside Nowitzki. But the 7-footer has known from the outset Dallas cannot compete in the daunting West without at least a couple of those guys returning, while leaving enough room for another instant-impact piece.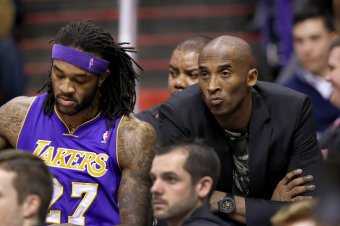 Ross D. Franklin/Associated Press
"I'm pretty sure I'm not going to sign Kobe's deal. Unfortunately," Nowitzki joked with reporters (via NBA.com) during the playoffs. "We'll find a good way where I feel respected for what I did and where we still have enough money left for us to get great players in here."
Nowitzki was referring to Kobe Bryant's two-year, $48.5 million contract. The onerous deal, largely viewed as something of a legacy contract, will constrict the Lakers' budget each of the next two summers. Tonally, Nowitzki was joking. Yet everyone in the media room knew the best jokes are based in truth.
By agreeing to take such an annual pay cut, Nowitzki allows Cuban to hit the open market looking to repeat last season's success. The Mavericks missed out on Dwight Howard but were able to snag Jose Calderon and Monta Ellis on medium-cost deals—ones that worked out splendidly. Ellis revived a flailing career, and Calderon gave Nowitzki his latest savant pick-and-pop partner.
I'm actually surprised Dirk didn't take less. (Would have if they'd gotten Melo/Bron of course)

— Hardwood Paroxysm (@HPbasketball) July 3, 2014
Dallas' first order of business this offseason was unloading Calderon to shore up the defensive middle. Bringing Tyson Chandler back into the fold freed up long-term cap room—his deal expires after next season—and gave the Mavs a presence they've lacked since allowing Chandler to leave following their championship run. Dallas is now emphasizing wooing the likes of Carmelo Anthony, though it's more likely it will fall back on mid-tier veterans again this summer.
Avery Johnson says if he goes back into coaching, he wants a star player like Dirk with "a high level of integrity and [is] coachable"

— NetsDaily.com (@NetsDaily) May 18, 2014
Either way, everyone walks away happy. Dirk will get to spend his last few seasons in the only professional home he's ever known, and his ownership has the financial flexibility to hopefully push this core to the next level.
Follow Tyler Conway on Twitter: