The San Antonio Spurs picked up right where they left off after their second-round series victory over the Portland Trail Blazers, pummeling the Oklahoma City Thunder Monday to the tune of a 122-105 Game 1 victory.
The Spurs are now leading the 2014 Western Conference Finals, 1-0, and look to be in the driver's seat with OKC's Serge Ibaka out.
The Thunder don't miss Serge Ibaka at all. pic.twitter.com/bVagjFeS6x

— Pierre The Pelican (@PelicanPierre) May 20, 2014
San Antonio dominated inside with 66 points in the paint, as the Thunder had no one to deter the drives and post-ups of the Spurs.
"It's defense guys," - Coach Brooks on loss tonight. #Spurs #Thunder

— Paul Garcia PS (@PaulGarciaPS) May 20, 2014
Other than a big third-quarter run that gave the Thunder a brief lead, the Spurs controlled the entire game.
Key Player Grades: San Antonio Spurs
Tony Parker, Point Guard
USA TODAY Sports
That hamstring strain Tony Parker suffered in Game 5 against the Portland Trail Blazers looked plenty healed up, as the Spurs point guard sliced and diced his way through OKC's defense with ease.
He looked comfortable operating out of the pick-and-roll, picking his spots to explode to the rim for floaters or assist opportunities.
Tony Parker ain't fair.

— SB Nation NBA (@SBNationNBA) May 20, 2014
He finished with 14 points on 6-of-12 shooting to go along with 12 assists.
Grade: A+
Tim Duncan, Power Forward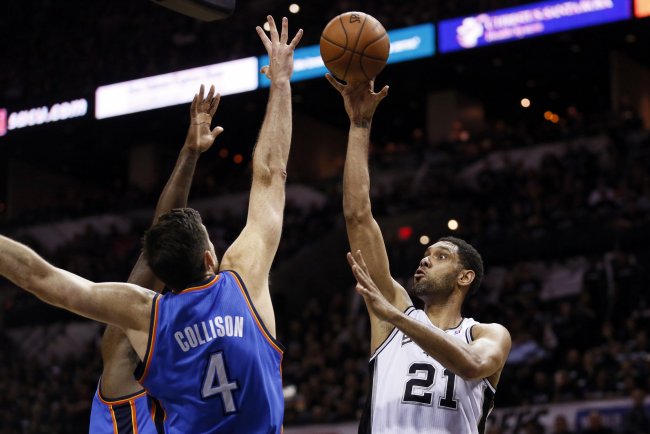 USA TODAY Sports
Tim Duncan looked like a 30-year-old version of himself in the first half, when he scored 21 points on 9-of-11 shooting.
He was getting buckets inside after post moves and from the elbow off kick outs. Nobody enjoyed the absence of Ibaka more than Duncan.
He had a much quieter second half, as he finished the game with 27 points, but his impact early was a huge factor in the victory.
Grade: A+
Kawhi Leonard, Small Forward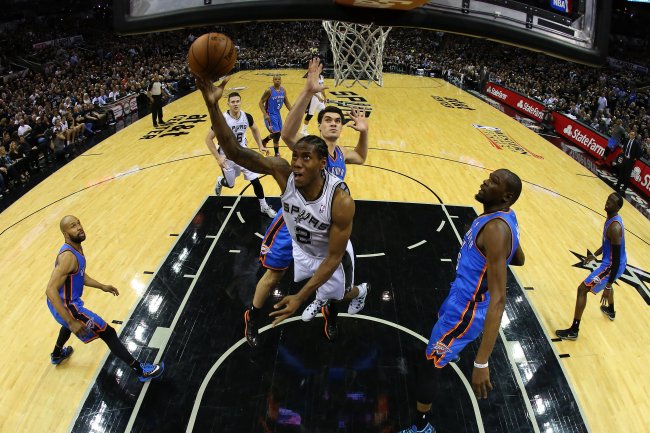 Ronald Martinez/Getty Images
Kawhi Leonard's breakout postseason continued with another electrifying performance. The 16 points in the box score really don't do it justice.
#KAWHISENBERG https://t.co/9plmSzArXP

— Andrew Bailey (@AndrewDBailey) May 20, 2014
It was a handful of momentum-shifting, high-flying plays that Leonard produced that really stand out. Some of his finishes in the lane looked more like Parker or Manu Ginobili. He had one steal that looked like Calvin Johnson catching a touchdown in the back of the end zone.
Kawhi hit Apex predator mode about two weeks ago and it's just death since then. Death everywhere.

— Hardwood Paroxysm (@HPbasketball) May 20, 2014
Calling him an X-factor may be getting cliche, but that's exactly what he is.
And Kawhi doesn't even look like he's trying. He's just a finely-tuned basketball cyborg. Asimov weeps tears of joy.

— Pounding the Rock (@poundingtherock) May 20, 2014
Grade: A
Tiago Splitter, Center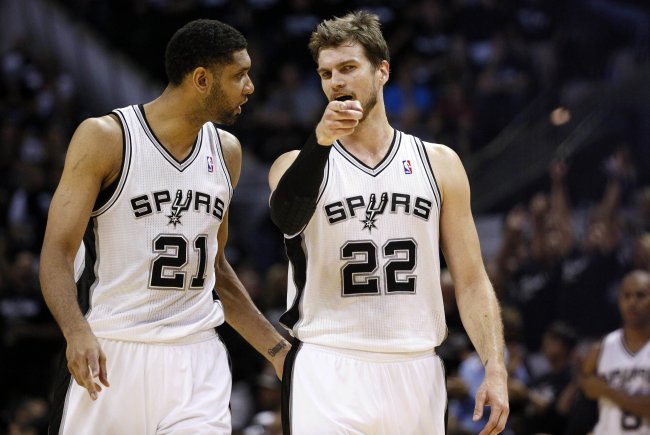 USA TODAY Sports
Tiago Splitter didn't play much, but he was solid in the 19 minutes he got, scoring six points and grabbing eight rebounds.
He spent most of the game on the bench as Gregg Popovich countered some really small lineups Scott Brooks was using.
If the Thunder choose to play big, expect Splitter to get more minutes and have more of an impact.
Grade: B
Danny Green, Shooting Guard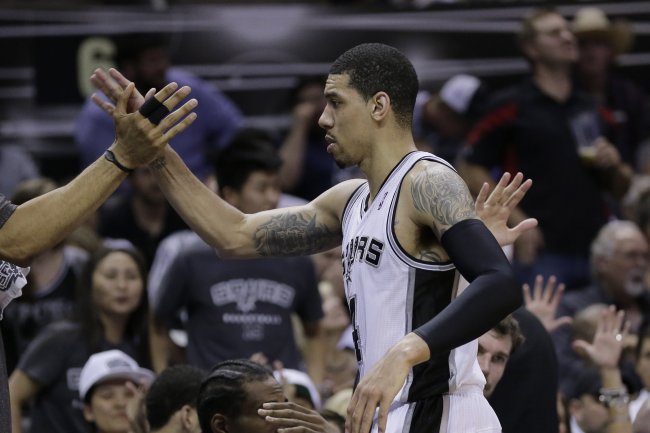 Eric Gay/Associated Press
If Game 5 against the Blazers didn't convince you that Danny Green is back, certainly a second straight lights-out performance should.
He shot 6-of-7 from the field, including 4-of-5 from three-point range for 16 points.
A few of his threes were pull-ups off a full-speed dribble. One of those even went in with a defender slapping his hand from behind right after the release.
His hot shooting was huge in the 2013 NBA Finals, and it appears to officially be back on track.
Grade: A+
Manu Ginobili, Shooting Guard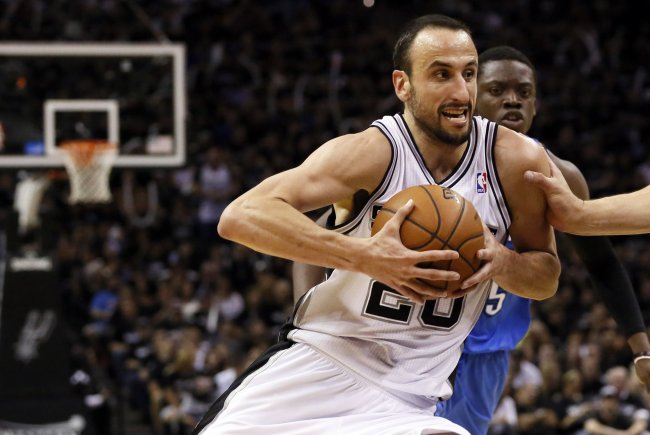 USA TODAY Sports
Speaking of being back, after a terrible series against Portland, Ginobili is finally back.
He scored in a variety of ways, off the dribble, at the rim and from three-point range. He shot 3-of-4 from downtown and finished with 18 points.
With the third member of the Spurs Big Three back in business, the Spurs have to be considered a heavy favorite to win this series, and the next one.
Grade: A+
Bench
Solid as ever, the Spurs bench combined to shoot 17-of-29 for 43 points. No one in the league comes anywhere near matching their depth.
They got contributions from Boris Diaw, Patty Mills and even Aron Baynes in spot minutes in the second half.
Boris Diaw is eating the Thunder's small lineup right now. Just bullied Caron Butler in the post.

— Anthony Slater (@anthonyVslater) May 20, 2014
Grade: A+
Key Player Grades: Oklahoma City Thunder
Kevin Durant, Small Forward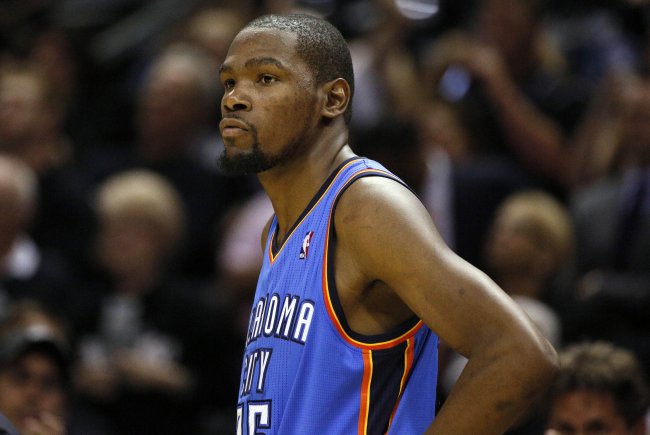 USA TODAY Sports
The Thunder may have fallen, but don't blame Kevin Durant.
He shot 10-of-19 from the field for 28 points, grabbed nine rebounds and dished out five assists. The only knock against him statistically was the six turnovers.
Brooks put his best player in a tough spot in the second half, when he employed an uber-small lineup that slotted Durant at center.
He was dominated inside during that stretch, and the Spurs put the game away.
Grade: A
Russell Westbrook, Point Guard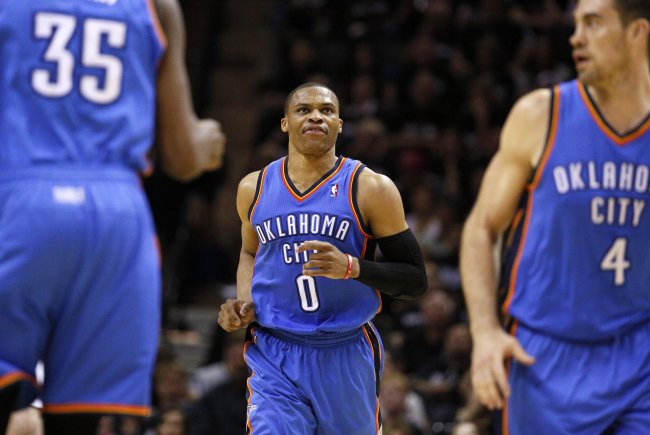 USA TODAY Sports
Russell Westbrook was really good for one quarter, and it was enough to get the Thunder a brief lead in the third. In that frame, Westbrook went 4-of-7 from the field for 12 points. For the rest of the game, he went 5-of-14 for 13 points.
No one's complaining about Westbrook going 1-on-5 because, you know, it's kinda working

— Ethan Strauss (@SherwoodStrauss) May 20, 2014
The difference was Westbrook attacking in the third. He was aggressively getting to the rim and breaking down San Antonio's rotations. Unfortunately for the Thunder, he looked short on gas in the fourth and the Spurs were able to recover on his drives more effectively.
Going forward, he needs to be better at picking his spots. Attack, attack, attack when lanes are open like they were in the third. And don't be afraid to defer when nothing's there.
Grade: B
Nick Collison, Power Forward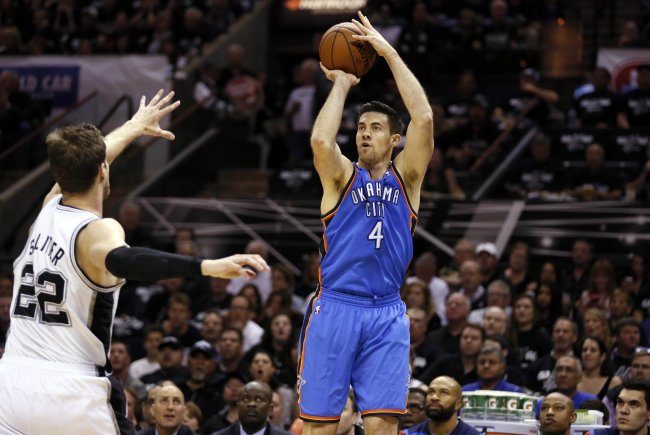 USA TODAY Sports
Nick Collison started in place of the injured Ibaka and laid an egg, literally. He scored zero points on 0-of-3 shooting in 16 minutes.
It may not be entirely his fault, as he wasn't set up for many good looks inside and played limited minutes, but Collison's performance ended up serving as little more than a reminder that Ibaka's out.
On the other end, his defense in the third was a big part of OKC's comeback, but he didn't get a chance to employ it in the fourth.
Grade: D
Thabo Sefolosha, Shooting Guard
Thabo Sefolosha was even worse than Collison. He played the same minutes, 16, and went 0-of-4 from the field for zero points.
He didn't really have any impact defensively either, which is typically his calling card.
Grade: F
Kendrick Perkins, Center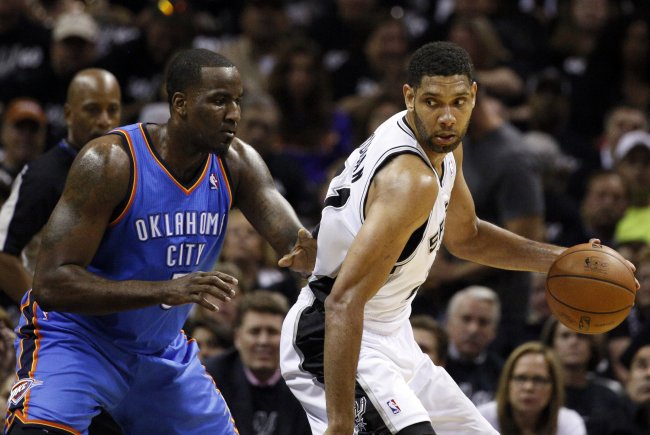 USA TODAY Sports
You know you have some problems when Kendrick Perkins is your third-best starter. Also a problem when that player scores just five points.
With Ibaka out, Perkins played 24 minutes, grabbed nine rebounds and scored the five points.
Grade: C+
Reggie Jackson, Point Guard/Shooting Guard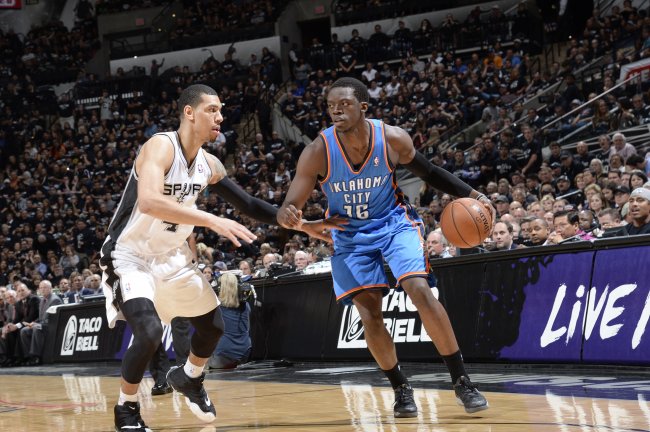 D. Clarke Evans/Getty Images
Reggie Jackson spent a lot of time on the floor with Westbrook and was pretty solid in the off-guard role. He scored 13 points on 6-of-11 shooting.
He'll have to continue to pick up a pretty big scoring responsibility with Ibaka out and Brooks relying on three starters who don't score.
Grade: B
Bench
The other good performance off the bench came from Derek Fisher, who scored 16 points while knocking down four of six three-point attempts.
Caron Butler added nine, but he shot just 2-of-6.
Altogether, the second unit played well, shooting 16-of-30 for 47 points, but a couple of those guys should be starting, so it's tough to compare them to San Antonio's bench.
Lot better job by the Thunder's new starting lineup this half. A -11 in the first half, a +5 in the second. Adams/Jackson in.

— Anthony Slater (@anthonyVslater) May 20, 2014
Grade: A
What's Next?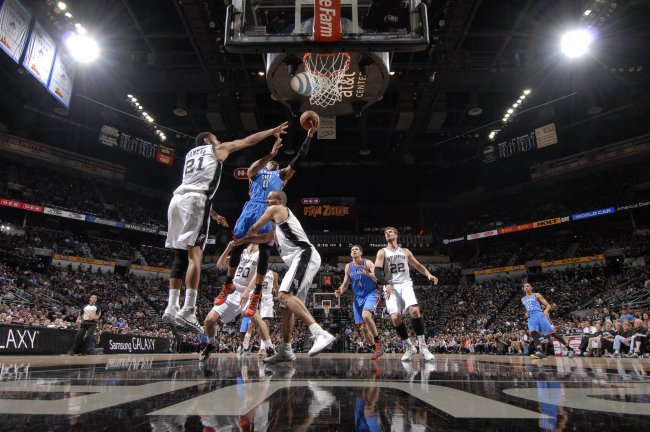 D. Clarke Evans/Getty Images
Brooks desperately needs to rethink his rotation. He's in a tough spot with Ibaka out, but the woefully ineffective starting and small lineups are inexcusable.
"In order to beat this team, you have to have all 5 guys on point." - Brooks. #Spurs #Thunder

— Paul Garcia PS (@PaulGarciaPS) May 20, 2014
San Antonio just needs to continue what it did in Game 1. Everyone got involved, the ball moved well for three quarters and the game ended up being a blow out.
Game 2 is set for Wednesday, May 21, at 9 p.m. ET.
Andy Bailey covers the NBA for Bleacher Report. Follow him on Twitter @AndrewDBailey.