Without fail, the NBA draft manages to shock fans each year with prospects who go off the board much higher than anyone could have predicted.
While it seems unlikely this year in an extremely deep class led by the likes of Andrew Wiggins, some sleeper prospects have quietly made their way up draft boards thanks to the NBA draft combine and other factors.
Let's take a look at every team's odds at landing the lottery and a few players who should not come as surprises on draft day when they come off the board rather high in comparison to the hype.
2014 NBA Draft Lottery Odds

| | | |
| --- | --- | --- |
| Rank | Team | Chance of Winning |
| 1 | Milwaukee Bucks | 25.0% |
| 2 | Philadelphia 76ers | 19.9% |
| 3 | Orlando Magic | 15.6% |
| 4 | Boston Celtics | 10.4% |
| 5 | Utah Jazz | 10.3% |
| 6 | Los Angeles Lakers | 6.3% |
| 7 | Sacramento Kings | 4.3% |
| 8 | Detroit Pistons | 2.8% |
| 9 | Cleveland Cavaliers | 1.7% |
| 10 | New Orleans Pelicans | 1.1% |
| 11 | Denver Nuggets (via New York Knicks) | 0.8% |
| 12 | Orlando Magic (via Denver Nuggets) | 0.7% |
| 13 | Minnesota Timberwolves | 0.6% |
| 14 | Phoenix Suns | 0.5% |
ESPN
Cleanthony Early, SF, Wichita State
Wichita State has raised eyebrows around the globe the last couple of seasons and even landed a No. 1 seed in this year's NCAA tournament.
Much of the credit goes to Cleanthony Early, one of the draft's top seniors and hidden gems. Early averaged 27 points and seven rebounds per game in the tournament last year and used his extreme athleticism to shock pros at the combine.
As illustrated by ESPN Insider Chad Ford, via NBA on ESPN, many teams now believe Early has what it takes to play the 3 spot:
"He convinced NBA teams he can come in and be an NBA 3." - @chadfordinsider on Cleanthony Early. #NBACombine pic.twitter.com/fG1mBvbTAj

— NBA on ESPN (@ESPNNBA) May 15, 2014
Many people, including Sports Illustrated's Seth Davis, are on the hype train:
Cosign @jerrymeyer247: 1 of my favorites RT @KYSTBlog: Cleanthony Early from Wichita State will be one of the best pros out of draft.

— Seth Davis (@SethDavisHoops) May 14, 2014
At 6'8" and 219 pounds, Early has passed the eye test. His natural talent is there, and the possibility of him sneaking into the mid-teens at perhaps No. 16 overall to a team like Phoenix is not all that outlandish.
K.J. McDaniels, SF, Clemson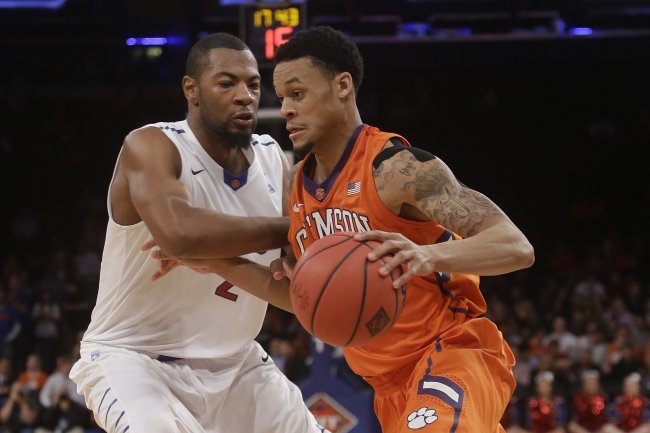 Frank Franklin II/Associated Press
There has always been a lot to like about K.J. McDaniels, a 6'6", 200-pound enforcer who easily has a role at the pro level as a glue guy on the defensive end of the court.
But this past season, McDaniels drastically improved his stock in the minds of experts, including Jay Williams, via the official Twitter account of Clemson men's basketball:
"One of the most underrated in this draft. His offense has matured. Can be an impactful guy" - @RealJayWilliams on #Clemson's K.J. McDaniels

— Clemson Basketball (@ClemsonMBB) May 15, 2014
Much of that has to do with stellar averages of 17.1 points and 1.6 assists per game.
McDaniels has quietly morphed into a solid all-around prospect who has seen a major increase in value from this time a year ago, and outdated projections will be proved wrong when he slips into the latter half of the first round.
T.J. Warren, SF, N.C. State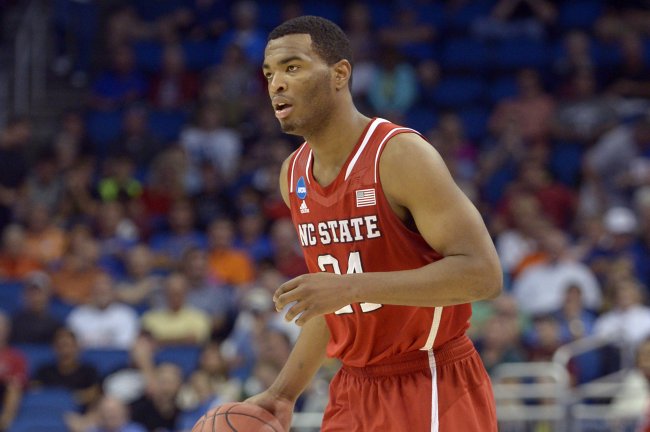 Phelan M. Ebenhack/Associated Press
N.C. State product T.J. Warren is set to fulfill a dream in the first round of the 2014 NBA draft, as captured by ESPN College BBall:
"Playing in the NBA has been a lifelong dream of mine," T.J. Warren: http://t.co/nEgvrAT41D

— ESPN College BBall (@ESPNCBB) April 9, 2014
Warren was easily the most underrated player in the NCAA realm last year, which is what happens when one shines in the same conference as Duke's Jabari Parker.
After carrying his team on his back to a third straight tournament berth thanks to averages of 24.9 points, 7.1 rebounds and 1.1. assists per game, Warren stands out as both a leader and a surefire producer.
As A. Sherrod Blakely of CSNNE notes, Warren compares himself very accurately to a superb pro forward still making noise in this year's NBA playoffs:
One of my fav players at the Chi combine was T.J. Warren, who told me one of his biggest influences on turning pro was #Pacers David West.

— A. Sherrod Blakely (@SherrodbCSN) May 18, 2014
Warren will need to add some significant bulk to fully realize that comparison, (He's 6'8" and 215 pounds; West is 6'9" and 250 pounds.), but his physical defense and ability to score from anywhere inside the arc is something NBA teams will mightily covet.