With silverware comes positivity, and whilst Arsenal fans will be basking in the glory of their recent FA Cup final victory, the good news seemingly keeps on coming, as Arsene Wenger will reportedly be given a substantial transfer kitty to bolster his playing squad this summer.
According to John Cross of The Mirror, Wenger—who is expected to sign a new deal in the coming days—will be given significant monetary backing in the transfer window, which will allow him to chase a new goalkeeper, a right-back, a holding midfielder and a centre-forward.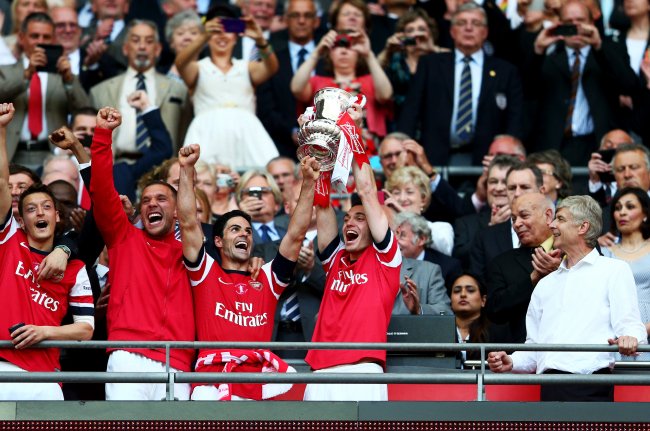 Clive Mason/Getty Images
Whilst Arsenal's Wembley win will have brought some much-needed relief to those long-suffering Gunners supporters, it's vital the club as a whole doesn't view this FA Cup triumph and its importance through red-tinted glasses.
Here are the highlights from Arsenal's first trophy win in nine years:
Winning that piece of silverware will help shift an enormous mental barrier, but the manner in which Arsenal's challenge wilted in both the Premier League and Champions League offers serious cause for concern—concerns that don't immediately become obsolete because of one trophy.
Can Arsenal mount a serious title challenge next season?
A smattering of new faces this summer would not only give this Arsenal squad the injection of quality required to mount a more substantial challenge on both the domestic and European front, but it'd also provide a refreshing feel to a squad that looked a little stale at times in the previous campaign.
Neil Ashton and Sami Mokbel of the Mail Online claim the Arsenal board will set aside £100 million for Wenger to spend in the window, and an investment of that magnitude would help maintain the positive vibe at the Emirates until the start of next season.
Former Arsenal striker Kevin Campbell agrees the Gunners must invest, claiming they need to add bite to their side if they're to challenge for the very top honours, per talkSPORT:
Arsenal against the big teams seem to lack a bit of power in the centre of the pitch. I just think they lack the physicality of the three teams [Man City, Liverpool and Chelsea] that are above them in the league.

When it came to playing those teams that physicality was shown up. Most of the other teams Arsenal do pretty well against but it's those three teams who have everything in abundance.
To win a Premier League title, that coveted blend is necessary. Striking a balance between their wonderful, intricate passing play and a raw, physical edge would give this Arsenal team a much more realistic chance of winning the very top honours.
The experience of winning the FA Cup will be something they can draw upon too. Oliver Holt of The Mirror believes lifting the trophy can be a springboard for the club challenging for more illustrious titles:
Arsenal overcame a psychological barrier today. Yes, it's the FA Cup, not the league, but it can still be a launchpad for new glories

— Oliver Holt (@OllieHolt22) May 17, 2014
Wenger has had money to spend in the past, with a reported budget of £70 million last summer, per John Cross of The Mirror. But so often the Frenchman has seemed reluctant to splash the big money, meaning Arsenal have been unable to attract players of the very highest calibre.
But with Manchester City, Chelsea, Liverpool and Manchester United all likely to invest heavily in their squad during the offseason, the Gunners can't afford to be left behind.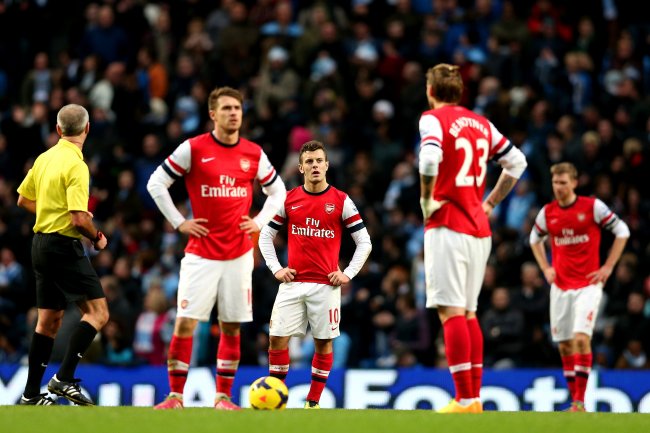 Clive Brunskill/Getty Images
If the Frenchman lives up to his archetypal reputation—one of stinginess and stubbornness when it comes to splashing the cash—the Gunners will have to make do with the FA Cup and a Champions League spot once again.
The FA Cup win could be a catalyst for this side to achieve bigger and better things. But if the Gunners endure another summer in which the club remains static in the transfer window, then aside from the trophy itself, there will be little tangible to show for this long overdue success.