Anze Kopitar has had an amazing season and an incredible start to his spring.
But none of what he's done to this point matters right now after a 3-1 loss in Game 1.
Right now, it's all about the Western Conference Final and how he responds to adversity in his toughest series to date and the most difficult matchup he'll face in these playoffs.
It's all about getting the better of Jonathan Toews.
We've already seen what happens when it's the other way around. In Game 1 of the Western Conference Final, the Chicago Blackhawks captain not only helped shut down the Los Angeles Kings' top trio of Kopitar, Marian Gaborik and Dustin Brown, but he also scored a pivotal goal in the third period to ensure victory.
Jonathan Toews was on the ice for at least part of every one of Anze Kopitar's even-strength shifts, except for the last one. #Blackhawks

— Mark Lazerus (@MarkLazerus) May 18, 2014
It was just the second game in the entire 2014 playoffs that Kopitar has been completely shut out on the scoresheet. He previously had his way with head-to-head battles against Ryan Getzlaf in the second-round series against the Anaheim Ducks and Joe Thornton (and Patrick Marleau when the Sharks got the matchup they wanted) in the first-round series against San Jose.
Toews is a different story. He's a past Conn Smythe Trophy winner and the defending Selke winner. He's been named a finalist for that defensive forward honor in three of the last four years. With Sidney Crosby's recent playoff disappointments, Toews is getting more and more consideration from NHL writers as the top franchise player in the league.
There's a handful of players that you'd want to start your NHL team with. Hard to argue against Jonathan Toews being the one.

— Eric Stephens (@icemancometh) May 18, 2014
Kopitar is finally getting the recognition he deserves in that regard, nominated as a finalist for the Selke for the first time this season after a regular season that saw him rack up the second-most ice time among forwards behind Crosby, lead the Kings with a career-high plus-34 rating (good for fourth in the NHL) and play the most shorthanded minutes of any of the top 30 in league scoring.
Until he beats the Blackhawks featuring a red-hot Toews, though, he's not ready for the Conn Smythe.
And Toews knows the secret to limiting Kopitar's game-changing ability. He said as much during his podium appearance after Game 1 of the series, per Dennis Bernstein of The Fourth Period (via Sulia).
"The best way to defense [sic] Kopitar is to keep him in his own zone," Toews said. "I get plenty of help from Hossa."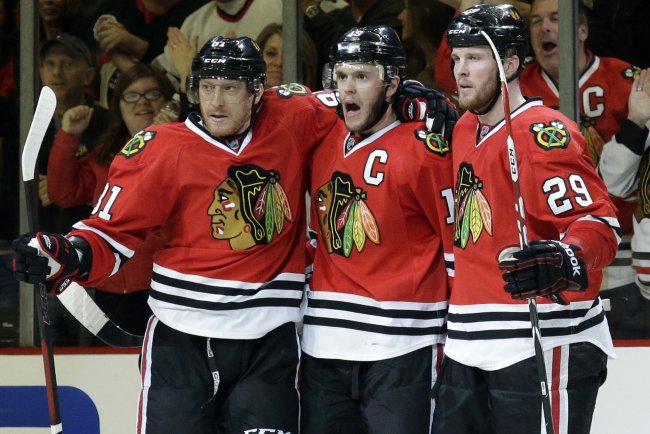 Nam Y. Huh/Associated Press
That reminds us of the linemates involved in this game within the game. Toews has veteran Marian Hossa, who has long been an underrated defensive player with incredible offensive flair and the ability to be physical when necessary. Bryan Bickell is a creator of space who can contribute key goals by going hard to the net.
Flanking Kopitar are Marian Gaborik, who leads playoff scorers with nine goals, and Dustin Brown.
Who will come out on top of the battle between Kopitar and Toews?
Taking their talents into consideration, with Hossa more well-rounded than Gaborik and Brown a better talent than Bickell, it's probably a wash.
Which leaves us with Toews and Kopitar as the difference-makers.
We're not ignoring the presence of superstar Hawk Patrick Kane or the talents of Mike Richards and Jeff Carter in Los Angeles. There are plenty of other potential game-breakers.
We're just pointing out the importance of the teams' top centers setting the tone for their teams. It was on display in the series opener. Toews took that battle, and so did his Blackhawks. It's no coincidence.
The notion of shutting down Kopitar's line with that matchup is something Blackhawks head coach Joel Quenneville addressed on the weekend at the postgame podium:
That's going to be a work in progress. It's going to be a challenge game in and game out. They've got three nice players that complement each other. They're dangerous every time they touch the puck. Every time they're on the ice, you've got to be aware.
Kopitar and Toews have been here before as well—last year, in fact.
And while Kopitar didn't have his best postseason, he did manage a goal and four points in the six-game series victory against the St. Louis Blues, and another goal and three points in seven games against the Sharks before going without a point for the first four contests against Toews and the Blackhawks. He finally scored in the deciding Game 5, adding an assist to finish with two points in the five games, but it was much too little and way too late.
The Blackhawks went on to the Stanley Cup Final and a second NHL championship in four years. The Kings went home disappointed.
This year, to be the champions again, the Kings have to beat the defending champions.
For Kopitar to be the potential Conn Smythe winner, he has to beat another top Conn Smythe candidate.
Or at least just stop Toews from being the series MVP.
All stats courtesy of NHL.com unless otherwise noted.
Steve Macfarlane has been covering the NHL for more than a decade, including seven seasons for the Calgary Sun. You can follow him on Twitter @MacfarlaneHKY.