Preseason Picks for NFL All-Pro: NFC, Pt. 1 (Offense)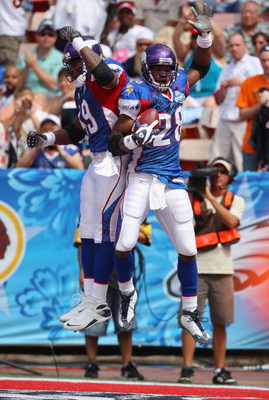 This is a slide show consisting of my preseason picks for the top players in the NFC for 2009. Instead of NFL All-Pro, this is on the all NFC All-Conference Team, or a smaller version of the NFC Pro Bowl Team. The list will feature one or two players of each position on offense. There will be a follow-up for this slide, which will focus on the NFC's defense and special teams.
Quarterback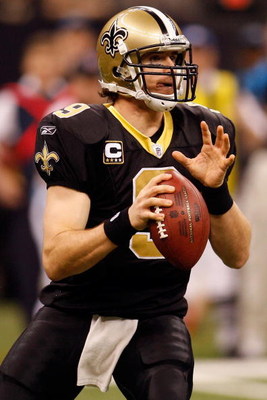 Drew Brees: New Orleans Saints QB
Height: 6'0" Weight: 209 lbs Age 30
Brees had a fantastic season in 2008, ending the year with a 65.0 completion percentage, while racking up 5,069 yards and thirty four touchdowns. The number of touchdowns thrown by Brees doubles his interception total of seventeen. Also, he had one of the best quarterback ratings in the NFL, ending with a score of 96.2 If it were not for a marginal year for his team, Brees' season would have been decorated and widely talked about like Kurt Warners' was. This year he looks to make further improvements, as his go-to receiver Marques Colston will be back in the line-up. Brees is clearly one of the more reliable signal callers in the league. He is my prediction for the NFC's best quarterback.
Halfback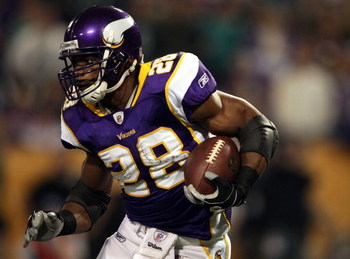 Adrian Peterson: Minnesota Vikings HB
Height: 6'1" Weight: 217 lbs Age: 24
Adrian Peterson, or A.P., is one of the league's most tremendous young talents. During his two years in the pros he has been one of the elite. His 1,760 rushing yards, which he achieved while averaging 4.8 yards per carry, and ten TDs on the ground were some of the best numbers in the league last year. He also added 125 yards receiving. Combine this with the fact that he is still developing and has his best years of head of him, and you end up with one of the best situations possible. I'm sure whoever would coach the NFC squad would have no problem letting Peterson handle the bulk of the team's carries.
Fullback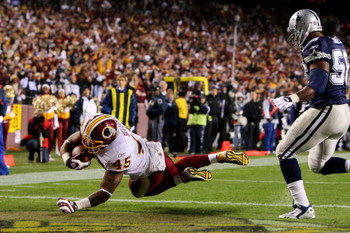 Mike Sellers: Washington Redskins FB
Height: 6'3" Weight: 280 lbs Age:33
Sellers is probably one of the bigger unknowns on this list, but fame and talent are two completely different things. Sure, he only, he only had twenty four rushing yards on six carries, but what fullback gets more than just a few hand-offs. As far as receiving, he posted twelve receptions for ninety eight yards, which averages out to 8.2 yards per carry. He also caught one touchdown. That's not bad, but his real job is not take the hand-offs or catch passes. He's a blocker, and a very good one, too. Every Batman needs a Robin. Simply put in this case, Clinton Portis has Mike Sellers. Every team has to have those hard-nosed, no-nonsense guys, and Sellers is exactly one of those guys.
Wide Receiver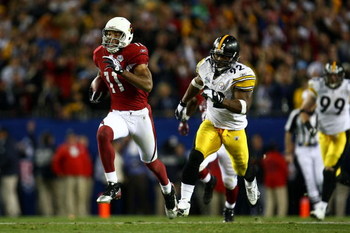 Larry Fitzgerald: Arizona Cardinals WR
Height: 6'3" Weight: 220 lbs Age: 25
Fitzgerald's 2008 campaign will be best remembered for his record-setting postseason run, which included 30 receptions, which went for 546 yards and seven touchdowns. But his regular season was very impressive as well. He had 96 receptions for 1,431 yards and 12 TDs. He can catch nearly everything you throw at him, and he can keep a crowd on their feet with his dazzling and electrifying play-making ability. I expect him to pick up where he left off at the end of last regular season; I don't know if I would go as far as predicting a repeat performance of his playoff run. But as a player, he is always growing and improving, and he looks to make great strides in 2009.
Wide Receiver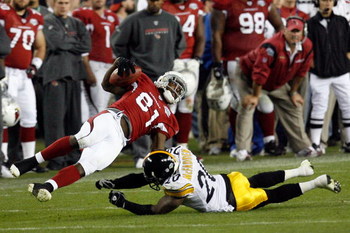 Anquan Boldin: Arizona Cardinals WR
Height: 6'1" Weight: 217 lbs Age: 28
Boldin had a few injuries to deal with last year, but when he was on the field, he was a force to be reckoned with. As Larry Fitz's partner-in-crime, Boldin caught 89 passes for 1,038 yards and eleven touchdowns. These numbers are comparable to Fitzgerald's despite the fact that he only appeared in eleven games, a couple in which he made an early exit. Boldin is a thick and strenuous receiver, who is a heck of a lot tougher than people may think. He fought through an array of injuries that would have stopped many players from stepping onto the field. This season, I expect Anquan to be in the games much more often, so that we can watch him dominate opposing defenses. At the same time, we will see his stats soar.
Tight End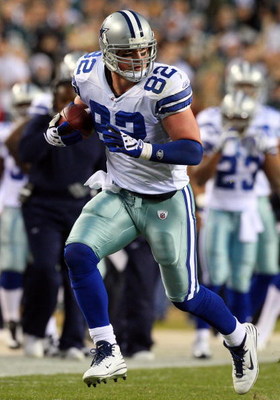 Jason Witten: Dallas Cowboys TE
Height: 6'5" Weight: 262 lbs Age: 27
Witten has become one of the league's best all-around tight ends, displaying all the skills of an elite player. He is a very reliable pass-catcher, reeling in eighty one throws in total, which would lead to 952 yards and four TDs during the 2008 season. His production declined from 2007, a season in which Witten had the eleventh best season for any tight end in NFL history, as far as receiving statistics go. I think this year there will be less distractions and road blocks for him, so we can expect Jason to make up for a marginal season, by his standards of course. He is really known as a blocker though, something that not all tight ends can do. He is big and powerful, and has a ferocious and unrelenting will. His versatility sets the bar high for the other tight ends in the league. Witten may not have had his best season in '08, but it is safe to say that he will be back on par for the upcoming season.
Center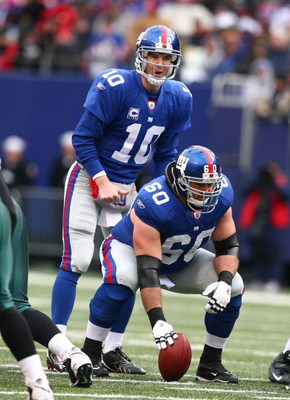 Shaun O'Hara: New York Giants C
Height: 6'3" Weight: 303 lbs Age: 32
O'Hara is the leader of one of the most prolific O-lines in the NFL. He is the big-man in the middle for the New York Giants. He paved the way for Brandon Jacobs and Derrick Ward last season, helping them each achieve +1,000 yard rushing yard seasons. He is also a tremendous athlete considering his size. Tough and gritty, Shaun is always out there fighting and setting an example for the other lineman. He never goes down unless he is seriously injured. O'Hara looks to open up the holes that will lead to success for the Giants this year and put himself among the group of the league's top lineman.
Guard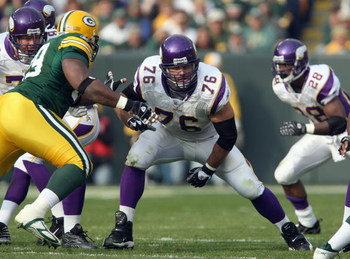 Steve Hutchinson: Minnesota Vikings OG
Height: 6'5" Weight: 313 lbs Age: 31
Hutchinson is pretty much an automatic when it comes to Pro Bowl selections. He has great size and athleticism, which he incorporates into his game extremely well. Over the years he has been the root of success for great running backs. First it was Shaun Alexander, and now it is Adrian Peterson. It is safe to say that these two players would have seen a drop-off in production if Hutchinson had been out for a few games. There is always a man in the trenches who plays a huge role in a running back's glory, and Steve Hutchinson is definitely one of those guys.
Guard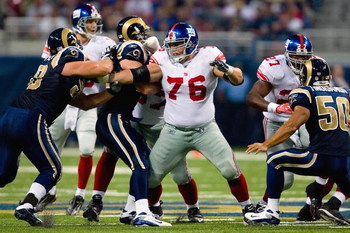 Chris Snee: New York Giants OG
Height: 6'3" Weight: 317 lbs Age: 27
Snee has put himself into the elite class of linemen after a stellar year in 2008. The combination of center Shaun O'Hara and right guard Chris Snee has been deadly for the Giants. As I said before, last season was a great one for the Giants running backs, with Brandon Jacobs and Derrick Ward each surpassing the 1,000 yard rushing mark. Snee played a large part in their success, plowing defensive linemen and linebackers out of harms way, creating big holes for his running backs. He is a big, powerfully built player. His intimidating physique is what sets him a part from most other linemen in the NFL. Chris Snee is a qualtiy player and has proven himself to be in the class of the league's elite.
Tackle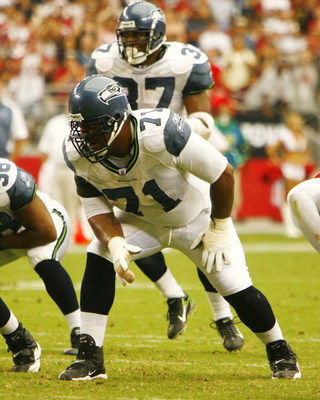 Walter Jones: Seattle Seahawks OT
Height: 6'5" Weight: 325 lbs Age: 35
Jones is a perennial Pro Bowler, making the trip to Honolulu eight times throughout his fine career. He is arguably the best offensive lineman in the NFL and has been in the discussion for years. While dominating defenses for the Seahawks, Jones has established himself as a fierce competitor and an overpowering presence on the gridiron. He plays with a tough demeanor and is clearly one of the league's strongest players. While he is an amazing pass protector, run blocking is his strength. This has been made apparent by the amount of production from guys like Sean Alexander and Chris Warren, who once enjoyed running behind Walter with the Hawks. Jones has definitely kept his running backs satisfied, helping them put up career-numbers and gain national recognition. He has even become a notable player himself, becoming one of the more well-known names in football. This is deservedly so, as there may be no offensive lineman who has been able to match Jones' output over the past ten years.
Tackle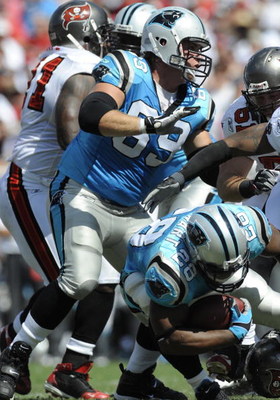 Jordan Gross: Carolina Panthers OT
Height: 6'4" Weight: 305 lbs Age: 28
Gross has been one of the most reliable players for the Carolina Panthers for years. He is fairly big, but his strength outmatches his size. He is also extremely quick and agile, making him an ideal offensive lineman. Gross is a fantastic blocker, as he was a monumental factor in the growth of DeAngelo Williams, who had a phenomenal season in 2008. Johnathan Stewart also did very well running behind Gross, and the fact that his two running backs did so well when trailing him was enough to get Jordan his first Pro-Bowl selection. Gross is a great talent, a pure athlete, and a dedicated worker, and guys like him fit into any system. His body of work has helped him climb through the ranks and become one of the NFL's most outstanding players.
Reserves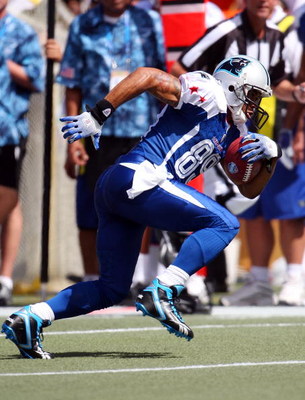 These are the guys who are truly among the NFC's best, but were not the number one, or in some cases they came in number two at their respective positions. This list would be better titled as, "Honorable Mentions" instead of "Reserves". Whatever they may be called, one thing is certain: These are all quality players who deserve recognition. If the players featured in this slide were all on one team, the previous eleven players would be the starters, and these guys would be their back-ups:
QB: Kurt Warner
Jay Cutler
Aaron Rodgers
HB: Clinton Portis
Michael Turner
Brian Westbrook
Brandon Jacobs
DeAngelo Williams
FB: Madison Hedgecock
Leonard Weaver
WR: Steve Smith
T.J. Houshmandzadeh
Roddy White
Marques Colston
Santana Moss
TE: Tony Gonzalez
Kellen Winslow
C: Andre Gurode
Olin Kruetz
OG: Leonard Davis
Shawn Andrews
OT: Jason Peters
Orlando Pace
Keep Reading

Minnesota Vikings: Like this team?