Updates from Monday, Aug. 18
Jon Machota of The Dallas Morning News passed along comments from Jason Garrett on Anthony Spencer's recovery:
Garrett: Anthony Spencer is "ahead of schedule." Said Cowboys are cautiously optimistic but "don't want to put a timetable on him."

— Jon Machota (@jonmachota) August 18, 2014
Updates from Tuesday, Aug. 12
Jerry Jones spoke about Anthony Spencer's recovery and the chances that he begins the season on the PUP list (via Jon Machota of the Dallas Morning News):
"He's getting there," Jones said on 105.3 The Fan [KRLD-FM]. "He's getting there at a faster pace than we thought. We're hoping that when we get to our 53-man cut down that we'll be dealing with that problem. The problem is: Do we keep him on the roster because he's going to be ready to go in a game, or do we PUP him, which would mean we couldn't use him for six games?

"It's looking like we'll keep him on the roster."
Updates from Monday, Aug. 4
Rainer Sabin of The Dallas Morning News provides a statement from Anthony Spencer discussing his injury status:
I feel positive about it but at the same time it's still a possibility I could be on the PUP list. I am not really trying to push it too much. I am doing what I need to do… It's getting better.

I would think we would soon start working against some other linemen, going through bags, doing individual drills. We're getting close.
Sabin continued with a statement from Cowboys head coach Jason Garrett:
I know he is making progress,. I think he is in better shape. He's moving around. You see him doing some running out on the field, getting in to some change-of-direction-type stuff. And it seems like he's comfortable.

The biggest thing with him is day-by-day getting himself healthy.
Updates from Monday, July 28
Anthony Spencer spoke about his injured knee and his recovery with Nick Eatman of DallasCowboys.com:
"I hope so. I hope to be back before the first game," Spencer said. "I hope some time around there. It's hard to say now. We've got time and not trying to rush things."

(...)

Spencer said he is encouraged by the improvements he sees daily in his rehab work here in Oxnard.

"If I just keep working the way I'm working, I feel like we'll be in a good place," Spencer said. "Lifting heavier weights. I run little more. I just add a little more to my workout regime every day. It's getting better."
Updates from Friday, July 25
Jon Machota of The Dallas Morning News has an update on Spencer's recovery:
Anthony Spencer was at Thursday's afternoon practice, however, he wasn't wearing his helmet. Spencer, who stood off to the side, was put on the Dallas Cowboys' physically unable to perform list earlier in the day.

"We haven't even really talked about preseason, so if I'm ready for it, I'll be ready for it," Spencer said. "We're really only on a timetable with my body and where I am."

"I've been feeling pretty good."

Spencer doesn't know if he'll be able to get any reps during training camp. If he remains on the PUP list, he'll miss the first six games of the season.

"I've been getting stronger, getting my muscles stronger around the knee," Spencer said. "It's going pretty well. I haven't had any setbacks, so it's moving along."
Updates from Thursday, June 12
Charean Williams of the Star-Telegram talked to Anthony Spencer about his recovery:
"I'm sure some other people have their doubts, but I don't have any doubts, no," Spencer said Thursday.

Spencer, who played only 34 snaps last season before undergoing surgery, has started running. He said his two runs on the field over the last week have left him encouraged. He will continue the same rehab schedule for the next couple of weeks, and the plan then is for him to start some change of direction movement.

But he concedes he is a long way from getting back to practice.

"It's one thing to be able to run and then another whole thing to play football, so I've got a little ways to go," Spencer, 30, said. "But it's progress and that's basically what I've been showing this whole time."


Updates from Tuesday, June 10
David Helman of DallasCowboys.com talked to Anthony Spencer about his recovery from knee surgery and the progress he's making:
The latest step back from Spencer's microfracture knee surgery is his return to the field for running – something he said he wasn't able to do as recently as three weeks ago.

"I almost shed a tear when I was out there running," Spencer said Monday.

That doesn't necessarily mean you should expect to see the veteran defensive end in a helmet when the Cowboys report for mandatory minicamp next week. True to what the Cowboys have been projecting, Spencer said he still doesn't have a definitive return date in mind.

"Still no timetable, really. It's feeling really good, though," he said. "I'm able to do a little bit more weight and moving on the field a little bit more. It's coming along slowly."
Original Text
Dallas Cowboys defensive end Anthony Spencer is progressing mostly as expected from his October microfracture surgery, but the team is apparently going to take no chances rushing him back.
Mike Fisher of Fox Sports Southwest reported Sunday that Spencer is expected to begin the 2014 NFL season on the physically unable to perform list:
#Cowboys source tells me he's 'sure' DE Anthony Spencer (knee) will start season on PUP List @1053thefan

— mike fisher (@fishsports) May 18, 2014
Spencer, 30, played in just one game in 2013 before undergoing season-ending surgery. He was the Cowboys' franchise player after a breakout 2012 campaign in which he had a career-high 11 sacks and emerged as a go-to pass-rusher off the edge. The injury forced Spencer to return to Dallas on a modest one-year contract this April, with hopes of hitting the open market after a comeback campaign.
Microfracture surgery is a serious procedure in which holes are drilled into a patient's bone to help facilitate the repair of damaged cartilage. It has most notably been used on high-profile NBA players like Tracy McGrady, Chris Webber and Greg Oden, the latter of whom has had the operation on both knees.
Microfractures are less common in NFL players and are largely being phased out in the medical community, as noted by Sean Deveney of Sporting News. Initial expectations had Spencer returning to 100 percent health by January or February, but Fisher's report certainly contradicts that prognosis.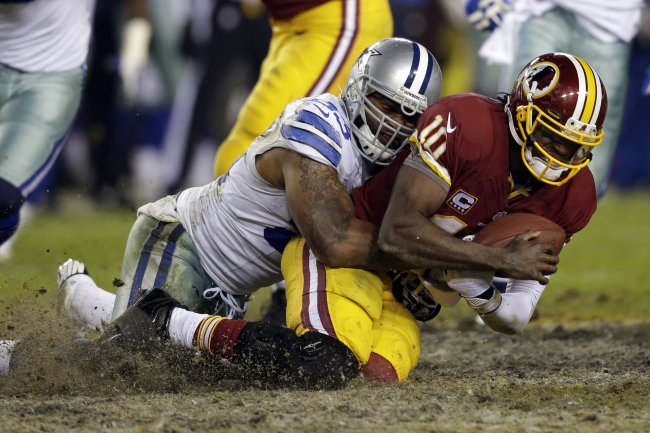 Evan Vucci/Associated Press
It should be noted that Fisher did not make a distinction between the regular-season and preseason PUP lists. If Spencer were placed on the regular-season list—a decision the Cowboys won't have to make for a while—NFL rules prohibit him from playing the first six games. Players can be taken off the preseason PUP list when healthy.
Spencer still walks with a noticeable limp and was on crutches for at least four months following his surgery, per Calvin Watkins of ESPNDallas.com. He indicated after re-signing with the Cowboys that he had a mental timetable of training camp but has since backtracked a bit.
"This injury it's really uncommon, you rarely see guys coming back from it," Spencer said, via Watkins. "So, I'm really not looking at any type of timetable. I'm just on my body schedule; where my body is, that's where I am."
The Cowboys could certainly use a fully healthy Spencer, as Pete Damilatis of Pro Football Focus helps highlight:
Shame to hear the Anthony Spencer news. Had the highest @PFF grade of any 3-4 OLB in 2012, now may never again start a game.

— Pete Damilatis (@PFF_Pete) May 18, 2014
Salary-cap issues this offseason forced Dallas to release defensive stalwart DeMarcus Ware, who subsequently signed with the Denver Broncos. The Cowboys notably selected three defensive linemen to replace Ware (and possibly Spencer) in this month's draft. Spencer is part of the team's plans, but it's clear they had no interest in waiting around.
For now, though, it seems like they'll have to wait. Microfracture procedures are dangerous, their results not always successful and their recovery periods indeterminate. It was always a bit of wishful thinking to insinuate Spencer would be fully recovered by late winter, but the tea leaves are nonetheless not promising at the moment.
Follow Tyler Conway on Twitter: