Novak Djokovic got off to a rocky start in the final of the 2014 Italian Open, and Rafael Nadal looked set to triumph once again on the clay. It would hardly have been a surprising result—Nadal came into the final having won seven of the last nine titles in this tournament.
But Nole was having none of it, rallying to win the next two sets and the match, 4-6, 6-3, 6-3. After, he showed support for Serbia, currently victimized by flooding, per Jonny Fordham of WWA Sport:
Djokovic writes on the camera: "This is for Serbia and Bosnia," his homeland is currently suffering from devastating floods #ibi14

— Jonny Fordham (@JonnyFordham) May 18, 2014
It was a hugely important performance for Djokovic heading into the French Open, as he looks to end Nadal's reign of terror (eight of the last nine titles at Roland Garros have gone to the Spaniard).
And for what it's worth, it was Djokovic's third title at the Italian Open since 2008. He and Nadal have now combined to win the last 10 titles on the clay in Rome. And while Nadal still holds the advantage in clay finals, per ESPN Stats & Info, it is by the smallest of margins:
Following today's win in Rome, Novak Djokovic improves to 4-5 vs Rafael Nadal in clay finals.

— ESPN Stats & Info (@ESPNStatsInfo) May 18, 2014
Djokovic's service was strong throughout, as he ripped seven aces and won 71 percent of his first-service points. His return game was equally proficient, however, as he won 45 percent of Nadal's first-service points and 56 percent of his second-service points.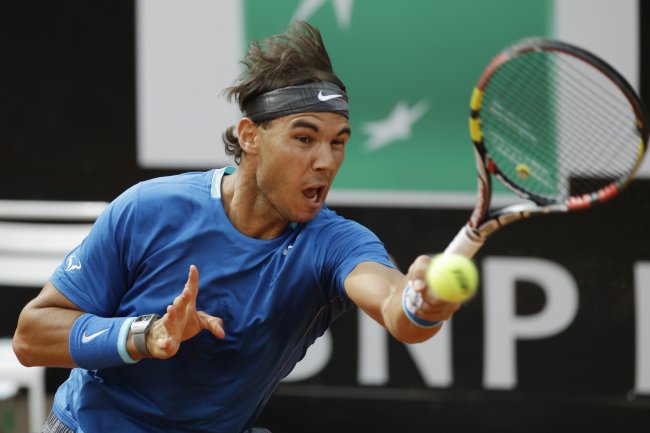 Andrew Medichini/Associated Press
In total, he broke Nadal six times, as opposed to four breaks for the Spaniard.
Things started off poorly for Djokovic, however, as he dropped two of first five games. He simply didn't look like himself early in this match, as tennis commentator Rob Koenig noted on Twitter:
Djokovic looking very "heavy" in his legs. Not moving with his usual intensity..

— Rob Koenig (@RobKoenigTennis) May 18, 2014
After that fifth game, he slammed his racket by the bench area in frustration. That seemed to wake him up a bit, as he earned a crucial break in the next game and followed by holding serve, drawing closer. But trailing 4-3, he blew a huge opportunity to pull level, wasting three break points and killing himself with unforced errors as Nadal held serve.
Each player held serve from there, and Nadal took the first set. Djokovic killed himself with unforced errors in the first set, as Live Tennis tweeted:
Nadal edges the first set 6-4 over Djokovic - 17 unforced errors from Djokovic in this set. pic.twitter.com/IIhl996enB

— Live Tennis (@livetennis) May 18, 2014
Djokovic started the second set like a man on fire, though, winning the first three games and breaking Nadal in the second. Yet he couldn't keep that momentum, as Nadal took the next two games, putting himself back on serve. But Djokovic fought back to break Nadal again, as the Spaniard double-faulted on the final point in the sixth game to give the edge back to the Serbian.
In a battle of styles, it appeared Djokovic had begun asserting his own, as Howard Bryant tweeted after the Djoker went up 5-2 in the second set:
24 Nole winners to 6 for Nadal, more proof that Djokovic can hit through Nadal, while Nadal must frustrate Djokovic into making mistakes.

— Howard Bryant (@hbryant42) May 18, 2014
When Djokovic can keep his head, he can neutralize Nadal's pattern and impose his will. When he doesn't, Nadal must reach his highest gear

— Howard Bryant (@hbryant42) May 18, 2014
And so with Djokovic winning the second set, 6-3, the stage was set for an exciting and decisive third set.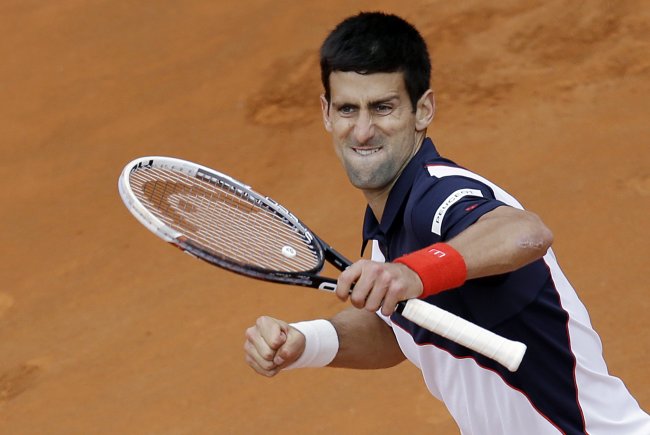 Gregorio Borgia/Associated Press
The Serbian certainly maintained his momentum in the third, winning the first two games. That set up a huge third game, as the two players battled back and forth in the deuce—Djokovic looking to break Nadal a second time and seize control of the match, Nadal desperately trying to regain a foothold in the match.
Nadal managed to hold, essentially preserving his chances, and the battle continued. That proved to be a key moment, as Djokovic would hold serve in the fourth game before Nadal won the next two, breaking Djokovic in the process.
Back and forth they went. Just when it seemed Nadal was in the driver's seat, Djokovic broke him again in the seventh game. That would prove to be the decisive moment, as Nole won the last two games and took the match.
Without question, this result has fans salivating over the possibility of these two meeting at Roland Garros. That point wasn't lost on Jon Wertheim of Sports Illustrated:
Djokovic d. Nadal …French Open intrigue is your big winner

— Jon Wertheim (@jon_wertheim) May 18, 2014
Nadal has dominated the tournament in historic fashion, but Nole is a fairly strong on clay himself and really appears to be the only person capable of ending Nadal's run of dominance at the French Open.
The game's best rivalry at the present moment keeps getting better. If these two cross paths at Roland Garros, it almost surely will be an epic affair. Nadal's history at the tournament would make him the favorite, but Djokovic's performance in Rome has made things very, very interesting.