The 10 Most Tortured Hockey Franchises in Recent Memory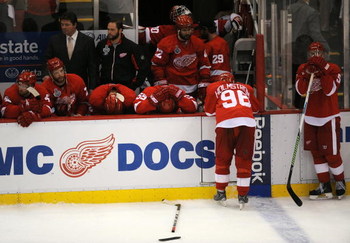 Another hockey season is in the books, and fans in Pittsburgh can rejoice after the Penguins brought Lord Stanley's Cup back to the Steel City after a 17-year absence.
Detroit came up one win short of giving the Red Wings fans the thrill of victory, but they succeeded just last year.
In any case, these two teams have recently rewarded their fan bases with a championship, something they should both be happy about.
At the other end of the spectrum are teams that have failed to produce such a reward for years and even decades. They include teams that have had chances in the finals but couldn't quite get over the final hurdle, and teams that haven't been anywhere near the last round of the playoffs. Here are 10 teams that have failed to satisfy the needs of their fans, and have downright tortured them as a result.
A couple ground rules before we begin:
1. I'm focusing roughly on a team's last 20 years, but occasionally will go back further if it's relevant and/or necessary. I've used some statistics but also other factors (fan support, management, etc.) in the rankings.
2. As such, I've excluded teams that haven't existed for more than 20 years, so while the Sharks have been atrocious in the playoffs the last few years, they still haven't experienced as much futility as any of the teams listed.
3. Accordingly, a team is not eligible for this list if they've won a championship in the last 20 years. Good news for Flames fans. You just missed the cut.
4. Of course these are just my opinions and I welcome your debates. Let's get to it...
10. Los Angeles Kings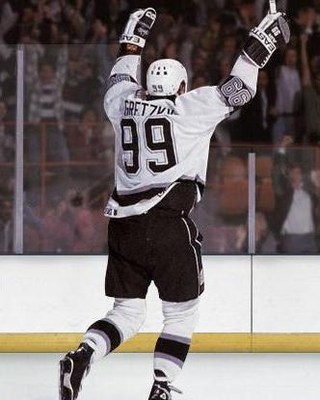 Founded: 1967
Last Stanley Cup: Never
Last Finals Appearance: 1993 (First and only as of now)
The Kings joined the NHL as part of the 1967 expansion, and for the greater part of their existence, they have been one of those teams that are just "there," for lack of a better description.
Other than the acquisition of "The Great One," Los Angeles hockey fans haven't had much to cheer about, unless you include Anaheim fans, but for the sake of this argument, I won't.
The aforementioned "Great One" was brought over in a monumental trade in the summer of 1988. The Kings were looking for a way to finally put themselves on the map, and this surely was a way to do it, as the trade sent shock waves through Edmonton and the entire hockey world. It's definitely one of the biggest trades in the history of sports in America.
Gretzky was brought on board not only to make the Kings franchise relevant, but also in hopes of bringing a championship to the City of Angels. He nearly succeeded in 1993, as the Kings came up just short against the Montreal Canadiens. He did, however bring the franchise its first (and to date, only) division (1991) and conference (1993) titles.
Unfortunately, it's been all downhill ever since. The Kings missed the playoffs the next four seasons, and bankruptcy forced them to shed all of their talent in favor of more cost-effective but less-talented players. More recently, they haven't made the playoffs in six years.
9. Washington Capitals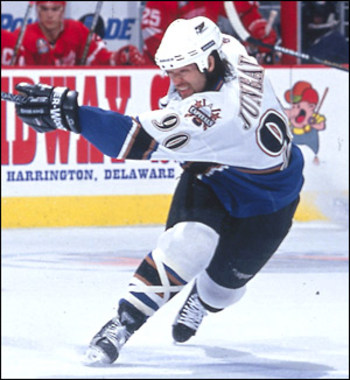 Founded: 1974
Last Stanley Cup: Never
Last Finals Appearance: 1998 (First and only as of now)
The Capitals appeared on the NHL scene as the league progressively expanded during the 1970s. Unfortunately for them, the WHA was gaining support at the same time, so the talent pool was significantly decreased for new NHL teams.
The result? The Capitals shattered the NHL's "Worst" records in their inaugural campaign, setting low marks for wins (eight), winning percentage (.131), road losses (39), consecutive road losses (37), and consecutive losses (17). Two years later, they beat their own record by losing 25 consecutive games.
Believe it or not, this hapless team managed to stay afloat, and they actually made the playoffs every season from 1983-96. However, they only made it to one conference final in that span, in 1990. During this time, they had a myriad of talent coming up through the ranks, most notably Sergei Gonchar, Peter Bondra, Joe Juneau, Dale Hunter and Olaf Kolzig.
In addition to their unfortunate shortcomings, the Capitals were also plagued by a poor decision from management to change their uniforms in the 1995-96 season. Their classic red, white, and blue sweaters were traded in for an inexplicable mix of aqua blue, black, and bronze. Even worse, they scrapped their classic word mark for some sort of eagle with one talon and a wing with star tattoos.
Aesthetic issues aside, the above core of talent would lead the Caps on an improbable run to the Stanley Cup Finals in 1998, where they were quickly dispatched in four games by the defending champion Red Wings. Washington missed the playoffs the next season. In fact, they didn't win a playoff series for the next 10 years. Somewhere in there Jaromir Jagr was rumored to have made a cameo, but that hasn't been confirmed.
The future does appear bright for this team with the emergence of superstar Alex Ovechkin and offensive defenseman Mike Green, among others. The Caps took the Stanley Cup champion Penguins to seven games in this year's playoffs before bowing out. Expectations will surely be high for next season.
8. Vancouver Canucks
Founded: 1945 (Joined NHL in 1970)
Last Stanley Cup: Never
Last Finals Appearance: 1994
Vancouver has had a history of appearing great on paper but never living up to their billing. Believe it or not, the city of Vancouver has won a Stanley Cup, but that was all the way back in 1915, when the Millionaires did it.
The Canucks have only twice in their history made a run to the conference finals (1982, 1994). The first time around, they were in the midst of 16 consecutive losing seasons. They just barely made the playoffs that year. Though it was a winning season, the same was true for 1994. Nonetheless, they put together impressive playoff runs, but lost to a New York-based team (first the Islanders, then the Rangers) both times.
Other than that, there has been minimal hockey success in the great northwest. Recently, their fan base has had the displeasure of witnessing the retirement of longtime captain and fan favorite Trevor Linden. The Canucks didn't renew promising general manager Brian Burke's contract before the 2004-05 lockout. As luck would have it, Burke was picked up by the Anaheim Ducks, the team that would eliminate the Canucks in 2007 on its way to winning the Cup.
The Canucks have alternated making and missing the playoffs each of the last four seasons. This past season, they erased a 10-point deficit to the Calgary Flames in the season's final month and won the Northwest division title. Most were expecting big things from them in the playoffs, and those expectations were raised after a first round sweep of St. Louis. They were favored in their second-round matchup against a young and inexperienced Chicago Blackhawks team, but fell in six games.
Questions remain in the off season with the Sedin twins and Roberto Luongo entering free agency.
7. Phoenix Coyotes/Winnipeg Jets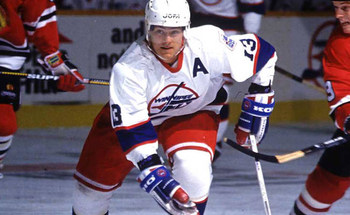 Founded: 1972 (Joined NHL in 1979)
Last Stanley Cup: Never
Last Finals Appearance: Never
This star-crossed franchise seems to be summed up by one word: never.
As in, they've never won a Stanley Cup. They've never won a Conference title. They've never even appeared in one. They've never even won their division. It's a far cry from their days in the WHA, where they won three of the seven titles the league ever had, and appeared in five finals.
In the early 1980s, the Jets struggled for relevancy, as every time they made the playoffs, they would have to face a powerhouse in either the Edmonton Oilers or Calgary Flames (or both). As a result, they experienced minimal playoff success, only ever winning two series in their NHL existence.
Their last was in 1987, 22 years ago. Think about that: if a player on that team had a newborn baby during that last series, that baby is now old enough to drink legally. It's been that long.
Despite an influx of talented young stars like Teemu Selanne, Tie Domi and Keith Tkachuk in the early 1990s, revenue problems made any on-ice success futile. The team was forced to move to greener—uh—sandier pastures in Phoenix in 1996, even after local grassroots efforts tried ardently to keep the team in Winnipeg.
It appears as though history may repeat itself. The team, now called the Phoenix Coyotes, has continued much in the same fashion as the Jets did, making the playoffs consistently for the next few seasons, but failing in the first round every time. Eventually, their play became too inconsistent, and they've now missed out on the party every year of the last six.
This even after hiring new part-owner Wayne Gretzky to coach. Revenue has again become a problem, and the team has been rumored to be moving again, but nothing has been finalized.
6. St. Louis Blues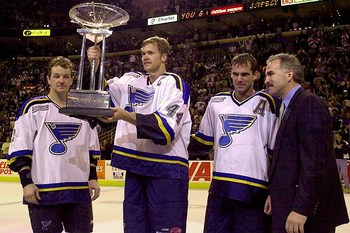 Founded: 1967
Last Stanley Cup: Never
Last Finals Appearance: 1970
When I look at this sad story, I'm not sure why I didn't rank these guys higher. Maybe it's because St. Louis fans are the type of fans who are passionate but not what I would consider die-hards. They support their team, but are nowhere near as serious as any of the teams above them on my list.
At any rate, the Blues have not appeared in a Stanley Cup Final in almost 40 years, after appearing in the first three of the expansion era (1967-70). They've never won a Cup, and have never even won a Conference title (they advanced to all three of their finals by winning the Western Division). The only time they've even advanced to a conference final was in 2001, when they fell to the Colorado Avalanche, the eventual Stanley Cup Champions.
What's most frustrating about this franchise is that they've been in the playoffs a lot, and just weren't able to put it together. Many people forget that they were a mainstay in the tournament every season from 1980-2004, which is the third-longest streak in professional sports history, and the two teams they trail are ahead on this list.
They had an incredible season in 2000, where they won the President's Trophy. Not surprisingly, they were picked as favorites for the Cup, but unbelievably lost to the San Jose Sharks in seven games.
To add even more insult to injury, when you look at the list of some of the talent that's been through the Gateway Arch, it's even harder to believe this team hasn't been able to get it done. Hall-of-Famers Scott Stevens, Brett Hull, Al MacInnis, Wayne Gretzky and Grant Fuhr all spent time in a Blues' sweater, and the following guys might make the Hall in the future: Adam Oates, Brendan Shanahan, Chris Pronger, Pavol Demitra, and Pierre Turgeon.
Pretty impressive list of names, right? Unfortunately, paper doesn't win championships.
The Blues finally reappeared in this past season's playoffs after a three-year absence, but they were swept by Vancouver. They have high hopes for next year with a talented young core that will hopefully return healthy this fall.
5. Boston Bruins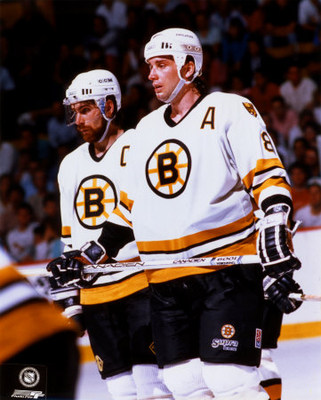 Founded: 1924
Last Stanley Cup: 1972
Last Finals Appearance: 1990
A revered and storied franchise, the Boston Bruins haven't had much to cheer about lately until this past season. Excitement was high in bean town as the B's cruised through the regular season, just missing out on the President's Trophy. But again, luck wouldn't go their way, and they bowed out in the second round of the playoffs to the Carolina Hurricanes, in overtime of the seventh game.
Before that, it had been 10 years since Boston had won a playoff series. Before that, they went five years without a series win, including missing the playoffs in 1997 for the first time in 30 seasons, a professional sports record.
Think about this: Bobby Orr was a rookie in 1966, the last time the Bruins had missed the playoffs before 1997. With all those appearances, it's hard to believe they only won two Cups in that span, and both of them came before or in 1972.
The B's had their best chances to return to the promised land in the early 1990s. They made it all the way to the Cup Finals in 1990, but fell to Edmonton. The next two years were just as heartbreaking, as they lost to Pittsburgh in the Conference Finals both times. The Penguins went on to win two Cups. The Bruins haven't been that close to a championship since.
Perhaps the most sour moment in recent memory occurred in 2000, when fan favorite and longtime captain Raymond Bourque requested a trade to a contending team in a last-ditch effort to win a Stanley Cup after more than 20 years of failures. The Bruins obliged, sending Bourque and Dave Andreychuk to the Colorado Avalanche in exchange for three players and a first round draft pick. Bourque won his Cup the next year, and Andreychuk followed in 2004 with the Lightning.
Despite all of this frustration, Boston fans have remained loyal to their team, and as said before there is reason for hope. Captain Zdeno Chara came into his own this season, and the Bruins have a decent, balanced core of players to surround him for the next few seasons. There's no reason to think they can't get it done sooner than later.
4. Philadelphia Flyers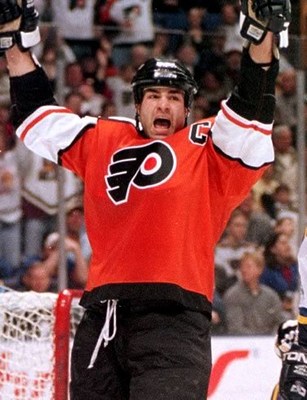 Founded: 1967
Last Stanley Cup: 1975
Last Finals Appearance: 1997
C'mon, you knew I couldn't put my favorite team at No. 1. That would be too easy.
In all seriousness, to say this franchise has tortured its fan base might be the biggest understatement I've ever made. This team has been to seven Stanley Cup Finals and has only won it twice, in succession in 1974 and 1975.
After measurable success through the '70s and '80s, the Flyers fell on hard times in the early '90s, missing the playoffs consecutively from 1990-94. In an effort to shake this trend, they made an aggressive move in June of 1992, perhaps the most lop-sided move in the history of hockey trades. You know the one: six players, first round draft picks in 1993 and 1994, and $15 million to the Quebec Nordiques in exchange for the supposed "Next One," a player by the name of Eric Lindros.
We all know the rest of the story. Among those six players was a Swedish prospect by the name of Peter Forsberg, who went on to win two Stanley Cups with the Nordiques/Avalanche franchise, while Lindros put up a big goose egg.
Don't let that zero fool you. Lindros actually had a lot of success in his prime. He won the Hart Trophy in 1995 and was named an All-Star six times. He led the Flyers to the Stanley Cup Finals in 1997, and was supposed to fulfill his destiny. Unfortunately, they ran into an up-and-coming dynasty in the Detroit Red Wings, who promptly swept the Flyers out of the Finals for the next 12 years.
Between 1997 and 2004, the Flyers made the Conference Finals twice, losing both in seven games to the eventual Stanley Cup Champions. Lindros made a rather unpleasant departure (again, an understatement) from the city of Philadelphia and has long since retired.
Just two seasons ago, the team finished with the league's worst record. They made a resurgence the following season, returning to the Conference Finals, only to fail again. And despite a first round exit this past season, the Flyers are certainly in much better shape than some others on this list, but Philadelphia fans won't be satisfied with potential. Only hardware will suffice.
3. Chicago Blackhawks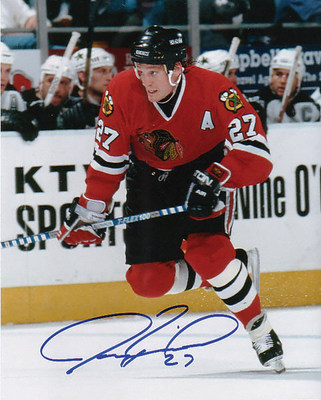 Founded: 1926
Last Stanley Cup: 1961
Last Conference Title: 1992
Oh where to begin with the Hawks?
Of all the "Original Six" franchises, they've won the least amount of Stanley Cups (three). They have a passionate and dedicated fan base, but few of them can actually remember the last time they won the Cup.
It's not like they haven't had their chances. The Hawks own the second-longest streak of playoff appearances, an incredible 27 years between 1970 and 1997. You'd figure that they would have accidentally gotten it right at least once in that time, right?
Wrong.
The only time the Hawks even got close was in 1992, where they were swept in the Cup Finals by the Pittsburgh Penguins. Perhaps what's most agonizing is that all four losses in that series were by two goals or less. The year before, the Hawks won the President's Trophy, but were shockingly swept by the Minnesota North Stars in the first round.
In the last 10 years, they've only made the playoffs twice. In perhaps the most disgraceful moment in the franchise's history, ESPN named the Chicago Blackhawks the "Worst Franchise in Professional Sports" in 2004. This wasn't due to their on-ice failures, but mostly due to poor team management and lackluster fan treatment by said management.
Things may be looking up for Chicago. The Hawks made a run to the Conference Finals this past season, and have young stars emerging in Jonathan Toews and Patrick Kane, among others. The Windy City hasn't had this much reason to be excited in a long time. But until they bring home the mug, they will still be a bunch of tortured souls.
2. Buffalo Sabres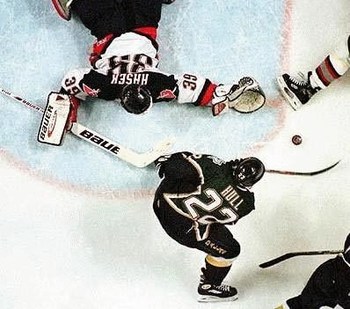 Founded: 1970
Last Stanley Cup: Never
Last Finals Appearance: 1999
It might be a faux pas for me to post the above picture, but it sums up the Sabres' struggles perfectly.
In case you're not aware, the last time the Sabres appeared in the Stanley Cup Finals in 1999, they were eliminated in triple overtime in game six on a controversial goal by Brett Hull. According to rules at the time, a player's skate was not allowed to be in the crease at the time a goal was scored, and from the above evidence, it certainly appears that Hull's skate is in the crease. The whole situation was infuriating to Buffalo fans, who saw the Dallas Stars parade around their ice with a Cup that many felt they didn't deserve.
Buffalo fans are among the most passionate in all of hockey, and they surely haven't done anything to deserve the disappointments they've been forced to endure. The most trivial of these was the uniform change in 1997 from their classic blue and gold to an embarrassing red, black and silver scheme that featured a weird new logo. Fans were excited in 2006 when they heard that the team would be switching back to its classic colors, but were disgusted to find that an even weirder logo was coming with the change, a logo that some have dubbed the "Buffaslug" or "Sluggalo."
Yeeccchhhh. I'm of the opinion that to play good, you need to look good.
The Sabres hold a bizarre and highly dubious distinction of being the only team in NHL history to win the President's Trophy one year (2007) and miss the playoffs for the next two seasons. Much like the Detroit Lions' 0-16 season, this is a record that no one wants to duplicate.
Like many teams on this list, they've had chances to finish the job, but for whatever reason they haven't been able to do it. They've lost in the Conference Finals three times alone since 1998. Before that, however, the Sabres hadn't even been to a Conference Final since 1975, when they made it to the Stanley Cup Final. They lost those Finals to the Flyers, even after winning the infamous "Fog game."
One thing Sabres fans do have to brag about is that they have arguably the best announcer in all of hockey, Rick Jeanneret. Part of me wants them to get a Cup soon just so I can hear his excitement.
1. Toronto Maple Leafs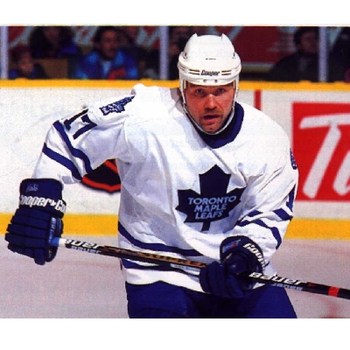 Founded: 1917
Last Stanley Cup: 1967
Last Finals Appearance: 1967
Toronto Maple Leafs are without a doubt the most tortured hockey franchise in recent memory.
The Leafs have not only gone Cupless since 1967, but they haven't even been to a Cup Final since winning it. In a striking coincidence, they haven't won since the league expanded to 12 teams. It's well known that a Leafs ticket is the toughest ticket to find in hockey. Their fans' devotion should have willed them into a title at least once in the last 42 years.
Unfortunately for them, it hasn't. In fact, the Leafs have only ever won two division titles, the last coming in 2000. That was also the first time they finished a season with 100 points, a feat they've accomplished just three times.
In an overdue but decidedly bittersweet move, the team moved out of the historic Maple Leaf Gardens in 1999 and into the Air Canada Centre. While initially this was actually a positive development, recent indications suggest the Gardens may be leveled to put in a shopping complex, a disgrace to hockey purists in Toronto.
The team remains in limbo right now. New head coach Ron Wilson and new GM Brian Burke have the team moving in the right direction, but a Stanley Cup still seems far in the distance.
Honorable Mentions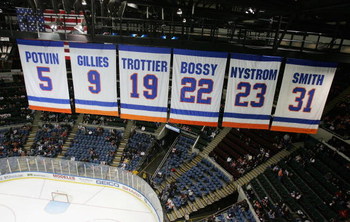 New York Islanders
Yes, I know. They fit all the criteria that I mentioned. However, I'm still bitter about the uncalled offsides in the Stanley Cup Finals in 1980, that basically ensured that the Isles would defeat the Flyers. Additionally, I can't bring myself to have any sympathy for any team that is based out of New York city. If the Isles would lose for the next hundred years, I'd still be a little angry that they've ever won anything.
Calgary Flames
Maybe if I made this list in a year, they'd be included. But it's now been 20 years since Calgary has seen a cup, and they probably should have won back in 2004. First round exits have become the norm, and yet the fans continue to support their team. Can't blame them. It's not like they're consistently playing bad hockey. But they haven't played enough good hockey to reach their goal.
Edmonton Oilers
It's been 19 years since the Oilers have won the ultimate prize, and they, too had a chance to win it, in 2006. However, they were the eighth seed and they probably shouldn't have been in the Finals in the first place. Their Cinderella run ended when the Hurricanes dispatched of them in a thrilling seven game series that only made the heartbreak that much worse.
And those are the most tortured hockey franchises in recent memory. Any predictions on who's going to be the next to break their slump?
Keep Reading