Draymond Green definitely earned his stripes this season, including the starting power forward position in this season's playoffs. Green was forced into the position because of the untimely injury to center Andrew Bogut, but can he leverage that success going into next season?
There are many factors in play here, as the Golden State Warriors just found a new coach in Steve Kerr to lead the troops next year. Green is very adaptable, but Coach Kerr hasn't had a chance to lay out his overall strategy.
First things first; Green has to beat out the incumbent starting in training camp.



David Lee is currently the starter at the power forward position, and he brings a hefty salary and a solid stat line with him. Lee's figures last season are par for his career, but he is more heavily suited for the offensive side of the ball.
Lee's strengths play into the fact that he can shoot with both hands and distribute the ball effectively. On defense, Lee has an inadequate skill level that makes fans' eyebrows rise when he makes a solid play.
Despite Lee's deficiencies, he is a proven player who is a two-time All-Star and one of co-owner Joe Lacob's favorite players. He is a double-double machine and may not function at the same level coming off the bench.
Lee's line from this season was 18.2 PPG, 9.3 RPG and 2.1 APG.
Rumors are floating around early this offseason that the Dubs may try to package Lee with Harrison Barnes to acquire a talent like Kevin Love. It is early on, but we shall see how things progress and what the Minnesota Timberwolves or other teams are willing to do.


The Hiring of Steve Kerr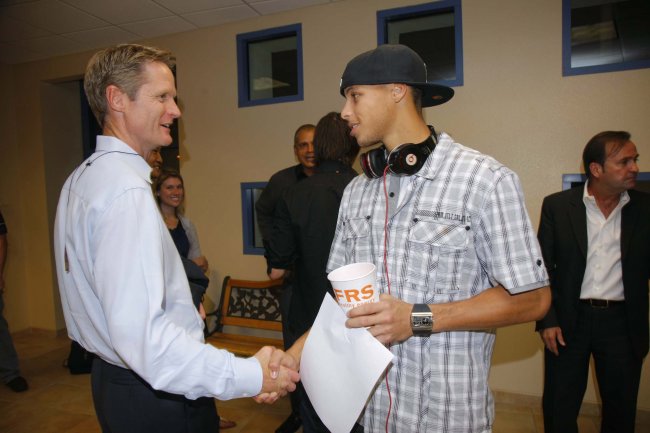 Rocky Widner/Getty Images
With the recent hiring of Coach Kerr, the Dubs start all over with a player who has tremendous NBA experience (including five NBA titles) and knowledge, but doesn't have any time on the books in the coaching arena.
The Warriors' brass are confident that the transition won't take very long and feel very comfortable with the hire.
But what type of offense will Coach Kerr run? In an interview with the San Jose Mercury News' Tim Kawakami, he stated that the triangle would have its influence, but he didn't want to take away from the strengths of Stephen Curry:
It will be influenced by the Triangle but it will not look like the Bulls of the '90s, I can tell you that.

The game has changed and I think my philosophy would reflect that. For instance, I would be crazy to do away with screen and roll with Steph—he's devastating in it. We'll do plenty of that.

But we have the opportunity to make some strides offensively and I think that will be reflected in my influences—which have been Popovich and Phil and Lenny Wilkens...

They've all been coaches who emphasized ball movement, spacing and flow and having a system to rely on and that's what I'm looking to give.
Green is not yet a consistent double-digit scorer, but as a starter getting significant minutes, he scored 10 points or more in five of the seven playoff games versus the Los Angeles Clippers.
He has shown the knack for being able to shoot all over the court and now behind the three-point line. Given his high basketball IQ and ability to space the floor, Coach Kerr would most definitely consider him as one of his integral options.
Looking back at Kerr's run in Phoenix as the general manager, his teams ran an up-tempo offense that spread the floor. The system would fit well with the great backcourt shooting tandem of Curry and Klay Thompson.
He will also use the style employed by the San Antonio Spurs, where there is a lot of ball movement and action on the weak side.
Since Green is a disciple of the game, he will do what is asked by Coach Kerr and pick up the style as he goes along, as referenced by this tweet describing Green's interview on the Doug Gottlieb show.
Draymond Green to @GottliebShow: "I'm going to be looking forward to learning and picking up what Coach Kerr has to offer."

— Diamond Leung (@diamond83) May 16, 2014

Starter or Sixth Man?

Green has an advantage because he can play both forward positions and is adaptable to whatever situation he is given. He is also one of the better defenders on the team, able to guard all five positions on the floor.
Green can space the floor better than Lee, but Green needs to work on his outside shot. Between the range of three to 16 feet, he shot only 26.5 percent this season.
He shot better from 16 feet to the arc, and his three-point game has improved.
If Green can focus on improving his mid-range jumpers and threes this offseason, he will look to jump to the next level and become entrenched as a go-to option. He will make the Dubs' offense that much more fluid.
Green showed that he can fit in the starting lineup during 12 games in the regular season and all of the playoffs. He will have to adjust to playing between Bogut and Andre Iguodala on an everyday basis, if he is given the opportunity.
If Lee makes it through the summer without being shipped out, he will return as the starting power forward. Green will need to impress Coach Kerr during the preseason and eventually find his way into the starting five.
It makes the most sense to have Green become the team's sixth man at the start of Coach Kerr's run. Since he is so versatile, he is the right person to fill the holes and change the pace.
Green can also be an anchor on defense, if the game plan's focus is primarily on the offense.
He has the acumen to start the game, but the area when he is a must-play is in the closing minutes. His basketball smarts on both sides of the ball make it imperative that he is on the floor if the Warriors want to close out games.