Fresh off winning the 2014 Preakness Stakes, California Chrome is now one step away from becoming the first Triple Crown winner since 1978.
Entering as the favorite for the second straight time, he once again ran away with a victory, this time finishing 1 1/2 lengths ahead of Ride On Curlin at Pimlico.
Before securing his place in history, however, he must once again cross the finish line first at the Belmont Stakes, on Saturday, June 7. Per SportsCenter's Twitter, since Affirmed won the Triple Crown 36 years ago, 12 horses have lost their bid at the final leg.
Lucky number 13? California Chrome is 13th horse to win both Kentucky Derby and Preakness Stakes since last Triple Crown in 1978.

— SportsCenter (@SportsCenter) May 17, 2014
It won't be easy for the California-bred colt to avoid that list, but anyone who has bet against him so far has ended the day disappointed. Let's take a look at what lies ahead for California Chrome.
Looking Ahead to Belmont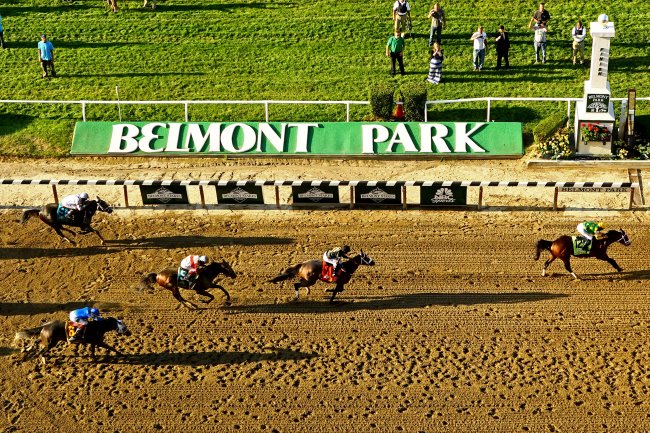 Al Bello/Getty Images
It shouldn't shock anyone that California Chrome is the early favorite to take home the Belmont Stakes.
According to ESPN's RJ Bell, the preliminary odds like the Derby and Preakness winner over the field.

California Chrome is a favorite to win the Triple Crown (-130 at Sportsbook.ag) - rest of Belmont field +100

— RJ Bell (@RJinVegas) May 17, 2014
Well, of course. He has won six straight races by a combined 27 1/2 lengths. He hasn't lost since November 1, 2013. Just like he was the rightful favorite leading up to the last two legs, the oddsmakers should award him a decisive edge.
Belmont, however, is a totally different beast. The 1 1/2-mile course is longer than the other two big events, which trainer Art Sherman acknowledged, via the Daily Racing Form, after the race.
Moments after race, Art Sherman tells NBC: "He's a real racehorse, and I'm hoping that the mile and a half is up his alley, too." #Preakness

— DRF Derby (@DRFDerby) May 17, 2014
That extra winkle could provide some adversity in a journey that Chrome has made look routine with several easy victories. Despite the extra challenge, it's one he looks equipped to handle.
Closing speed has never presented a problem with jockey Victor Espinoza at the helm. The Preakness especially was a thing of beauty, as the pair maintained their distance on the outside early before eventually flashing past the field during the closing stretch.
California Chrome got stronger as the race unfolded, showing no signs of slowing down during the 1 3/16 miles. Don't expect stamina to be his fatal flaw at Elmont, New York.
The Competition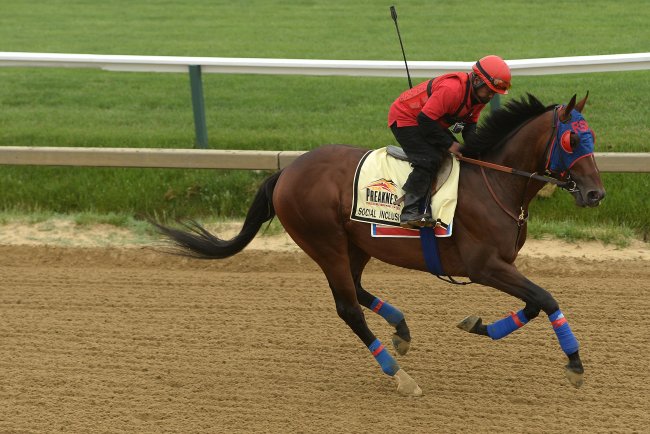 Patrick Smith/Getty Images
Danonymous Racing gives us an early preview of California Chrome's potential competition. If this field comes to fruition at Belmont, the colt will face his toughest challenge yet.
This was just handed out in the @PimlicoRC press box: #BelmontStakes contenders... Let the debates begin! pic.twitter.com/HlGEOUqvkg

— Danonymous Racing (@DanonymousMan) May 17, 2014
The list contains top competitors from both the Kentucky Derby and Preakness Stakes. Commanding Curve and Danza sat out the Preakness after finishing second and third, respectively, at Churchill Downs.
Wicked Strong and Samraat, the top two horses outside of the money, are also on the contender's list. They were both popular choices to make some noise in Louisville.
While Social Inclusion ultimately finished in third, he matched California Chrome stride for stride for a good duration of the race. For a few seconds, a photo finish looked like a possibility before the winner eventually broke away.
Runner-up Ride On Curlin is also a contender who must be taken seriously after placing at Pimlico. This is a truly stacked lineup if it holds up, which provides a stark contrast to the Preakness' relatively weak competition.
Conclusion
California Chrome is far from a lock to take home the Triple Crown. Belmont will provide his toughest task to date, most likely against the strongest line of opposition. Betting for the underdog could finally pay off during the final leg.
Shying away from the unprofitable odds is one thing, but outright predicting California Chrome to lose? That would just be bold for the sake of being bold. He has a stronghold over horse racing, so far looking unstoppable against anyone thrown beside him.
This is the strongest chance at witnessing a Triple Crown winner that we've seen in a long time. Although hardly a sure bet, he's the smart choice to triumph at Belmont.