The Montreal Canadiens were smashed by the New York Rangers in Game 1 of the Eastern Conference Final. Sometimes a team can take some solace in a particular statistic or incident, but the Habs will struggle to take away any positives from their first contest against New York.
The list of negatives is simply too long:
Carey Price might have sustained some sort of injury following a collision with Chris

Kreider

11 Montreal players finished with a minus-one rating or worse
P.K.

Subban

—arguably the quickest

Canadiens

player—was scorched on several puck races
The

Blueshirts

were allowed to convert on three power-play chances
Peter

Budaj

finished with a .600 save percentage after relieving Price to start the third period
The good news is that the Rangers can't score any more goals, and that the slate is clean for Montreal heading into Game 2. There are a handful of clearly identifiable things that the Canadiens can improve on before before Monday's tilt—a contest that looks like a must-win for the Habs after losing Game 1 at home.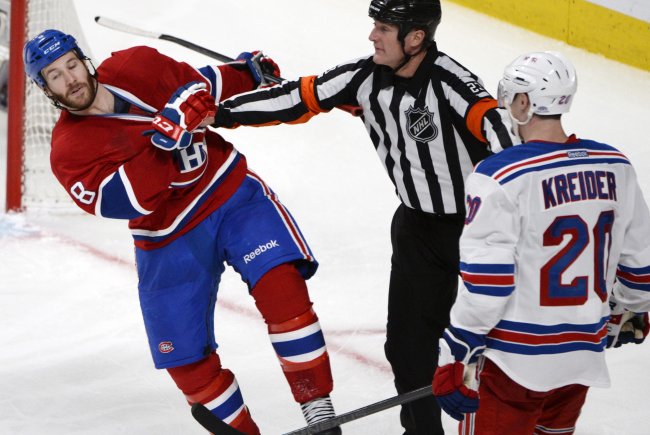 USA TODAY Sports
Find a New Emotional Banner to Carry
The second round was an intense one for the Canadiens. They went up against a detested rival in the Boston Bruins and managed to win a big Game 7 against one of the best teams in the Eastern Conference.
Montreal was able to channel their dislike of the Bruins into results out on the ice. They seemed to thrive while playing Boston's game, getting involved in scrums and after-the-whistle nonsense. The Rangers don't seem keen on allowing the Habs to gain any sort of positive momentum through these scuffles though.
Montreal frustrated Boston and now are being frustrated by NYR. Role reversal.

— Matthew Barnaby (@MattBarnaby3636) May 17, 2014
The Canadiens claimed to be ready for the emotional shift after downing the Bruins. Subban spoke to Lance Hornby of The Toronto Sun during Montreal's 24-hour break prior to the Eastern Conference Final and had this to say:
If we're still focused on that (Boston) series, we're sadly mistaken. That series is over. I don't think we've accomplished what we want yet. You can't afford to be complacent in the playoffs. We have a chance to do something special as a team, but they have, too.
Subban and Co. might not be focused on the Bruins anymore, but they came out and played a style similar to the one that did the job against Boston. That isn't going to fly against the Rangers. Even Derek Dorsett was skating away from from Brandon Prust throughout the second and third periods, as Montreal's enforcer tried to gather some momentum for his team.
So, yes, Dorsett has his role and shouldn't be a pushover, but he has to be very, very careful. "Proving a point" isn't worth a MTL PP.

— Adam Herman (@Herman_NYRBlog) May 17, 2014
Dorsett continuously turned his back on the invitations to dance, and that was representative of how the Rangers approached the unchecked aggression of the Canadiens in general. Montreal needs to find a different emotion to carry into battle, because it takes two to tango, and right now, all the Canadiens are doing is giving New York chances on the power play.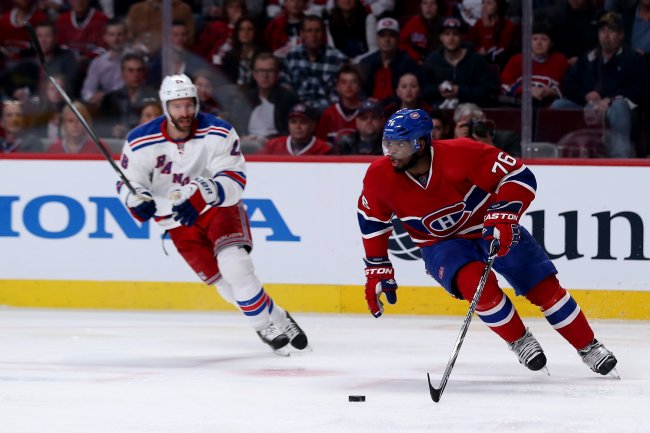 Bruce Bennett/Getty Images
Be Patient With the Puck and Look for Seams
John Tortorella hasn't been the coach in New York for a while now, but his fingerprints are still all over the team. Namely, the Rangers' willingness to get in front of shots regardless of range or situation. Dan Girardi was credited with five blocked shots alone in Game 1, and the Canadiens struggled to get any pucks toward Henrik Lundqvist.
Montreal finished the contest with 21 blocks to New York's 23, but the Blueshirts were laying down in front of some grade-A scoring chances and seemed to be more timely with their blocks in general.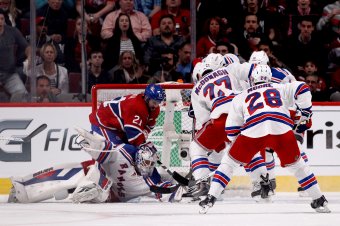 Bruce Bennett/Getty Images
It's part of what allowed the Rangers to get by the high-powered Pittsburgh Penguins offense. If it worked against Sidney Crosby, it'll probably work against Max Pacioretty and Daniel Briere. The Canadiens now know that the Rangers are going to block everything that they can. They'll commit to that action as soon as possible, and that's something that head coach Michel Therrien will need to adjust to and take advantage of.
New York is going to crowd the middle of the ice and try to take away any shooting lanes. There are a few ways to deal with that, but the best option might be trying to set up plays from behind the net. Forcing defenders like Girardi to skate from the high slot to the front of the net and back again could pay dividends as the series progresses.
Even if Therrien doesn't roll with a behind-the-net setup, he needs to do something to get his forwards into better shooting lanes. Encouraging them to be more patient with the puck is a must, and they can't continue to shoot into bodies. Especially considering how good New York was in transition in Game 1. Turning the puck over close to the blue line in the offensive zone isn't an option if Montreal wants to win.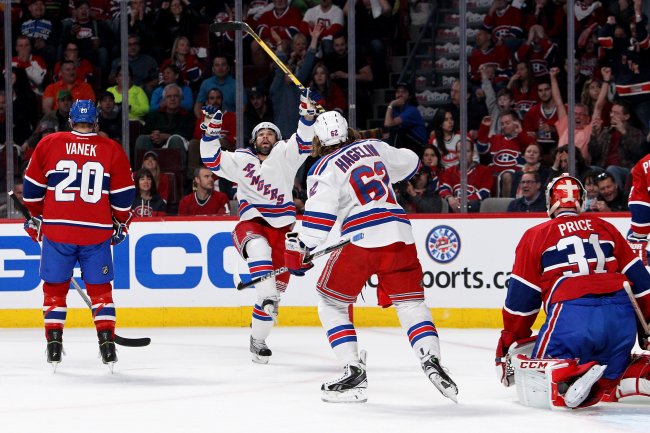 Francois Laplante/FreestylePhoto/Getty Images
Slow the Rangers Down in the Neutral Zone
The Blueshirts came out in Game 1 like they had been fired out of a cannon, and their game plan was immediately evident: Attack through the neutral zone with speed and get bodies to the net. That strong net-front presence allowed the Rangers to grab not just one early goal against Price...
...but two early goals against Price...
These plays are similar in that they are generated by pressure down low and the eventual goal scorer is posted up in front of Price. The Rangers burned Marc-Andre Fleury like this multiple times in the second round, and they've clearly found success with that attack pattern early on against the Canadiens.
Preventing slam-dunk goals like these really starts in the neutral zone. New York was allowed to generate way, way too much speed with the puck as they hit the offensive blue line, and this forced Montreal's defenders to do more skating than they would have liked.
The Rangers' transition game and passing in general has been stunning today

— James O'Brien (@cyclelikesedins) May 17, 2014
Aside from Subban, the Canadiens aren't particularly quick on the back end, and that was exposed in Game 1. Montreal's forwards are, however, quick. They need to do a better job of getting back on defense after offensive opportunities are thwarted.
Canadiens' slow defense really been exposed. Especially Markov and Emelin. Can't keep up with Rangers' speed.

— Tal Pinchevsky (@TalPinch) May 17, 2014
On the whole, the Canadiens are just too slow on the blue line to contend with a full-on rush and cycle from the Rangers. The forwards need to commit to backchecking harder, and plays need to be broken up in the neutral zone before the puck gets worked in deep behind Price.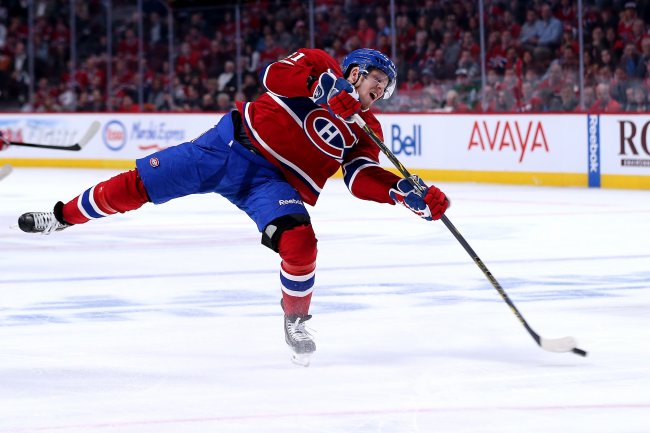 Bruce Bennett/Getty Images
***
Game 1 was strange because the scoreboard really did tell the whole story. The Rangers earned all seven goals that they scored, and all seven tallies came off of identifiable lapses or mistakes by Montreal.
That's not a bad thing for the Canadiens though. If it's bad puck luck or a hot goalie, that's one thing. We've seen it in the playoffs several times this year where the better team should have won but didn't because of a heroic performance from the netminder.
Montreal hasn't bumped into an unbeatable juggernaut of a team in the Rangers. The Blueshirts just looked like an All-Star team on Saturday because the Canadiens made a ton of mistakes. That's something that can be fixed and ironed out though, and there's no reason to believe that the Habs won't come out playing for their postseason lives in Game 2.
All statistics appear courtesy of NHL.com and are accurate through Game 1 of this series.