In the last six years, no one not named Floyd Mayweather, Manny Pacquiao or Timothy Bradley has defeated Juan Manuel Marquez, and Mike Alvarado's name won't join that exclusive list.
Marquez has been busy, too. Despite the 40-year-old's age, he managed to fight 15 times over that span, walking away with a record of 11-4.
Of course, that won't impress the 33-year-old Alvarado. He only has two losses in his career, compared to 34 wins, with 23 by knockout.
But then again, he has never faced Mayweather, Pacquiao or Bradley. And both losses came in his last three fights.
Here are both fighters' money lines for the Saturday's showdown, according to Odds Shark.
Alvarado: +200 (2/1)
Marquez: -278 (50/139)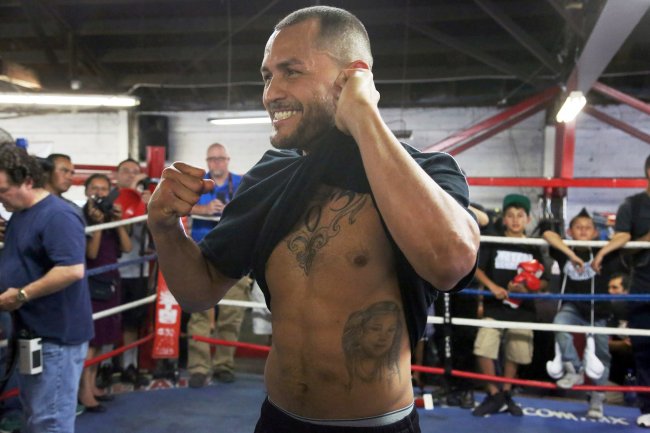 Nick Ut/Associated Press
Will Marquez retire before fighting Pacquiao again?
It's no surprise Marquez is favored. ESPN still ranks him the fifth-best pound-for-pound fighter. Alvarado, who has only ranked fifth in the junior welterweight division, isn't even on the radar.
Despite this, the underdog expects to force Marquez into retirement.
"Retiring a legend is going to be huge," said Alvarado, according to Boxing Scene. "I respect Marquez and his great career but now is my time."
Alvarado sounds like he's been hit in the head too many times. Marquez just knocked out Pacquiao less than two years ago. Alvarado hasn't even fought anyone on their level, let alone beat them.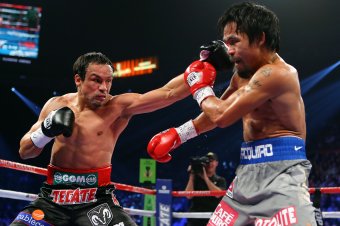 Al Bello/Getty Images
His best shot against Marquez doesn't rest on his boxing ability, but whether or not Marquez fails to take him seriously enough. With everything on the line, though, that's unlikely to happen. Dan Rafael of ESPN reported that the winner will likely face Pacquiao in the fall.
What better way to go out than to come back from down 0-1-2 to tie a rival 2-1-2? That's what Marquez would have a chance to do against Pac-Man if he defeats Alvarado first. And the Mexican legend just doesn't lose to underdogs like him.
David Daniels is a columnist at Bleacher Report and editor at Wade-O Radio.