The biggest prize in junior hockey is up for grabs as the 2014 Memorial Cup began play May 16 and will run through May 25.
Four teams earned their way into the round-robin-style tournament, three of which won their respective league championships (OHL, WHL, QMJHL) and the fourth being the London Knights—who won the right to host the event for the first time since 2005.
The team with the most points after each plays the other advances directly to the championship game, while the second- and third-placed teams play in a semifinal for the right to play in the championship.
Action is already underway in London, Ontario, so let's take a look at where things currently stand in the 2014 Memorial Cup.
Round-Robin Standings: 2014 Memorial Cup

| | | | | | | |
| --- | --- | --- | --- | --- | --- | --- |
| Team | GP | W | L | OTL | GF | GA |
| Val-d'Or Foreurs (QMJHL) | 3 | 2 | 1 | 0 | 8 | 9 |
| Guelph Storm (OHL) | 4 | 3 | 1 | 0 | 21 | 13 |
| Edmonton Oil Kings (WHL) | 4 | 2 | 1 | 1 | 16 | 14 |
| London Knights (host/OHL) | 3 | 0 | 3 | 0 | 5 | 13 |
MastercardMemorialCup.ca
2014 Memorial Cup Schedule

| | | | |
| --- | --- | --- | --- |
| Date | Away Team | Home Team | Time (ET)/Result |
| May 16 | Val-d'Or Foreurs | London Knights | 1-0 |
| May 17 | Guelph Storm | Edmonton Oil Kings | 5-2 |
| May 18 | London Knights | Edmonton Oil Kings | 2-5 |
| May 19 | Guelph Storm | Val-d'Or Foreurs | 6-3 |
| May 20 | Edmonton Oil Kings | Val-d'Or Foreurs | 3-4 |
| May 21 | London Knights | Guelph Storm | 2-7 |
| May 23 | Edmonton Oil Kings | Val-d'Or Foreurs | 4-3 |
| May 25 | Edmonton Oil Kings | Guelph Storm | 6-3 |
MastercardMemorialCup.ca
All scheduling information courtesy of the MasterCard Memorial Cup official site.
Edmonton Oil Kings 6, Guelph Storm 3
Edmonton had enough of the thrilling finishes they endured against Val-d'Or Foreurs. On Sunday, the Oil Kings used a three-goal second period to take command of the title game against the Storm.
Two more goals in the third period created more distance, and the Oil Kings easily defeated Guelph 6-3 to win the 2014 Memorial Cup.
The Storm hadn't lost a game during the Memorial Cup coming in, and they had outscored opponents 18-7. The Oil Kings obviously weren't intimidated.
The Toronto Sun was one of the first to acknowledge the Oil King's big win.
Edmonton Oil Kings beat Guelph Storm 6-3 to win Memorial Cup. (AFP photo) pic.twitter.com/57yEvxHFMv

— Toronto Sun (@TheTorontoSun) May 25, 2014
The Oiler Sun on Twitter talked about the club's big win for its league.
It took 48 years, but you can say it once again... The Edmonton Oil Kings are Memorial Cup Champions!

— OilersNow (@OilersNow) May 25, 2014
After a 48-year drought, the Oil Kings finally broke the so-called Chris Bruton curse. The Oil Kings became the first WHL team to win the Memorial Cup since Bruton dropped the cup after his Spokane Chiefs had won it in 2008.
Embarrassing.
Behind Henrik Samuelsson who had a hand in all but one of his team's goals (two goals and three assists), the Oil Kings overpowered Guelph.
As Brendan Ross of Dobber Prospects says, the Oil Kings' march to the Cup was impressive.
Edmonton #OilKings outlast both Portland #Winterhawks and the Guelph #Storm ...now that's an impressive feat.

— Brendan Ross (@RossyYoungblood) May 25, 2014
Not only did the team have to endure two close and tough battles with Va-D'Or, but it also pushed its way beyond the Portland Winterhawks and a tough Storm squad.
Head coach Derek Laxdal continued to lead his team to new heights with this championship. After setting team records for wins in the previous two seasons, and winning its first WHL championship in the modern era, Laxdal has guided the Oil Kings to the pinnacle.
Edmonton Oil Kings 4, Val-d'Or Foreurs 3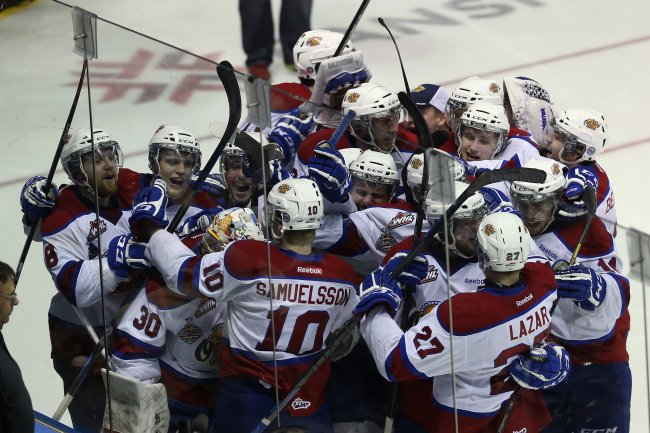 Bruce Bennett/Getty Images
What more could have been expected from a rematch of Tuesday's thrilling double-overtime contest?
Well, the Oil Kings and Foreurs topped that brilliant performance with a triple-overtime spectacle on Friday, making it the longest game in Memorial Cup history, according to a tweet from 2014 MC Memorial Cup:
Tonight's Semi-Final between EDM/VDO is officially the longest game in #MCMemorialCup #history passing OTT/KEL 2005 game that went 95:41

— 2014 MC Memorial Cup (@MCMemorialCup) May 24, 2014
Right out of the gate, this game had all the makings of a shootout.
Phil Pietroniro got the Foreurs on the board immediately, scoring within the first two minutes of action on Friday night. Not to be outdone, Mads Eller answered the call, evening the game after nine minutes of play.

The game headed into the second period with the score still tied. However, that wouldn't last long, as Mitch Moroz found the back of the net from the slot on a power play, giving Edmonton its first lead of the game at 2-1.
It appeared as though Edmonton was beginning to run away with this one. Shortly after the goal by Moroz, Edgars Kulda scored after some brilliant passing on the offensive end of the ice.
Edmonton's Twitter account had some fun with the score:
OH MY WHAT A PLAY!! Eddie finishes off some tic-tac-toe passing for a goal that is definitely #KuldaApproved pic.twitter.com/DnLW3LO4Xn

— Edmonton Oil Kings (@EdmOilKings) May 24, 2014
Although, in the waning minutes of the second period, Randy Gazzola would not be denied, as he brought the Foreurs within one goal of the Oil Kings.
The third period proved to be a defensive struggle, as Edmonton attempted to cling to a one-goal lead, and the Foreurs emptied their arsenal, launching 13 total shots on goal.
Finally, one found its mark with under a minute to play, as Guillaume Gelinas evened the game at three each and sent it into overtime.

The Memorial Cup's Twitter account reminded everyone what's at stake:
Update: looks like these 2 teams are going to Double OT again! Winner plays Guelph in the finals Sunday! #MCMemorialCup

— 2014 MC Memorial Cup (@MCMemorialCup) May 24, 2014
After two back-and-forth periods of overtime action—and recording the longest game in the history of the Memorial Cup—we entered the third overtime.
This marathon of a contest didn't take long to end once the third overtime began. With players absolutely winded on both sides, Curtis Lazar instantly became the game's hero, netting the puck after just 2:42 elapsed.

Just like that, the game ended, and the Memorial Cup tweeted the final score:
Tonight's #MCMemorialCup Final Score for Tonight's Semi Final Game : @EdmOilKings 4 @LesForeurs 3 #WeAreHockey pic.twitter.com/hgElClEOfc

— 2014 MC Memorial Cup (@MCMemorialCup) May 24, 2014
With the adrenaline-packed victory, not only does Edmonton deserve some much-needed rest, but the team will now face the Guelph Storm in Sunday's championship game.
Can Edmonton maintain its momentum, or will the Storm's surging offense be too much to handle?
We'll find out soon enough.
Guelph Storm 7, London Knights 2
The Guelph Storm continued their offensive onslaught Wednesday, assaulting the net in a dominant 7-2 win over the London Knights. In three Memorial Cup games, Scott Walker's team has been unstoppable on the attack, finding the back of the net 18 times.
Tonight's Official #MCMemorialCup Score: @Storm_City :7 @GoLondonKnights :2 #WeAreHockey pic.twitter.com/tPOQeyA8gj

— 2014 MC Memorial Cup (@MCMemorialCup) May 22, 2014
Winnipeg Jets prospect Scott Kosmachuk was at both ends of this one, scoring two goals in the first period and another in the last on his way to an impressive hat trick. The Detroit Red Wings' Tyler Bertuzzi added two goals, while Brock McGinn tallied two assists to go with a team-high plus-three. Jason Dickinson added three points (one goal, two assists).
Of course, as the team's Twitter feed noted part-way through the game, it wasn't all offense. Netminder Justin Nichols was equally crucial on the other side of the ice for the OHL champs:
Not lost in all the craziness is @jnichols29! Huge in the blue paint with 27 SVS so far! #InNicholsWeTrust #Brothers pic.twitter.com/Jb5EfZT7d4

— Guelph Storm (@Storm_City) May 22, 2014
London actually ended up out-shooting Guelph, 47-38, but Nichols came through with 45 saves to help his team book a spot in the final.
Three Stars: 3) @jnichols29 2) @jdickinson_11 1) @Kossyboy #Brothers #MCMemorialCup

— Guelph Storm (@Storm_City) May 22, 2014
The Storm look unbeatable right now, and after sweeping their way through round robin play, it's clearly going to take something special to knock them off on Sunday.
Val-d'Or Foreurs 4, Edmonton Oil Kings 3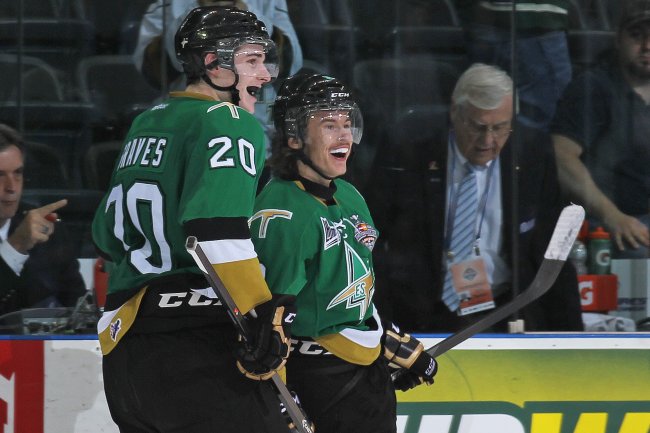 Claus Andersen/Getty Images
The Foreurs recovered well from their loss to the Storm, beating the Oil Kings 4-3 in double overtime. Anthony Richard scored the winner a minute and 15 seconds into the second overtime period.
Val-d'Or dug itself into a hole early in the first period, surrendering two goals to Edmonton. Reid Petryk scored the opener at 6:22 and then Curtis Lazar doubled the Oil Kings' lead with a power-play goal nine minutes into the first period.
Shawn Ouellette-St-Amant scored with a little under three minutes to play to halve the deficit at 2-1. Pierre-Maxime Poudrier followed up 9:38 into the second period with an equalizer.
The two teams exchanged goals in the third period. Henrik Samuelsson scored 5:46 into the period to put Edmonton on top 3-2 and then a little over 10 years, Samuel Henley sent the game into OT.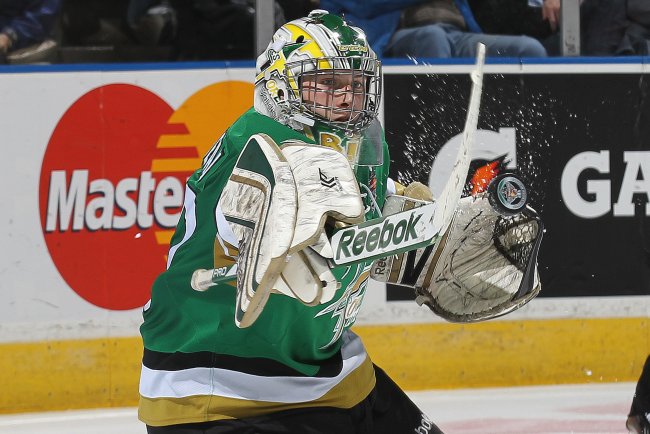 Claus Andersen/Getty Images
The Foreurs have their goaltender to thank for the win. Antoine Bibeau turned away 47 of Edmonton's 50 shots to keep his team in the game. Neate Sager of Buzzing the Net highlighted one moment in the third period in which Bibeau stepped up large:
The Toronto Maple Leafs pick made a spectacular poke-check on Brett Pollock late in regulation, maintaining a one-goal margin before captain Samuel Henley tied the game with 4:11 remaining on a play the Oil Kings thought was icing.

It was a great display of money goaltending, especially since Val-d'Or was minus Guillaume Gélinas, the leading defenceman scorer in the QMJHL. Gélinas, who has a contusion just above his left knee, couldn't make it through the pregame warmup.
With the win, Val-d'Or secured a place in the semifinal. It lost out an immediate road to the final by virtue of Monday's 6-3 loss to Guelph. However, getting one step closer to a rematch with the Storm will be good enough for the Foreurs.
Guelph Storm 6, Val-d'Or Foreurs 3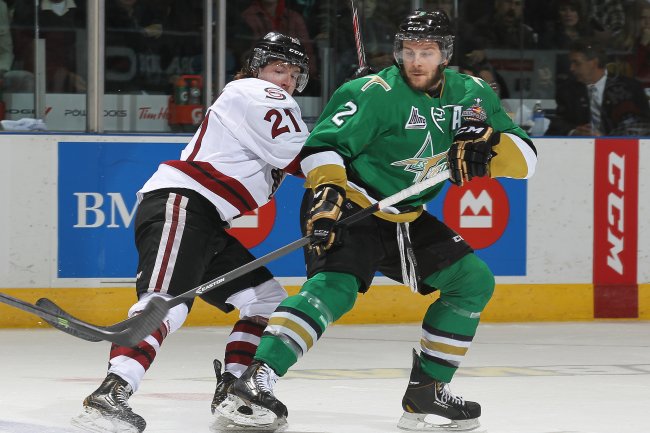 Claus Andersen/Getty Images
With another big win, the Storm now lead the Memorial Cup standings, as they've officially punched a ticket to the championship game.
With tonight's win, the Storm are guaranteed a spot in the @MCMemorialCup Finals on Sunday! #Brothers pic.twitter.com/bIgVzf2qIZ

— Guelph Storm (@Storm_City) May 20, 2014
The first period was not kind to the Foreurs, as the Storm scored three goals in the first 20 minutes. One of those goals was assisted by Nick Ebert, the former Mr. Irrelevant pick two years ago. He finished with one assist and tied captain Matt Finn for the highest plus-minus at four.
"There was no looking back for me once the playoffs started," Ebert told Sunaya Sapurji from Yahoo! Sports. "It's the most intense hockey and I think when the game is on the line, that's when I'm at my best. I thrive in moments like this, that's for sure."
The Foreurs were able to get on the board with a couple of goals in the second period, but the Storm added another three goals in the period to go up 5-3. Gregg Krupa from the Detroit News pointed out that a couple of Detroit Red Wings prospects were able to get on the board in the second period.
1 assist for anthony mantha tonight, -3 for val-d'or foreurs against guelph storm #MemorialCup tyler bertuzzi 1 goal for guelph in 6-3 win

— gregg krupa (@greggkrupa) May 20, 2014
After another goal in the third period, the Storm took the 6-3 win. The scoring was very even, as six different players recorded one goal, while Finn, Brock McGinn, Zack Mitchell and Scott Kosmachuk all had at least two assists.
Now, the Storm can sit back and wait to see who they play in the championship game.
Edmonton Oil Kings 5, London Knights 2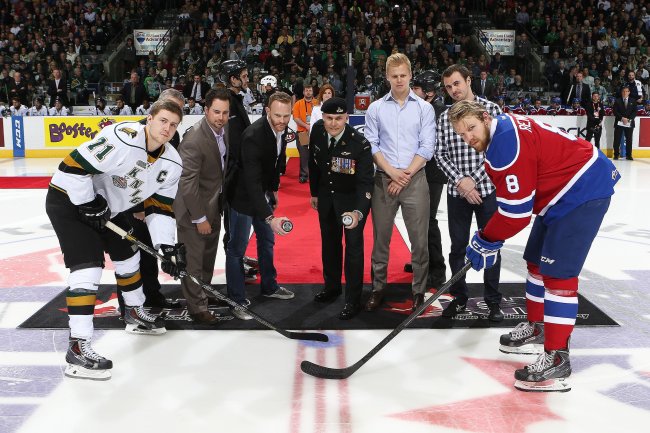 Claus Andersen/Getty Images
Fans of the hosting Knights have to be anxious following Sunday's shellacking at the hands of Edmonton by a score of 5-2. Each of these clubs had lost their opening games, but since the Oil Kings bounced back so strong, they have pushed London to within one loss away from being eliminated.
Tonight's #MCMemorialCup Official Score : @EdmOilKings :5 @GoLondonKnights :2 #WeAreHockey pic.twitter.com/Ro5GbihYhr

— 2014 MC Memorial Cup (@MCMemorialCup) May 19, 2014
New York Rangers prospect Michael St. Croix was impressed with how Oil Kings forward Edgars Kulda played in notching two second-period goals and adding an assist for the victors:
Pretty amazing to see the passion and heart of Edgars Kulda during this Oil Kings/Knights game. The kid can play. #steal #missya

— Michael St. Croix (@stixy18) May 19, 2014
The Oil Kings' Twitter account captured video of Kulda's second goal that put Edmonton up 2-0:
WATCH: Edgars Kulda puts Edmonton up 2-0 with this 2nd period snipe:http://t.co/JdV9vaWq3f #TakeItALL

— Edmonton Oil Kings (@EdmOilKings) May 19, 2014
Kulda definitely seems to have a bright NHL future, and his club's defense managed to hold strong amid a fast-paced flurry on both ends. London snapped off 40 shots, while the Oil Kings managed 43 of their own.
Tristan Jarry, a Pittsburgh Penguins prospect (h/t NHL.com's Adam Kimelman), was between the pipes for Edmonton and made 38 saves in a winning effort. A power play goal inside the last two minutes gave Luke Bertolucci two goals for the game to match Kulda's total, driving the high-powered Oil Kings' offense.
After getting blown out in their first game, it had to feel good for Edmonton to get back on track, especially by the same score and playing against the hosts. The Oil Kings will try to keep their momentum going on Tuesday against the Val-d'Or Foreurs.
It will take a lot for the Knights to bounce back from a disappointing effort after what should have been a win in the first game over Val-d'Or. London will try to stay alive in the Memorial Cup in its impending Wednesday clash with the Guelph Storm.
Guelph Storm 5, Edmonton Oil Kings 2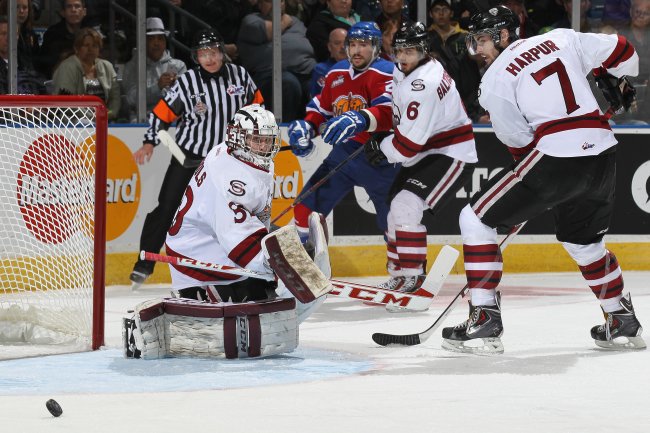 Claus Andersen/Getty Images
The second game of the 2014 Memorial Cup was dominated by the Guelph Storm. Two Storm players in particular stole the show, as Kerby Rychel and Tyler Bertuzzi netted two goals apiece.
Tonight's Official #MCMemorialCup Score The Guelph Storm : 5 The Edmonton Oil Kings : 2 #WeAreHockey pic.twitter.com/JPuSKmi6Hz

— 2014 MC Memorial Cup (@MCMemorialCup) May 17, 2014
Rychel gave Guelph the lead on a power-play goal with five seconds remaining in the first period, but Edmonton answered two goals in 27 seconds early in the following period. Those goals were scored by Henrik Samuelsson and Ashton Sautner.
Now down 2-1, Rychel scored again for Guelph to tie the game at two.
Brock McGinn gave Guelph the lead with 14:52 remaining before Bertuzzi netted two goals of his own. The insurance he provided allowed Guelph to play even more aggressive on defense and take more chances.
Goaltender Justin Nichols was great in net for Guelph. He stopped 37 shots, while allowing just those two goals in the second period.
Edmonton took seven more shots than Guelph (39-32), but many of said shots were ineffective. Nichols was obviously fantastic in net, but Edmonton didn't exactly present him with many difficult opportunities.
Guelph will next play Val-d'Or. Edmonton will play London.
Val-d'Or Foreurs 1, London Knights 0
Leaf prospect Antoine Bibeau with a dazzling 51-save shutout as Val-d'Or draws first blood at the 2014 Memorial Cup, 1-0 over host London.

— Damien Cox (@DamoSpin) May 17, 2014
The London Knights came out inspired by their home crowd and dominated much of the opening game of the 2014 Memorial Cup, but it wasn't enough to get past the QMJHL champions. Val-d'Or hung on for a tight, 1-0 shutout in Friday night's opener.
The opening 20 minutes were pretty much all London. The Knights were flying toward the net, putting chances on at will and ended up leading the opening period in shots, 20-9.
But it was the Foreurs who took advantage of their chances early on, as Anthony Mantha—game-winning goal scorer in Val-d'Or's QMJHL championship game—battled to the net and got the puck past London goalie Anthony Stolarz to open up the game's scoring in the first period.
Shots were more of the same in periods two and three, as London led 33-14 after 40 minutes. But Foreurs goaltender and Toronto Maple Leafs draftee Antoine Bibeau was simply too unstoppable.
Toronto Star's Damien Cox summed up the game best:
With a whopping 51 shots on goal compared to 28 from Val-d'Or, London certainly figured at least one or two would slip past Bibeau, even if he continued his top form from his postseason MVP performance in the QMJHL playoffs. That wasn't the case, as the future Leafs standout was impenetrable Friday night.
London moves on to play Edmonton next, while the Foreurs will face the Guelph Storm in their second game. Both teams still have two games left in the round-robin portion of the tournament, but Val-d'Or made a big early statement with its shutout victory over the hosts.