There's been an unbelievable amount of drama so far in the 2014 NBA playoffs. The first two rounds featured several series going to a full seven games, miraculous buzzer-beaters and legacy-cementing turns from players like Damian Lillard and John Wall.
Despite all the chaos and upstart performances, the conference finals feature four familiar teams looking to make a run at an NBA championship.
The Miami Heat are looking to make history with a three-peat, while the San Antonio Spurs are in their fourth straight conference finals. The Oklahoma City Thunder are trying to fit in a championship before their window closes, and the Indiana Pacers are looking to erase the criticism they've endured over the past couple of months.
Here are the updated odds for the final four teams remaining in the hunt for the Larry O'Brien Trophy.
2014 NBA Championship Odds

| | |
| --- | --- |
| Team | Odds |
| Miami Heat | 11/10 |
| San Antonio Spurs | 11/5 |
| Oklahoma City Thunder | 7/2 |
| Indiana Pacers | 10/1 |
VegasInsider.com
(Note: Odds updated as of Friday, May 16)
Miami Heat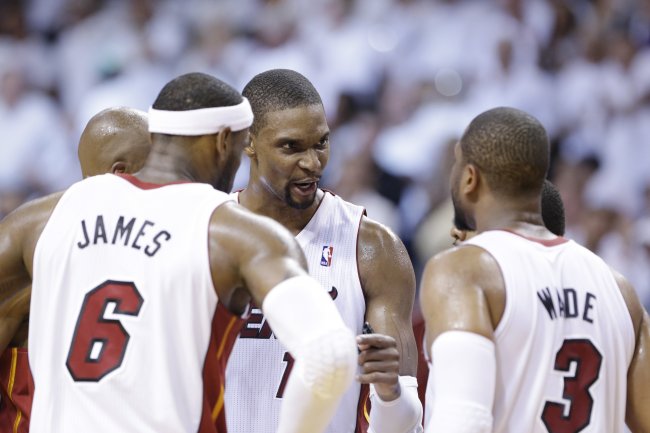 Wilfredo Lee/Associated Press
The Miami Heat have hardly been tested in the playoffs so far and are worthy of the oddsmaker's distinction as the team to beat as they chase the elusive three-peat.
The Heat looked like they were on auto-pilot at various points during the season. Even when the front-running Pacers began to struggle immensely, they were unable to take the No. 1 overall seed in the Eastern Conference. Now that they face their familiar foe, the Heat will be hoping the Pacers' home-court advantage doesn't come back to haunt them. ESPN Stats & Info provides the key numbers.
How important is home-court advantage for Pacers? In last 2 seasons (incl. playoffs), Heat are 6-1 at home vs Pacers and 1-6 on road.

— ESPN Stats & Info (@ESPNStatsInfo) May 16, 2014
Dwyane Wade spoke about the how closely intertwined the two marquee franchises are, as per Ira Winderman of the South Florida Sun-Sentinel:
"All year long, we've been one and two, back and forth, back and forth," Wade said. "You play the whole year, it seemed like we could have just got to this point a long time ago. But that's not how it works. But we're here now."
They've passed the Pacers' test two years in a row now. Beat this grinding team again and it is a chance at history.
San Antonio Spurs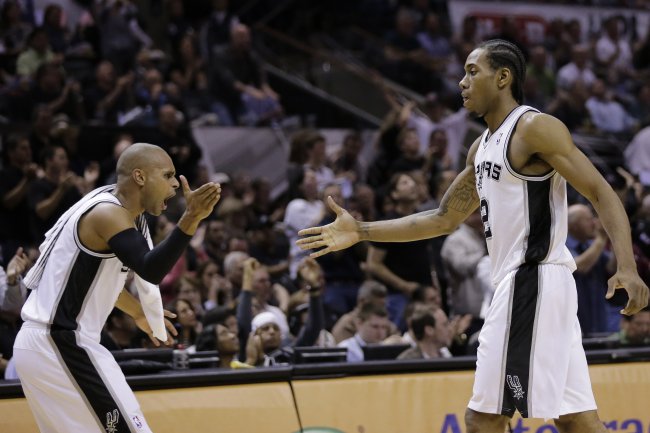 Eric Gay/Associated Press
You have to admire the Spurs consistency. No team seems to do more with less than this aging squad fortunate enough to have basketball mastermind Gregg Popovich at the helm.
They absolute dismantled the Portland Trail Blazers over the course of five games to move to the Western Conference finals. ESPN Radio's Dusty Harrah pointed out a statistic that sums up their brilliantly controlled game.
The Spurs starting lineup combined for 22 turnovers all series. Nic Batum had 22 on his own. #BlazersTalk

— Dusty Harrah (@Dusty_Harrah) May 15, 2014
Everyone knows Tim Duncan, Manu Ginobli and Tony Parker are wizened veterans capable of nightly heroics but perhaps the biggest key to their success has been the uptick in Kawhi Leonard's play in this year's playoffs.
He averaged 17 points, 7.6 rebounds and 2.8 steals per game against the Portland Trail Blazers, and he saved his best performance for Game 5 when Tony Parker left with a hamstring injury.
He poured in 22 points to go along with seven rebounds and five steals in 35 minutes of play. Gregg Popovich was amazed at Leonard's ability to take care of the ball against the Trail Blazers, as per Jeff McDonald of the San Antonio-Express News.
Kawhi Leonard has not committed a turnover in 181 minutes. Pop calls this "mind-boggling" and, jokingly, "anti-Spur."

— Jeff McDonald (@JMcDonald_SAEN) May 16, 2014
He's also the player with the best chance of stifling Kevin Durant (let's be honest, no one will shut him down) on offense. Look for Leonard to key this team's championship run.
Oklahoma City Thunder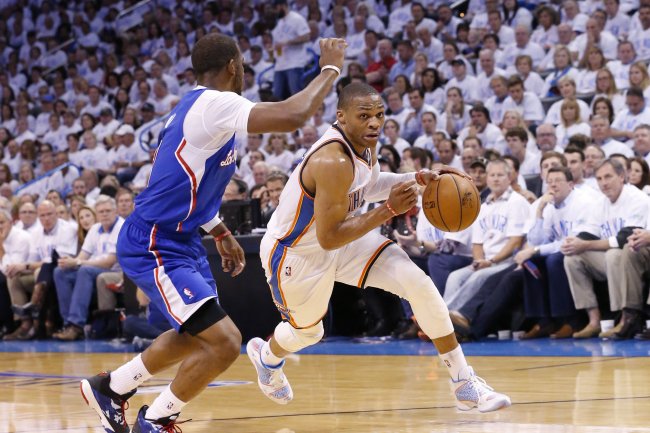 Uncredited/Associated Press
The Thunder will have to contend with the San Antonio Spurs without the services of their best post player. Serge Ibaka will miss the remainder of the playoffs with a calf injury, according to CBSSports.com's James Herbert.
He was crucial to the Thunder's 4-0 record against the Spurs in the regular season, averaging 14 points, 11.5 rebounds and four blockers per game in those contests, as per ESPN.com.
Nick Collison and Steven Adams will have to make incredible leaps in production in order to make up for Ibaka's absence.
The Ibaka injury also means Russell Westbrook will absolutely have to continue his recent outstanding play for the Thunder to have a shot at an NBA title. His hustle plays should give an older team like the Spurs absolute fits, especially if the consummate ball-handler Parker misses any more time with his hamstring strain.
A fine example of Westbrook's unparalleled effort is the turnover he forced at the end of Game 5 against the Los Angeles Clippers that helped his team seal a comeback victory.
Of course, Westbrook must be careful to not turn the ball over himself and give the Spurs too many extra possessions. He's averaged 4.5 turnovers per game during the playoffs, up from 3.8 per game during the regular season.
Indiana Pacers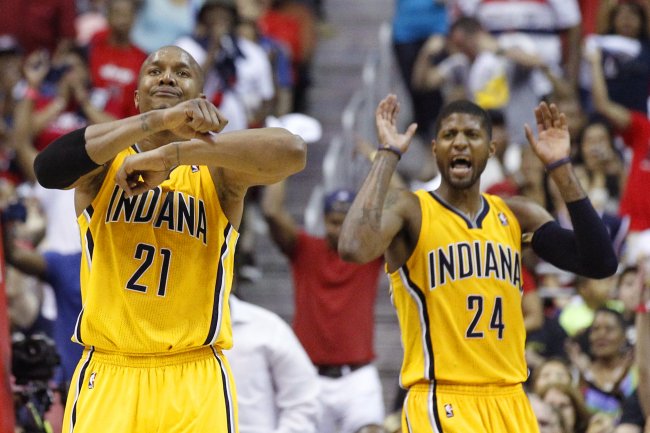 Alex Brandon/Associated Press
The Pacers should be getting used to the erratic play of Roy Hibbert by now. He seems to have fallen into that special category of "known unknowns"; the team knows he might not show up each night, so they must look to other players to carry the load.
David West has proven he can put this team on his back. He was magnificent in Game 6 against the Wizards, dropping 29 points in a crucial elimination game.
His play reflected the leadership role he's carried throughout the playoffs, and he has been vocal about making sure the burden is placed on him, via the Pacers' official Twitter account:
"We couldn't lose this game... If we lost this game, I wanted it to be on me." - @D_West30

— Indiana Pacers (@Pacers) May 16, 2014
If West can save the struggling Hibbert and the marginally effective Ian Mahinmi in the frontcourt, the Pacers should have a decent chance against the defending-champion Heat.