Serena Williams won the French Open for the second time last year but wasn't able to defend her title as she was eliminated by Garbine Muguruza in the second round.
The official Roland Garros Twitter account noted the American star's exit from Roland Garros, while also providing post-match reaction:
In shocking fashion, defending champion and No.1 #Serena Williams is defeated by Garbine #Muguruza 6-2, 6-2 #RG14 pic.twitter.com/K232oW84JI

— Roland Garros (@rolandgarros) May 28, 2014
Accolade chaleureuse entre @GarbiMuguruza et S. Williams. #RG14 pic.twitter.com/Zs9qCOtMhV

— Roland Garros (@rolandgarros) May 28, 2014
Muguruza gets a standing ovation from the crowd as she stuns defending champion Serena Williams in the seco... https://t.co/Dj2MIMYs7I

— Roland Garros (@rolandgarros) May 28, 2014
Ben Rothenberg of the New York Times was quick to weigh in on the outcome:
In an absolute shock, unseeded Garbine Muguruza ROUTS No1 Serena Williams 6-2, 6-2 in just 64 minutes. Total stunner. #RG14

— Ben Rothenberg (@BenRothenberg) May 28, 2014
The French Open has always been Williams' weakest major. She has won it just twice as compared to five triumphs at each of the other three Grand Slam events. Her winning percentage on the clay courts of Roland Garros is also easily the lowest of the four biggest tournaments of the year.
She still entered the 2014 edition of the French as the clear favorite, though. That's in part due to the fact she ended a decade-long drought last year. More prominently, however, it was because there isn't a player capable of beating her when she's at her absolute best.
Williams certainly didn't play at that level against Muguruza. Her serve wasn't nearly the weapon it usually is and she was committing unforced errors left and right. Credit the underdog for the upset, but it was a poor showing by the favorite.
And it wasn't just a bad performance, it was the worst loss of her career (based on score), as noted by Richard Deitsch of Sports Illustrated:
Serena Williams falls 6-2, 6-2 to Garbine Muguruza at the French Open. The worst loss of her career.

— Richard Deitsch (@richarddeitsch) May 28, 2014
So, unfortunately for the 17-time Grand Slam singles champion, she wasn't able to complete a repeat performance. Now the focus shifts to Wimbledon, a tournament where Williams has enjoyed far greater success over the years.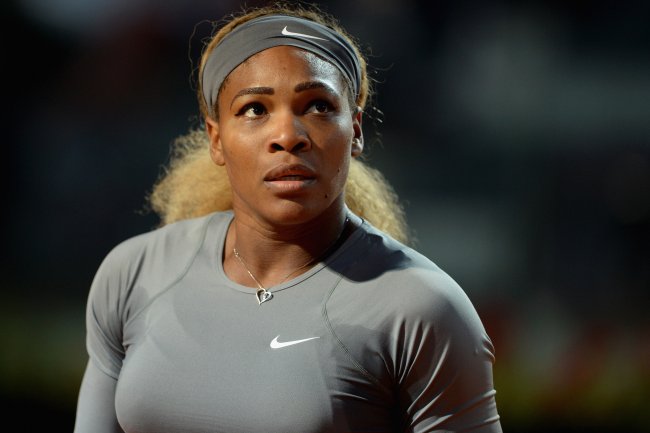 Michael Regan/Getty Images
One thing that will be monitored closely in the coming weeks is her health. She dealt with some thigh issues during the run up to the French Open, and the busy portion of the schedule is usually when those type of problems tend to flare up.
The Associated Press, via ESPN.com, passed along comments from her a couple weeks before Roland Garros about fighting through the pain whenever possible:
I don't do anything out of precaution anymore. You live once and I feel like anything can happen tomorrow. I just physically couldn't play. I was in a lot of pain and just wasn't able to continue. When I play I want to give 100 percent.
Williams was eliminated in the fourth round of Wimbledon last year. She had won the classic tournament three times over the previous four years. That success is why she'll arrive to the All England Club as the favorite, as well.
How will Williams fare in the remaining 2014 majors?
Her inability to win the French Open won't have any impact on that status. Just two years ago she was shocked in the first round of the French by Virginie Razzano and proceeded to win both Wimbledon and the U.S. Open to finish the 2012 major schedule.
So if anything, the loss at Roland Garros will simply provide further motivation for the rest of the year. It certainly wouldn't be a surprise to see her return to an unmatched level of dominance to capture her sixth Wimbledon crown.
That's all based on the assumption she doesn't have any type of health setbacks in the weeks ahead, of course. Should Williams arrive to Wimbledon at less than full strength, it will give her fellow top contenders far more hope of conquering the storied grass-court event.
As for now, it doesn't seem like that will be a serious issue. That leaves a bright outlook for the rest of Williams' season despite the early exit at the French Open.