Brazilian protesters have once again flocked the streets to oppose the country's upcoming World Cup, just one month before the competition is due to begin.
As reported by David Kent of the Daily Mail, the latest demonstration aimed to highlight the poor financial decisions of the Brazilian government, which has placed the hosting of a major football tournament over essential requirements:
Protesters began a wave of demonstrations around Brazil, burning tyres and blocking highways to draw attention to housing and education needs before the World Cup.

In Sao Paulo demonstrators blocked two key roads into the city and hundreds protested near the Itaquerao Stadium, which will play host to England's World Cup match against Uruguay on June 19.
The newly built stadium, which is due to become the home of Corinthians once the tournament ends, is set to host Brazil's curtain-raiser against Croatia. Six matches will take place at the Itaquerao, including single round-of-16 and semi-final ties.
Kety Shapazian, a Sao Paulo-based journalist, tweeted one image of defiance:
Protester burning Panini World Cup album sticker (a huge hit in Brazil) tonight. Photo: AFP pic.twitter.com/o3xpERDDxq

— Kety Shapazian (@KetyBrazil) May 16, 2014
The latest protest adds to a string of mishaps during the lead-up to this summer's competition, and Sao Paulo has been a hotbed of activity. In January, 128 people were arrested in the city after similar scenes, as reported by BBC News.
Although the same report highlights peaceful protests have taken place, acts of vandalism and clashes with police have also gripped the nation.
Leonardo Pelegrini dos Santos, a university student in Sao Paulo, confirmed members of the public "are against the millions and millions of dollars being spent for the Cup," per The Associated Press (via BBC News). "It is money that should be invested in better health and education services and better transportation and housing," said the student at the beginning of the year.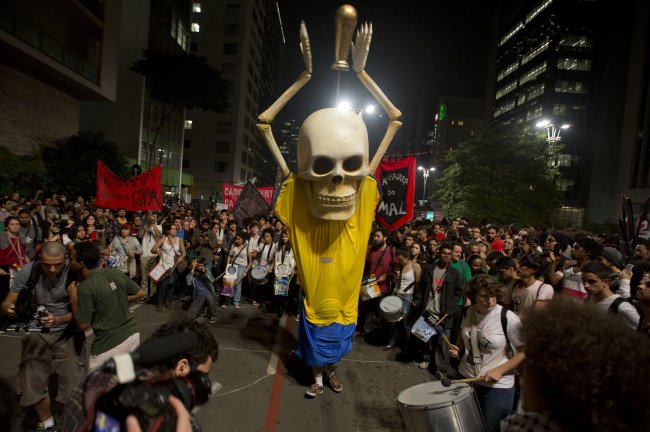 Andre Penner/Associated Press
Jonathan Watts of The Guardian indicates this latest array of protests took place across a dozen cities and "marked the worst day in another awful week for Brazil as the government struggles with strikes, crime and public unease."
Strikes have been taken by "teachers, bus drivers, museum employees and geologists," plus the police. Such disorder has seen a "spate of murders" arise, per Watts' report. The protests received greater prominence after another fatality while a man was working on the Arena Pantanal—the eighth in total across Brazil's preparation process—reported by BBC News.
Brazil is on the cusp of welcoming football supporters from all across the globe in what is shaping up to be a dangerous trip for many. It is likely protests will intensify as the tournament grows nearer, with visiting fans now being warned ahead of making the journey.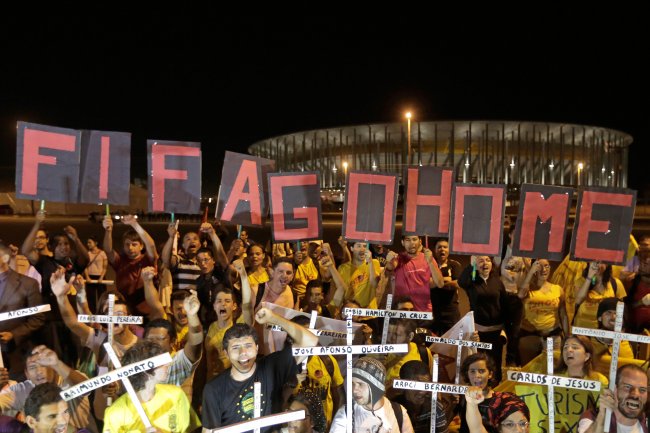 Eraldo Peres/Associated Press
A pamphlet is due to be issued upon arrival, including advice such as "don't scream if you're robbed," per David Raven of the Mirror. Alex Ellis, British ambassador to Brazil, told England fans to "just keep calm" if they are caught up in protests, reported by Sky Sports.
With the World Cup beginning on June 12, it seems footballing heroics are unlikely to grab many headlines. The Brazilian people are standing up for a just cause, there's no doubt about it, but FIFA's decision to hand the nation a tournament must be scrutinised.
Seeing as Sepp Blatter recently admitted awarding Qatar the 2022 World Cup was "a mistake," per ITV News, it isn't unthinkable to suggest FIFA has some role to play in letting the South American nation down.
The governing body should determine whether countries such as Brazil—where the contrast between rich and poor is seismic—have the financial means to host such an event before jeopardising the future of its people.