It's easy to forget just how thrilling the 2013 Eastern Conference finals were, since the actual NBA Finals were so memorable.
The Indiana Pacers took the mighty Miami Heat the full seven games and missed a golden opportunity to seize control of the series early in Game 1, which ultimately proved too costly. LeBron James hit the game-winning layup as time expired, while rim protector Roy Hibbert inexplicably sat on the bench and watched.
NBA fans will be treated to a rematch in the 2014 Eastern Conference finals, only this time around the Pacers have the home-court advantage. Here is a look at the entire schedule and broadcast information for each game.
2014 Eastern Conference Finals Schedule

| | | | |
| --- | --- | --- | --- |
| Game | Matchup | Time (ET) | TV |
| 1 | Miami Heat at Indiana Pacers | 3:30 p.m. | ESPN |
| 2 | Miami Heat at Indiana Pacers | 8:30 p.m. | ESPN |
| 3 | Indiana Pacers at Miami Heat | 8:30 p.m. | ESPN |
| 4 | Indiana Pacers at Miami Heat | 8:30 p.m. | ESPN |
| 5* | Miami Heat at Indiana Pacers | 8:30 p.m. | ESPN |
| 6* | Indiana Pacers at Miami Heat | 8:30 p.m. | ESPN |
| 7* | Miami Heat at Indiana Pacers | 8:30 p.m. | ESPN |
Indy Star (*if necessary)
Prediction
There has been no harder task during these NBA playoffs than trying to figure out the Indiana Pacers.
One night they are losing by more than 20 points at home against the Atlanta Hawks or Washington Wizards, and the next they are winning elimination games on the other team's floor. They have looked like the No. 1 seed at times, but they have also looked like a team that has no business being in the postseason altogether.
Which one consistently shows up will go a long way toward determining who wins this series.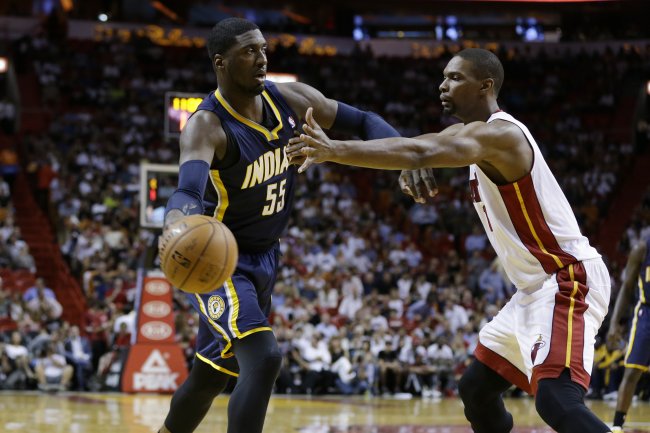 Lynne Sladky/Associated Press
On the surface, having home-court advantage seems like a good thing for the Pacers, but they are a measly 3-4 in Indianapolis these playoffs and 5-1 on the road, including an impressive 3-0 mark in games at Washington. A glass half-full approach would praise Indiana for its toughness on the road and resiliency from game to game, but it's hard to forgive the Eastern Conference's best team record-wise for some of the duds it has put forth at home.
More important than the location of the games, though, is the individual matchup between James and Paul George. George is one of the few players in the league with the wingspan, athleticism, height and quickness necessary to at least make life a little bit more difficult for the reigning Finals MVP.
George also seemed particularly excited for what's to come, via Scott Agness of Pacers.com:
"I'm looking forward to my matchup," Paul George said with a grin.

— Scott Agness (@ScottAgness) May 16, 2014
James carried Miami for large stretches against the Brooklyn Nets, and that may not cut it against the stronger Pacers. James certainly got help from Chris Bosh in the second round, but he will need more than just that against the stifling defense of Indiana.
Even though George can at least contain James from going completely off like he did against Brooklyn, the Pacers' biggest advantage is theoretically on the interior and the glass.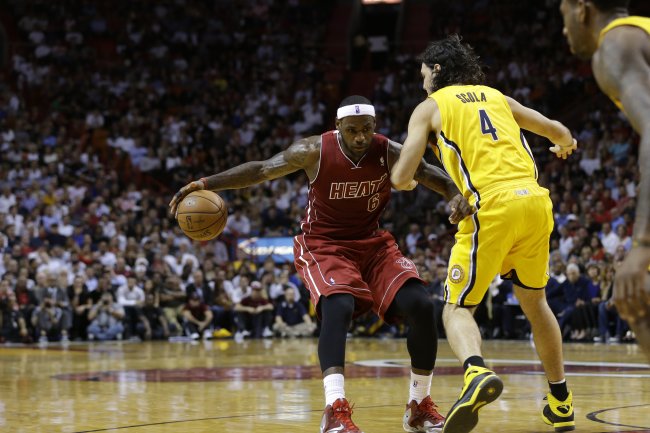 Lynne Sladky/Associated Press
Hibbert and David West form a fearsome pair when both are on their game, and the Heat ranked an abysmal 30th in the league in total rebounds per contest this season. Indiana was eighth and should be able to pound it down low against Miami's weak post game.
That is of course assuming the Hibbert we saw during the 2013 Eastern Conference finals plays. He has been inconsistent at best in the playoffs, although he was much better against the Wizards than the Hawks, which is a promising sign going forward for Indiana.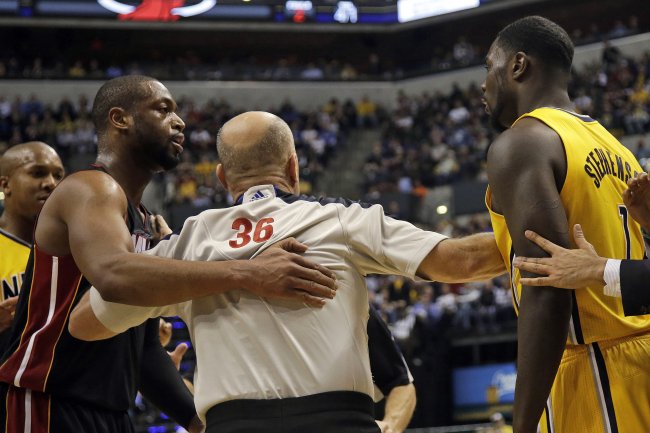 AJ MAST/Associated Press
Look for the Pacers to establish him and West early and often in each game, which will eventually open up the outside for threes if the paint game is working.
Motivation and energy levels have been an issue, at times, for the Pacers in the postseason, but that should not be a concern against the defending champs. After all, it was the Heat who knocked Indiana out of the playoffs last year, and the Pacers always seem to bring a bit more juice when matched up with James and company.
Vogel suggested as much after the Game 6 win over the Wizards, via Agness:
Frank Vogel on Miami: "I think we're ready to go. … Excited to have another crack at them."

— Scott Agness (@ScottAgness) May 16, 2014
Much of this seems to indicate that the Pacers could shock the world and win this series.
Of course, it's a bit of an oxymoron to consider the No. 1 seed such heavy underdogs, but until someone knocks the Heat off the championship mantle, they are the favorites. The thought here is that Indiana comes dangerously close to doing just that and forces another Game 7 against Miami.
Ultimately, James and company will prevail, though.
Home court is certainly important (although it hasn't been yet for the Pacers in the postseason), but so is having the best player in the world in a do-or-die situation. Much like he did last year with 32 points, eight rebounds four assists, two steals and a block, James will find a way to will the Heat to the NBA Finals in Game 7.
Whether this year's Miami team has enough to win a potential NBA Finals rematch with the San Antonio Spurs remains to be seen, but it will find a way to get it done against the Pacers.
Prediction: Heat in seven
Follow me on Twitter: