The Los Angeles Clippers frittered away control of the series in their Game 5 loss to the Oklahoma City Thunder, which pushed them to the brink for Thursday's Game 6. The task of suppressing the league's MVP for 48 minutes proved too much for the Clippers, and their season ended in a 104-98 defeat on home court.
Kevin Durant had three points with six minutes remaining in the first half but finished with game-highs on 39 points and 16 rebounds. Russell Westbrook turned in a ragged showing, but he made his way to the line a dozen times to score 19 points and dished a dozen dimes as well.
Serge Ibaka exited the game with a calf injury and finished on six points, but the Thunder rolled along undeterred.
Blake Griffin flirted with a triple-double on 22 points, eight assists and eight rebounds, but he fouled out of the game during the desperate comeback attempt. Chris Paul notched 25 points and 11 dimes in the loss.
The Clippers led by 14 after just 12 minutes. Then they trailed by 10 inside the final six minutes. However, this team had already stormed back from a 16-point deficit in the fourth quarter to win Game 4, proving anything is possible.
Griffin's sixth foul and the resulting free throws put the Clippers down by 11 late in the game, and no miracle comeback came to save them.
Doc: "We were almost there... and time ran out."

— Steve Perrin (@clippersteve) May 16, 2014
OKC marches on to face the San Antonio Spurs in the conference finals, while the Clippers are left to dissect where it all went wrong both on and off the court.
Player grades start at a C+ for a decent overall performance. That increases or decreases based on the quality of each player's contributions, with extra credit for huge stats or clutch performance. (We'll put role players on the grading curve.) Instead of gold stars and frowny faces, here are grades for every player.
Key Thunder Grades
Kevin Durant, Small Forward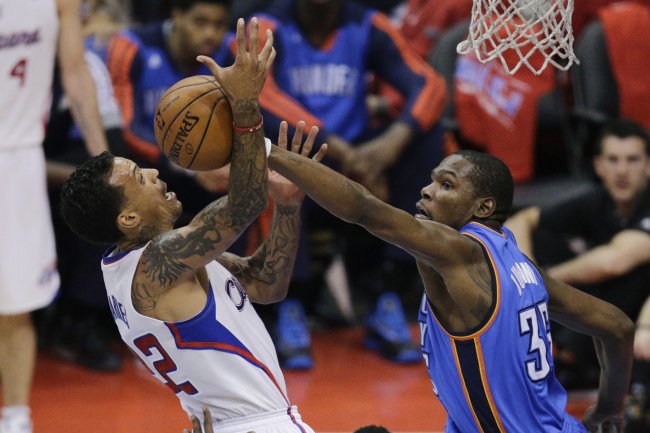 Jae C. Hong/Associated Press
Durant missed six of his first seven shots, but he ignited after that. After scoring 14 in the first half, he came out of the locker room with super-sonic offense and dropped 10 points in the first five minutes of the second half.
Durant heaped on 25 points in all during the second half like scoring from a gravy boat. He made all 10 of his free throws and drained five treys, a couple coming from about six feet behind the arc. His 16 rebounds were seven more than all other Thunder starters combined.
Durant appears to have "that look" in his eye. His level of determination and maturity as a player may have improved his game to an even higher level than ever before, and the MVP is poised to cause nightmares for a graying Spurs squad.
Grade: A
Russell Westbrook, Point Guard
Westbrook scored two points in the first half, both coming from the foul line. He took his sweet time netting his first field goal, which finally came three minutes and 47 seconds into the third quarter. He dished his 10th assist of the game 90 seconds later.
Westbrook remained confident and scored 10 points during the fourth quarter to help fend off the Clippers' hope of a comeback. As usual, he put up his stats despite his struggles and finished on 19 points and 12 assists.
Grade: B
Serge Ibaka, Power Forward
Prior to the final shot of the first half, Serge Ibaka had only attempted three shots. Perhaps he has already felt something balky in his leg or it was merely a sluggish half.
Then Ibaka exited the game, and ESPN reported during the third quarter of the telecast that the shot-blocking maven had suffered a calf injury and his return was doubtful. Fortunately, Nick Collison's strong play off the bench made Ibaka feel like Wally Pipp for the night.
Grade: Incomplete
Thabo Sefolosha, Shooting Guard
Thabo Sefolosha played only 13 minutes and still scored five points to go with his stingy defense. He faces free agency in the offseason, so this Eastern Conference Finals will also serve as an audition for a new contract.
Grade: B-
Kendrick Perkins, Center
Kendrick Perkins managed to pick up four fouls in his first seven minutes on the court, though in fairness, that did not arrive until the third quarter. He totaled two boards and an assist but no points.
Coach Scott Brooks opted instead for Collison and Steven Adams down the stretch.
Grade: C
Bench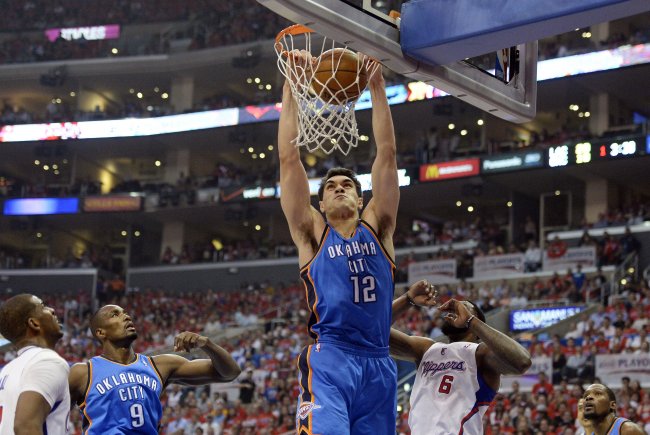 USA TODAY Sports
Reggie Jackson made a scintillating steal and turned it into a transition dunk in the final minute of the third quarter. That made it a one-possession game and helped turn the momentum over to the road team. The backup point guard put down 14 points.
Steven Adams played superbly in big minutes off the bench, and the rookie set a new personal best on the boards by grabbing 11 rebounds to supplement his 10 points.
Nick Collison had made four three-pointers in the regular season. He saved the fifth one for when it counts and canned the game-tying triple in the waning seconds of the third quarter. He also dished a sparkling dime to Westbrook. His second assist gave Adams a double-double.
It'll be overshadowed by Durant, the Clips' blowing the lead, the calls, but Nick Collison stepped up huge for the Thunder. AK

— Kamenetzky Brothers (@KamBrothers) May 16, 2014
Derek Fisher hoisted up seven first-half shots, perhaps giddy at the thought of coaching the New York Knicks under Phil Jackson, a likely possibility according to Frank Isola of the New York Daily News. He tallied seven points.
Caron Butler missed all three shots he attempted, so at least he cannot be blamed for eliminating his former team.
Grade: A-
Key Clippers Grades
Chris Paul, Point Guard
Chris Paul led an offense that put on an alluring display of ball movement in the first half: 18 field goals on 17 assists. He struggled from the field early on but made his presence felt in every other facet with 25 points, 11 dimes and seven boards.
Paul got slapped with a dubious offensive foul call late in the fourth quarter as Nick Collison came leaping by his shoulder and took a spill. Griffin charged over Durant on the next possession to properly rile the arena, and several moronic fans chucked their beverages onto the court in disgust.
The phantom foul called on CP3—coming with the Clippers down seven and 3:35 left—will provide fodder for NBA conspiracy theorists as the Clippers' embattled owner digs in his heels.
Paul also made a crucial three-point play to spur the Clippers' rally, but they did not have enough time left on their side.
Grade: B+
Blake Griffin, Power Forward
Jae C. Hong/Associated Press
Griffin put on a superb display of just about everything in the first half, scoring 12 points and handing out six assists. He gaveth, and then he gaveth some more.
ESPN announcers Mike Breen and Jeff Van Gundy marveled at Griffin's touch pass in the latter stages of the third quarter. He made CP3's pass a gorgeous tap assist to Jordan. All told, Griffin's 22 points and eight assists did not suffice.
Griffin fouled out of the game for body contact on a Westbrook transition layup attempt with 2:27 remaining and sounded the season's death knell.
Grade: B
DeAndre Jordan, Center
Mark J. Terrill/Associated Press
Jordan made his presence felt on the glass, and he made the most of a few scoring opportunities. He tallied nine points on 80 percent shooting and secured 15 boards, but he did not block a shot. His foul in the final minute on Westbrook, committed 20 feet from the basket, sealed the deal for L.A.
Grade: B-

J.J. Redick, Shooting Guard
Redick was his typical catch-and-shoot self and hooked up for a couple of field goals courtesy of "Griffin Force."
He fouled out in the final 10 seconds of the team's season and received some gracious applause for his season's work and his 16 points.
Grade: B-
Matt Barnes, Small Forward
Barnes threw down a thunderous left-handed slam during the third quarter, because he likes to remind people that he can convert athletic slams from time to time.
Barnes finished with nine points on 14 shots and was the biggest culprit in the Clippers missing 15 of 21 three-point shots.
Grade: C
Bench
The Clippers bench got doubled up 35-17.
Jamal Crawford brought next to nothing to most of the game and scored only two points through three quarters. His big fourth quarter never materialized on an evening when the Clippers desperately needed a late spark.
Glen Davis plodded around the rim and seized his opportunities for six points, two boards and a block.
Darren Collison did some things, but the Clips needed more things from him—he totaled six points. At least that was better than Danny Granger, who scored one point.
Grade: D
What's Next?
Game 7 will not be necessary, so take the asterisk off of it.
The Clippers face uncertainty about the future of the team's ownership as the franchise looks to heal from the owner's racist comments and subsequent ban from the league.
Storylines to watch: Kawhi vs. Durant, who guards Westbrook?, Ibaka's injury, Parker injury, Spurs shooters, WHY IS FISHER STILL PLAYING?

— Quixem Ramirez (@quixem) May 16, 2014
The Thunder will clash with the Spurs, a veteran team with championship experience that dropped all four games during the regular season against the faster legs of OKC. Game 1 will be Monday night.