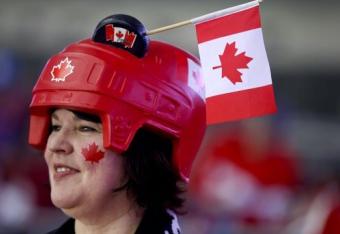 Mark Humphrey/Associated Press
For hockey fans, one of the most exciting tournaments of the season is the Canadian Junior A race for the Royal Bank Cup, and the 2014 edition of the event will be the 44th in the history of the RBC.
This year's tournament is hosted by the Vernon Vipers of Vernon, British Columbia, and includes the Vipers, Dauphin Kings, Carleton Place Canadians, Toronto Lakeshore Patriots and Yorkton Terriers.
With some of the best teams in junior hockey doing battle for the illustrious RBC Cup, here are the latest results, updated schedule and a championship prediction.
Predicted Tournament Winners: Dauphin Kings
Each of the teams in this tournament deserves to be here, but only one can walk out with the RBC Cup. After dominating the round-robin portion of the tournament, the Dauphin Kings have remained unbeaten and are the favorite to win it all.
Dauphin will raise the cup.
Christian Laughland of 730 CKDM talked about the Kings' dominance in preliminary rounds:
Dauphin Kings clinch first place in the #RBCCup round robin with a 5-2 victory over the host Vernon Vipers. Next game against Yorkton Thurs

— Christian Laughland (@ChristianCKDM) May 14, 2014
After coming in second place in the Western Canada Cup and earning its way into the field for the RBC, Dauphin won each of its first three games by racking up an impressive 11 goals while only allowing six goals total.
Kings forward Brent Wold told Ken Wiebe of The Winnipeg Sun about his team's perspective on the tournament and how he and his teammates are embracing it:
The guys are loving it right now, we're the hillbilly rock stars. Everything seems to be clicking. Everybody has stepped up and is playing at a new level right now. Everyone has elevated their game that much more. We're just trying to enjoy the moment. We have nothing to lose, so you might as well play your heart out.
One factor is the unwavering support, as the Dauphin's official team Twitter account shared a picture of the Kings fans cheering on the team even on the road:
They brought their fans with them!! #RBCCup2014 pic.twitter.com/snp9Dksf2Z

— Dauphin Kings (@dauphinkings) May 14, 2014
The team has already ensured its place in the semifinals, but this is a group of players that won't get complacent. Led by forwards Jesse Bernard, Tanner Butler and Wold—10 combined points in three games—the Kings have the depth and skill to put points up against any team.
Add in the elite play of goaltender Michael Stiliadis, and the stage has been set for Dauphin to steal the show and walk out of Vernon with the RBC Cup.
*Stats and Information via HockeyCanada.ca.