Samuel Eto'o has set about severing all ties with Chelsea, hinting that the club whom he represents next season will be playing Champions League football while aiming a jibe in the direction of Blues boss Jose Mourinho.
The Cameroonian international's one-year contract at Stamford Bridge will expire in the coming weeks, and Eto'o tells Stephane DeSaintsalvy of AfricanFootball.com that Mourinho was foolish to make fun of his age:
Today, I am 33 years old. And it is not because a fool called me an old man that you must believe it. And you may have noticed that the old man was better than the youngsters.

Some believe I am going to retire in the United States or in the Middle East, but I have regained the joy of the Champions League and I am going to carry on playing in the Champions League. Where? I am not going to tell you. But I am going to carry on playing because physically and mentally I feel great.

So I am going to go to this World Cup and to the next one when I will be 37. Some did it at 42, so I can still play in two more World Cups.
The striker's response comes in reference to the "old man" comment made by Mourinho back in February, per the Telegraph, where footage of the Portuguese criticising Eto'o's dubious age was leaked by French television station Canal Plus: "The problem with Chelsea is I lack a striker. I have Eto'o but he is 32 years old, maybe 35, who knows?"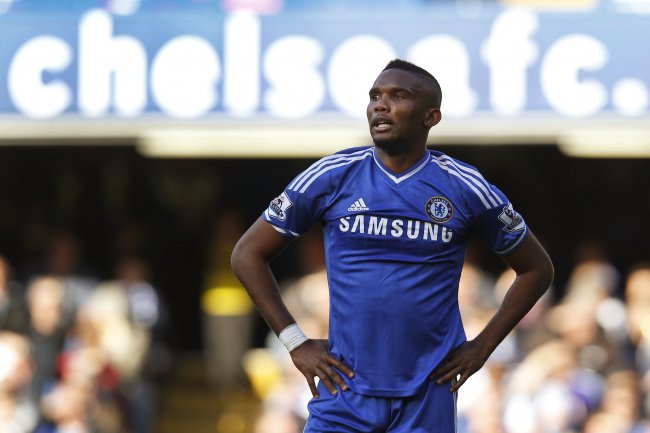 Lefteris Pitarakis/Associated Press
It's well-founded that attack has been Chelsea's main concern this season. Between them, Eto'o, Fernando Torres and Demba Ba scored just 19 Premier League goals, and the club's only saving grace was their rigid defence, conceding 27 goals, 10 fewer than champions Manchester City.
Meanwhile, as Squawka points out, Romelu Lukaku enjoyed some prolific form while on loan at Chelsea, calling into question the decision to farm out the Belgian international:
Romelu Lukaku scored more Premier League goals (15) this season than Fernando Torres & Samuel Eto'o combined (14). pic.twitter.com/42UAfKwYj7

— Squawka Football (@Squawka) May 13, 2014
Eto'o mocked the manager's musings in the shape of a goal celebration against Tottenham in March, bagging his goal in the 4-0 rout before leaning on the corner flag and gripping his back in imitation of an elderly man, as depicted by Agence France-Presse:
'Old man' Samuel Eto'o mocks Chelsea coach Jose Mourinho http://t.co/yrnufahu3w pic.twitter.com/e3SfC1rTWw

— Agence France-Presse (@AFP) March 8, 2014
Mourinho didn't harbour any bad temperament toward the reply, either, voicing his humour in the fixture's post-match comments:
It was reported by ESPN FC in January that Eto'o might consider moving back to former club Real Mallorca in the future, but his comments regarding Champions League football would appear to rule that possibility out—for this year, at least.
Should the veteran forward and Chelsea part ways as expected, it would leave the West Londoners with another space to fill up front, possibly strengthening the likelihood of their potential move for Atletico Madrid's Diego Costa.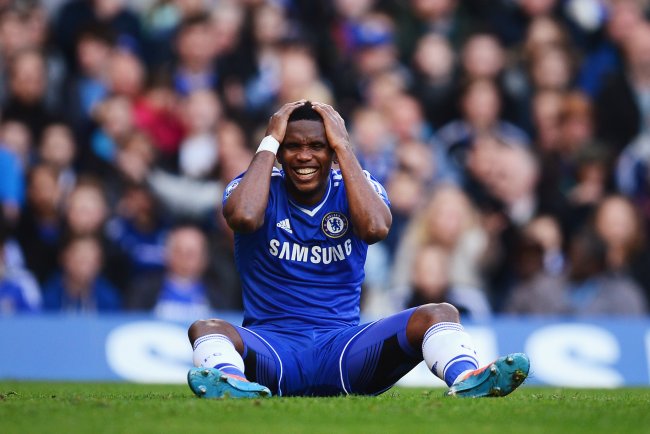 Jamie McDonald/Getty Images
Earlier this week, Sky Sports cited sources confirming that a £32 million deal for the Spanish international had been agreed, but no official word has been given on the transfer as of yet.
At 33 years of age, Eto'o remains adamant to continue playing at the top level for as long as his body will allow, and is one of those choosing to subscribe to the old adage that age is indeed just a number.