Updates from Monday, July 7
Recently-hired Brooklyn Nets head coach Lionel Hollins spoke to the media on Monday and addressed his goals for the team, per the team's official Twitter account:
Original Text
After one season out of the league, Lionel Hollins is back in the NBA after agreeing to a contract that will make him the new head coach of the Brooklyn Nets, according to the team's official Twitter feed:
"I'm excited to be here. To have this opportunity is truly a blessing." Coach Hollins today at @barclayscenter #Nets pic.twitter.com/nqhOC8ARcs

— Brooklyn Nets (@BrooklynNets) July 7, 2014
Following the 2012-13 season, the Memphis Grizzlies made the decision not to renew Hollins' contract. This, despite the fact that Hollins led the team to its best campaign in franchise history. The Grizz went 56-26 and reached the Western Conference Finals, but that wasn't enough to keep Hollins in Memphis.
As Bleacher Report's Howard Beck pointed out, Hollins was one of three 50-win coaches that weren't retained after the 2012-13 season:
"I'm here to try and develop a consistent championship contender." --Coach Hollins talking to the media today. #Nets pic.twitter.com/JSE17SePuO

— Brooklyn Nets (@BrooklynNets) July 7, 2014
Per Kerry Eggers of the Portland Tribune, Hollins believes that the ownership group headed by Robert Pera was already committed to a coaching change when it took power:
It seemed like they had their minds made up when they came in. They had an agenda of how they wanted to do things, and what they wanted to spend. I didn't fit into that. I can accept that. It's their prerogative. But when you look at the big picture, you say, 'Wow, you've had some pretty good success.' If I were at FedEx, for instance, I wouldn't fire the employees who made it successful.
The Grizzles front office is very much reliant on statistical analysis, which is something that doesn't always jibe with old-school coaches such as Hollins. According to MSG's Alan Hahn, that was the logic behind Hollins' departure from Memphis:
The Brooklyn Nets have reached an agreement in principle with Lionel Hollins to become the team's new head coach.

— Brooklyn Nets (@BrooklynNets) July 2, 2014
One would think that Hollins' ability to get the most out of the Grizzlies players would have superseded disagreements over analytics, but it was clearly a major bone of contention between the two sides.
That is likely why the Grizz didn't reach out to Hollins even after current head coach Dave Joerger was courted by the Minnesota Timberwolves, according to Sam Amick of USA Today:
Mark Jax is FOURTH coach in last year to be fired after 50-win season. Others: George Karl, Lionel Hollins, Vinny Del Negro.

— Howard Beck (@HowardBeck) May 6, 2014
Most figured that Hollins would land on his feet immediately after turning the Grizzlies around and leading them to the playoffs in three consecutive seasons; however, that wasn't the case.
Lionel Hollins didn't fit with the analytics-minded Grizz mgmt, so he was out. Mark Jackson doesn't fit with GSW mgmt, so he's out too.

— Alan Hahn (@alanhahn) May 6, 2014
Hollins was unable to catch on with another team, so he spent the 2013-14 season observing from afar. He had to know that he would be a hot coaching commodity this year with so many vacancies needing to be filled, and that certainly proved to be true.
According to Marc J. Spears of Yahoo Sports, several teams reached out to Hollins and attempted to bring him into the fold:
While Memphis' Dave Joerger situation remains unresolved, I'm told the Grizzlies haven't reached out to Lionel Hollins about possible return

— Sam Amick (@sam_amick) May 22, 2014
Although the Los Angeles Lakers weren't originally in the mix, Amick reported that they entered the fray after a couple weeks of deliberation.
Significant interest from the Brooklyn Nets after head coach Jason Kidd was traded to the Milwaukee Bucks soon followed, according to Amick: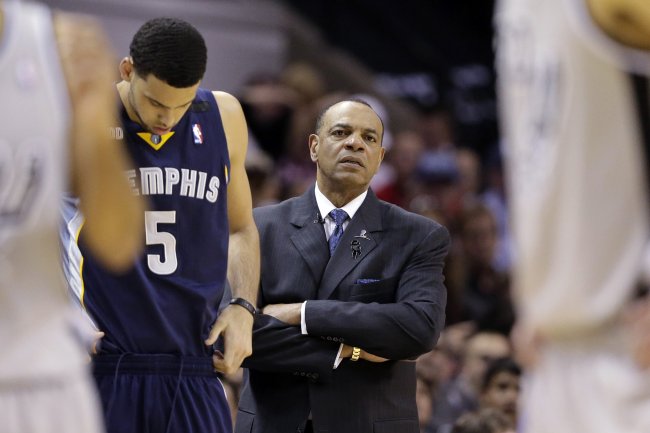 Eric Gay/Associated Press
Leading up to the hiring process, Hollins made it clear that he was ready and willing to return to his post on an NBA bench, per Eggers.
"I miss coaching," Hollins said. "What I miss is the teaching...the development of the team and the players...the players working together and watching them grasp it mentally, and then have them go out and do it physically."
The Jazz, Cavs, Warriors & Wolves have shown interest in Lionel Hollins for head coach openings, a source said. The Lakers, Knicks have not.

— Marc J. Spears (@SpearsNBAYahoo) May 14, 2014
Hollins, 60, will now have an opportunity to resume doing what he loves and, presumably, a bit longer leash than he had in Memphis. He has been a coveted candidate for many teams in recent weeks, and he should be given ample time to install a system and a culture that led him to unprecedented success with the Grizzlies.
Also from yesterday, at @USATODAYsports, Lionel Hollins the early frontrunner in Nets coaching situation - http://t.co/MakJm3UvDR

— Sam Amick (@sam_amick) June 30, 2014
It was almost unfathomable when Memphis let Hollins walk and it was equally appalling when he didn't land anywhere initially. Although Hollins hasn't said it publicly, it stands to reason that he wasn't thrilled with his options last year, so sitting out a year may have been the best decision for him.
Doing so gave Hollins a chance to decompress, so he should be feeling fresh and ready for the new challenge that awaits him. Big things are expected out of Hollins after the turnaround he orchestrated in Memphis, and there is reason to believe that his string of success will continue.
Hollins will almost certainly be coaching with a chip on his shoulder in the wake of his falling out with the Grizzlies, and that is a big reason why he will prove to be an excellent hire.
Follow @MikeChiari on Twitter