What Michael Sam Could Bring to the St. Louis Rams Pass Rush
May 15, 2014

Kevin C. Cox/Getty Images
Despite having one of the most feared defensive lines in the NFL in 2013, it's evident the St. Louis Rams are always looking to add talented pass-rushers at the defensive tackle and defensive end positions.
Since free agency started in March, the Rams have supplemented the depth on the defensive line with three players who have the necessary skills to make an immediate impact in 2014. The first is former Buffalo Bills defensive tackle Alex Carrington. The second is first-round pick Aaron Donald. And the third is SEC Defensive Player of the Year Michael Sam.
Yet of the three players mentioned above, only Carrington and Donald appear to be locks for the 53-man roster. According to Nick Wagoner of ESPN.com, making St. Louis' opening-day squad will be a tough task for Sam.
Wagoner's right. Sam will have an uphill battle because he is competing with William Hayes and Eugene Sims (current backup defensive ends), but that doesn't mean all hope is lost. The Rams have carried nine defensive linemen on their roster in the past under head coach Jeff Fisher. 
Moreover, depending on who you talk to, a handful of pundits believe Sam is a gifted enough pass-rusher to beat Sims out if St. Louis ends up keeping eight defensive linemen. 
With that being said, let's go to the tape and examine how Sam fits with the Rams' pass rush.
When one takes the time to break down Sam's game, the first thing you immediately notice is the way he anticipates the snap and aggressively attacks off the edge. 
On this fourth-quarter pass play against Vanderbilt, Sam fired off the ball, dipped his shoulder and turned the corner with ease. He may have made the play look extremely easy, but to do those things in sequence without a hitch in his step was pretty impressive.
Credit: Draft Breakdown
Another example of Sam's aggressive nature off the edge was when the Missouri Tigers battled the Florida Gators in October. He recorded three sacks and three tackles for loss in that game.  
Credit: Draft Breakdown
As you can see in the GIF above, Sam's second-quarter sack against Florida was similar to the first one I broke down. He jumped the snap, dipped his shoulder and beat the right tackle clean with an underneath move.
The second thing that jumps off the tape when you watch Sam is his effectiveness in the run game. In terms of size (6'2", 261 lbs), he's not the biggest guy, but he can slip gaps due to his quickness and make a big play behind the line of scrimmage.
On this first-quarter run versus Florida, Sam showed good explosion out of his stance and crashed down inside before the right tackle could even get out of his stance.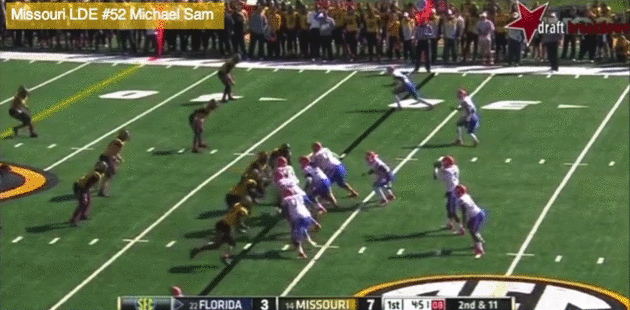 Credit: Draft Breakdown
No, Sam wasn't credited with a tackle for loss on the beautiful run stuff, but he did earn a tackle and a stop for no gain on the play. 
This next run-stuffing play that took place when Missouri hosted South Carolina is comparable to the first one. In addition to a quick first step, Sam defeated the right tackle with an inside slant move.  
Credit: Draft Breakdown
Unlike the run play against Florida, Sam was credited with a tackle for loss. It ended up being his first one on a day where he registered three of them total.
The last thing Sam consistently flashed on tape was a motor that ran extremely hot. This, in turn, means he gave great effort, played hard and competed on every down. Honestly, he may have had one of the strongest motors of any one player from the 2014 draft. 
For evidence, take a look at this fourth-quarter hustle play Sam made versus Oklahoma State in the Cotton Bowl. In spite of initially over-pursuing the run, he fought his way back to the ball-carrier and stopped him dead in his tracks.  
Credit: Draft Breakdown
Yes, Sam was probably too aggressive at the beginning of the play, which caused him to subsequently be out of his position, yet his motor never stopped. This was crucial considering Oklahoma State's running back would have undoubtedly garnered a first down. 
The next high-motor performance we are going to look at is from the Missouri-Vanderbilt game.
Sam was lined up at the left defensive end position and was eyeing his third sack of the game. But in order to reach that point, he had to come from the other side of the field and chase the quarterback down as he rolled left.
Credit: Draft Breakdown
Aside from the fact that Sam closed on Vanderbilt's signal-caller relentlessly, he did it late in the four quarter with a 23-point lead. That's what makes this play so special. 
Oftentimes particular players back off when their team has a monstrous advantage late at the end of the game. That's not Sam. He did everything in his power to ensure the quarterback was put on his back and stopped for a loss. 
In summary, it's safe to say Sam has what it takes to play in the NFL. His strengths definitely outweigh his weaknesses, and he is a better athlete than given credit for. 
However, when he gets to camp, he will have to develop a second pass-rush move and learn how to use his hands more effectively. Right now, those are the two things that are holding him back.  
When he comes off the edge, he tends to rely on his patented underneath move. Productive 4-3 defensive ends find out very quickly that offensive linemen in the NFL pick up on tendencies faster than those at the collegiate level did. 
In terms of hand usage, Rams defensive line coach Mike Waufle will have to coach Sam up, because there are times when Sam struggles to separate from blockers once he's engaged. If he can correct his technique issues, there's no question he will beat Sims out for the No. 4 defensive end spot. 
Sims is 28 years old and he has hit his ceiling as a player. The analysts at Pro Football Focus (subscription required) awarded him with a minus-29.9 puss-rush grade over the last three seasons. Furthermore, he only has 38 quarterback pressures on 624 rushes during that time frame. 
Even though draft analysts believe Sam would be better suited as a 3-4 outside linebacker, the evidence is there that he could excel with his hand in the ground as a 4-3 defensive end, which means he would fit in quite nicely with the Rams' pass rush.