"Across all walks of life and in every profession, people smoke (marijuana). This is no secret, and pro sports are not exempt," former NBA player and Denver Nuggets executive Rex Chapman told The Denver Post's Benjamin Hochman in a December interview. "But employers deserve and pay for A-plus employees. There is a time and place for everything. As a member of a team, guys owe it to their teammates to put their best foot forward."
Apparently, one franchise is taking that perspective quite seriously.
One NBA team is asking prospects if they would smoke weed to win over teammates. Followed by, "So when is the last time you smoked weed?"

— Alex Kennedy (@AlexKennedyNBA) May 15, 2014
Basketball Insiders' Alex Kennedy didn't specify which team he was referring to, of course.
Again without naming the team, Australian prospect Dante Exum reported a similar, albeit loaded question being asked.
Dante Exum: Team asked, 'Besides marijuana, which drugs do you use?' http://t.co/f9DOuqc4EY

— Eye on Basketball (@EyeOnBasketball) May 17, 2014
Lest we resort to fruitless speculation about which team it might be, let's just dive right into the nut of the issue.
Marijuana remains, in a vast majority of states, illegal. As such, it's kind-of-sort-of understandable that a professional sports franchise would seek to gain a little insight into the extracurricular habits of its investment—a potential multi-million dollar investment at that.
At the same time: This sounds a little weird. Not entrapment, per se, but pretty close.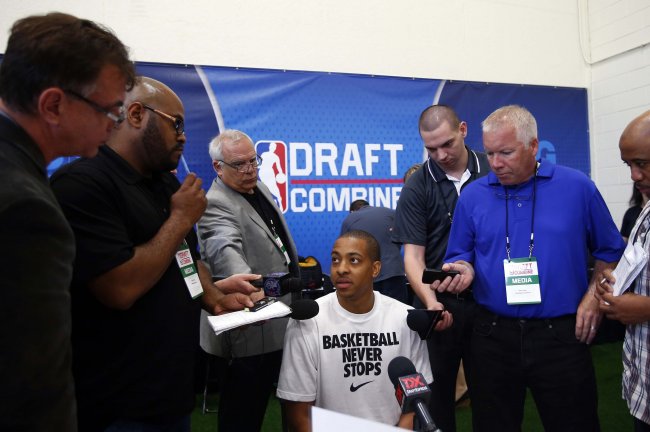 USA TODAY Sports
...At the same time, any potential prospect that would flat-out answer "yes" to either of these questions—knowing as they should the NBA's current drug policy—should probably be avoided at all costs.
Not because they smoke marijuana, mind you. But because admitting that you smoke marijuana, in that setting and with that kind of coin on the line, is—short of admitting you like to light hospitals on fire—the dumbest thing you could possibly say.
Then again, it's just as dumb to do what Darrell Athur and Mario Chalmers did in 2008, i.e. get caught toking while at NBA rookie orientation camp (via ESPN's Chris Broussard).
The timing of this latest revelation is certainly interesting, why with none other than superstar forward Blake Griffin having gone on the record with Rolling Stone magazine's Rob Tannenbaum to suggest he would support a league-wide loosening of anti-weed policies: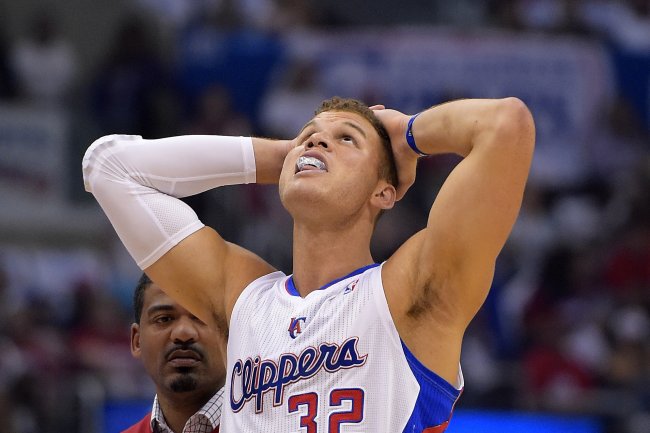 Mark J. Terrill/Associated Press
"It doesn't really affect me," Griffin said. "But so many guys would probably benefit from it and not take as many painkillers, which have worse long-term effects. So I would vote yes. I just think it makes sense."
In April, the Milwaukee Bucks' Larry Sanders sounded off on why he had decided to basically ignore the NBA's stance (per ESPN.com):
"It's something I feel strongly about, just to let you know something personal about me," Sanders said in an interview with the Milwaukee Journal Sentinel. "I will deal with the consequences from it...It's a banned substance in my league. But I believe in marijuana and the medical side of it. I know what it is if I'm going to use it."
Not that any of this is new territory for the NBA, of course. Back in 2001, Charles Oakley told CBC Sports he believed "60 percent of the league" smoked pot.
As Bleacher Report's Tim Keeney makes clear in his attendant column on Griffin's statement, nationwide trends are decidedly not on the side of the draconian.
As more research about the positive effects continues to be conducted, the growing consensus seems to be moving in that particular direction—and that applies to major sports, as well.

Don't expect any major changes soon, but as more high-profile players like Griffin continue to make their opinion heard, that could get the ball rolling at a significantly faster pace.
The NBA reconsidering its policy on marijuana use would certainly be seen as an arrow in the quiver of cannabis activists. Whether the league wants the kind of association that could be misconstrued as advocacy? That's another question entirely.
At the same time—and while the matters and morals in questions are altogether different—if the player reaction to Donald Sterling can stir the kind of change the NBA has spearheaded in recent weeks, it stands to reason such impassioned pleas could get just about anything done.
Including, perhaps, lifting the ban on grass.