The NBA playoffs feature a double dose of elimination games Thursday night. If the hardwood spectacles are anything like the rest of the nightly action in this year's playoffs, basketball fans will have plenty to talk about around the water cooler on Friday morning as they head into the weekend.
The Los Angeles Clippers will look to survive at home against Kevin Durant and the Oklahoma City Thunder, while the Indiana Pacers try to finish off the Washington Wizards in our nation's capital city.
The updated bracket for the entire NBA playoffs can be found here.
With that information in hand, let's make some predictions on how Thursday night's NBA slate is likely to turn out.
Indiana Pacers at Washington Wizards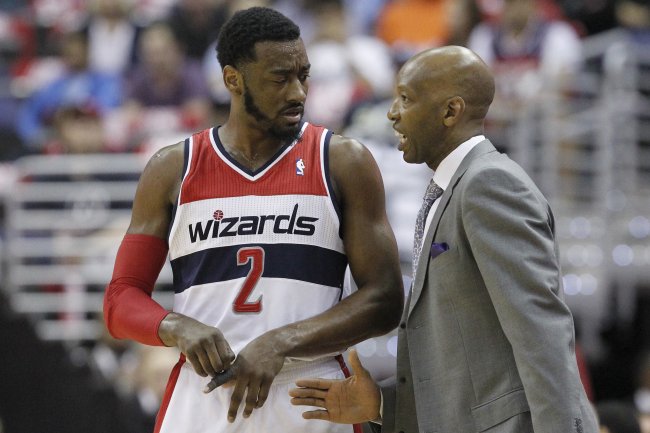 Alex Brandon/Associated Press
Paul George is convinced his team plays better when forced into a tough spot. Via Candace Buckner of The Indianapolis Star:
Paul George with a familiar verse: "We just play better with our backs against the wall… It brings us closer for whatever reason."

— Candace Buckner (@CandaceDBuckner) May 14, 2014
He's got proof in that his team avoided a complete meltdown against the Atlanta Hawks in the first round, but the back-against-the-wall strategy might not work so well against a more talented team like the Washington Wizards, who extended the series with a crushing 102-79 victory in Game 5.
Gortat was magnificent in Game 5 after struggling throughout much of the series. He put up 31 points and 16 rebounds during his brilliant shift on the hardwood. The Wizards were excellent on the boards, forcing Roy Hibbert and David West to watch helplessly as potential possessions went the Wizards' way.
Gortat wasn't the only Wizard who conjured up some magic in Game 5. John Wall hit the floor ready to make a huge impact and delivered with aplomb.
Wall has had difficulties unlocking the Pacers defense. George Hill did an excellent job of staying with Wall, and Roy Hibbert still functions as top-of-the-line rim repellent even when he isn't rebounding. This forced Wall to knock down his mid-range jumper, but he couldn't pull it off. He described his frustration after a disappointing Game 4 to Adi Joseph of USA Today.
"It's very difficult and frustrating at times, but you just play the game and take what goes," Wall said. "What's frustrating is, my mid-range jump shot, I haven't been able to knock it down. That's what I've been getting."
Wall turned it all around with 27 points in Game 5, and the inside-outside combination with Gortat was overwhelming.
Holy cow, John Wall is going full Allen Iverson. Rumble young man.

— Jason Whitlock (@WhitlockJason) May 14, 2014
The Pacers looked incredibly listless with so much on the line in Game 5. They've now put themselves in the uncomfortable position of needing to close out the series on the road in Game 6. ESPN's Mike Greenberg was amazed at just how anemic the Pacers looked at times in Game 5.
I've never seen a team with as much going for it, and as much to play for, look as plain awful as #Pacers did last night.

— Mike Greenberg (@Espngreeny) May 14, 2014
The Wizards won't back down on their home court. They will continue to ride Wall and the rebounding advantage to victory and force Game 7.
Prediction: Wizards win
Oklahoma City Thunder at Los Angeles Clippers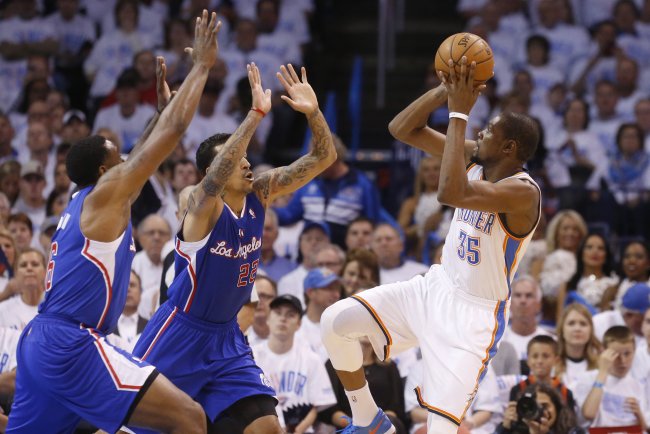 Uncredited/Associated Press
The Los Angeles Clippers face elimination in Game 6 at home, and they will certainly be fired up thanks to the controversial way that Game 5 ended.
Coach Doc Rivers was unequivocal in his assessment of the officiating in Game 5. His anger centered around an out-of-bounds call with 11 seconds to play that kept the ball in the hands of the Thunder and allowed them to complete their 105-104 comeback victory. Rivers had stern words for the NBA after the game, via the Los Angeles Times' J.A. Adande.
Rivers isn't awaiting a memo from NBA: "I don't need it. I'll release the memo: They blew the call. That's the memo."

— J.A. Adande (@jadande) May 14, 2014
Lost in the shuffle was the disappointing play of DeAndre Jordan. He was in foul trouble all night long and accounted for zero points and four rebounds before fouling out in the fourth quarter. Jordan is key to the Clippers defense in the paint and will need to have a bigger impact in Game 6 if the Clippers are to keep their playoff hopes alive.
It's a sign of improvement that the Thunder have found a way to stay competitive when Durant is struggling from the floor.
He was at his best in the final minutes of the contest but was essentially a non-factor on offense during the majority of the game, as ESPN Stats & Info helpfully points out:
Kevin Durant last night had as many field goals (3) in the final 3:30 of game as he did in the first 44:30.

— ESPN Stats & Info (@ESPNStatsInfo) May 14, 2014
Of course, nobody on the team scored in double figures outside of Durant and Russell Westbrook, who put on a superlative 38-point display. They are still a two-man show, but the NBA has seen plenty of dynamic duos make their way to the NBA Finals in the past (turn-of-the-century Kobe-Shaq comes to mind).
It is going to be a highly emotional, highly competitive contest in Game 6. In a way, the Clippers have more to play for in this series considering all they have been through as a team. Their long-suffering fans will rock the Staples Center as the Clippers eke out a close victory over the Thunder and deliver another Game 7.
Prediction: Clippers win