Did somebody say Round 2 didn't have enough drama?
The 2014 NBA playoffs kicked off with one of the best first rounds in recent memory. Multiple Game 7s, miracle buzzer-beaters and underdog surprises made for a first round that no one wanted to end.
The second round started slowly, with the Miami Heat cruising, the Indiana Pacers stirring from their months-long hibernation and the San Antonio Spurs defying the laws of nature by dominating the much younger and much more athletic Portland Trail Blazers.
But things have changed over the past few days. The Washington Wizards refuse to bow down to the Pacers, and the Thunder and Clippers are locked in an epic—and sometimes controversial—battle of wills. All four teams are on the docket for Thursday night as they chase the NBA championship trophy.
In case your head is still spinning from the dizzying amounts of quality basketball on display, the updated NBA bracket can be found here.
And here is the necessary TV info so you don't miss a minute of the playoffs.
NBA Playoffs, Thursday's TV Info

| | | | | |
| --- | --- | --- | --- | --- |
| Matchup | Game | Series | Time (ET) | TV |
| Pacers at Wizards | 6 | IND 3-2 | 8 p.m. | ESPN |
| Thunder at Clippers | 6 | OKC 3-2 | 10:30 p.m. | ESPN |
NBA.com
Indiana Pacers at Washington Wizards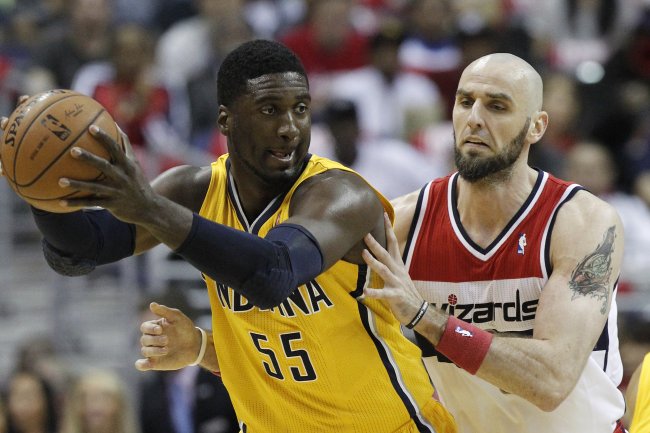 Alex Brandon/Associated Press
The Washington Wizards will face elimination once again on Thursday. They responded well with a resounding 102-79 victory in Game 5 to live another day in the playoffs. The Wizards have their own set of issues and inconsistencies to deal with—namely, their bench play—but that doesn't hold a candle to the ongoing mystery that is the the struggle of Pacers center Roy Hibbert.
Hibbert's performances in Round 1 were across-the-board dreadful, but he's been more of an enigma against the Wizards. One night he looks like the second coming of Patrick Ewing, then two days later he looks like he's got an orange leather allergy.
Roy Hibbert's Stats vs. Washington Wizards

| | | | | | |
| --- | --- | --- | --- | --- | --- |
| Game | Minutes | Points | Rebounds | Blocks | Pacers' Result |
| 1 | 18 | 0 | 0 | 2 | Loss |
| 2 | 33 | 28 | 9 | 2 | Win |
| 3 | 30 | 14 | 5 | 3 | Win |
| 4 | 39 | 17 | 9 | 2 | Win |
| 5 | 25 | 4 | 2 | 1 | Loss |
espn.com
When the Pacers can count on at least moderate production from Hibbert, they match up well against the Wizards. Hibbert can prevent John Wall and Bradley Beal from abusing them in the paint and force them to hit shots from outside.
The Wizards were rescued from elimination in Game 5 thanks to an astounding performance from their center, Marcin Gortat. The proficient Pole put up 31 points and 16 rebounds in just 36 minutes of play. He was a big factor in one of the most lopsided rebounding battles in NBA history.
Largest Rebounding Margins in NBA Playoff history +43- Celtics (1960) +41- Hawks (1971) +39- Wizards (Tonight) +39- Celtics (1960

— NBA.com/Stats (@nbastats) May 14, 2014
Gortat also bailed out his backcourt teammates as they struggled to shoot from outside (a paltry 27.8 percent from beyond the arc).
Coach Frank Vogel has been heavily scrutinized for his inability to shake his team from their extended swoon. He was quick to shift the focus onto Game 6, via the Pacers' official Twitter account.
Vogel: "We're still up 3-2. It's 1 loss whether you lose by 20-something or you lose by one... We got to go back & respond for Game 6."

— Indiana Pacers (@Pacers) May 14, 2014
Vogel will have to find a way to coax strong performances from Hibbert and Paul George in order to finally vanquish the Wizards and move a step closer to the NBA championship that seemed infinitely more likely just a few months ago.
Oklahoma City Thunder at Los Angeles Clippers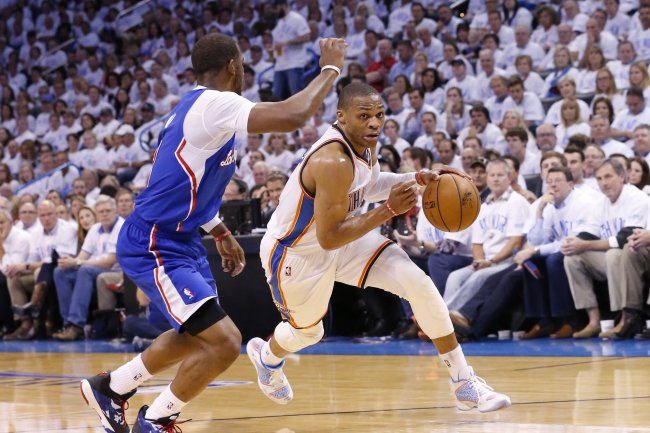 Uncredited/Associated Press
Perhaps it's Doc Rivers and the Clippers returning to Los Angeles that's powering the heatwave sweeping Southern California right now.
Rivers was absolutely incensed with a controversial out-of-bounds call with 11.3 seconds remaining in Game 5 that resulted in the Thunder maintaining possession. The call went a long way toward helping Oklahoma City complete a stunning comeback over the final four minutes of the game to finish with a 105-104 victory.
Rivers believed the call could define the series, via SportsCenter's Twitter account.
"We got robbed because of that call. That could be a series-defining call and that's not right." - Doc Rivers on controversial play

— SportsCenter (@SportsCenter) May 14, 2014
Plenty of controversy to be had, but this takes away from just how hotly contested this series is. The Clippers made their own magical run in Game 4 to steal a game away from Oklahoma City. One good comeback deserves another, as ESPN Stats & Info points out.
Who had the better comeback -- Clippers in Game 4 or Thunder in Game 5? pic.twitter.com/RfuNybTMFc

— ESPN Stats & Info (@ESPNStatsInfo) May 14, 2014
The Thunder's strategy on offense is no secret. It's a healthy double dose of Russell Westbrook and Kevin Durant, night in and night out. The Clippers' strategy is to contain this dynamic duo as much as possible.
Westbrook was the key to victory in Game 5, as he got Chris Paul to foul him on a late three-point attempt and sank the ensuing free throws to give his team the 105-104 lead it would not relinquish.
The former UCLA standout has been playing way beyond sidekick status in this series, averaging 29.6 points per game on 52.6 percent shooting from the field. Westbrook's unshakable confidence in his game is a key to his success. Thunder coach Scott Brooks had this to say about his star point guard, via Sportsnet's Holly Mackenzie:
"He's fierce and he's fearless and he's a winner." Brooks on Westbrook

— Holly MacKenzie (@stackmack) May 14, 2014
Paul had five turnovers in Game 5, including two uncharacteristic miscues in the final minute of the game. He had just six total turnovers in the first four games of the series, so look for him to return to his impeccable caretaker form in Game 6.
Paul is arguably the third-best player in the league right now, and the Clippers will need every iota of his ability in order to take two games in a row from the Thunder.