For the Detroit Pistons, the last dozen years has been an exercise in extremes: six consecutive trips to the conference finals, followed by six straight sub-.500 seasons, culminating in the April 14 resignation of the bipolar project's chief architect, Joe Dumars.
One month later, the Pistons staged the kind of colossal coup that—given the right breaks—could bring about a basketball renaissance sooner than later. From ESPN's Marc Stein:
ESPN sources say Pistons & Stan Van Gundy have reached agreement in principle to make SVG their new coach/president of basketball ops

— Marc Stein (@ESPNSteinLine) May 14, 2014
Pistons & SVG reach agreement in principle on five-year deal worth estimated $35 mil and are on course for official announcement this week

— Marc Stein (@ESPNSteinLine) May 14, 2014
Stan Van Gundy to coach Pistons. He's had 5 50-win seasons and no losing seasons as an NBA head coach

— ESPN Stats & Info (@ESPNStatsInfo) May 14, 2014
According to Sports Illustrated's Chris Mannix, Stan Van Gundy had also received serious consideration from the Golden State Warriors, who have been hot on the head-coaching trail ever since firing Mark Jackson on May 6.
Said Van Gundy in a recent interview with an Orlando radio station (via Vince Ellis of USA Today): "I miss a lot of it. I really do. I miss the competition. I miss the challenge. I miss the camaraderie of it. But I also like the time that I've had, so we'll just have to see what happens. You weigh every situation."
As far as decisions go, it doesn't get much weightier than this.
Talks intensifying between Warriors and Stan Van Gundy, per sources. Van Gundy now Golden State's clear top choice. Moving towards a deal.

— Chris Mannix (@ChrisMannixSI) May 13, 2014
That Van Gundy opted for a rebuild in Motor City over taking the reins of a tried and true playoff team like the Warriors speaks to two crucial factors: the $35 million Detroit is expected to dish for its double-duty opening and the chance to oversee—from top to bottom—a bona fide rebuild.
The prospect of that kind of paycheck was the easy part.
The rebuild? SVG has his work cut out for him.
Picking Up the Pieces—and the Pennies
In Detroit, Van Gundy is inheriting a roster both rife with upside and hamstrung by a bevy of bad signings. The good news: The Pistons' payroll now stands at $21 million less, thanks to Charlie Villanueva and Rodney Stuckey's respective free agencies.
Villanueva, of course, is gone: There simply is no other alternative when faced with one of the worst signings in franchise history.
Stuckey, on the other hand, is a no sure thing either way. But if a February report by USA Today's Sam Amick is to be believed, Stucky is at least open to the possibility of a Motown return.
Jonas Jerebko's $4.5 million player option is also a factor. As MLive.com's Brendan Savage reported on April 2, Jerebko's decision was expected to hinge heavily on whom Detroit hired as its head coach.
With Van Gundy being one of the biggest—and best—names in the game, you can bet the fourth-year Swede is leaning heavily towards re-signing.
With the ancillary financial matters squared away, "Stan Van" faces a significantly stingier challenge as concerns the team's core.
Perimeter Problems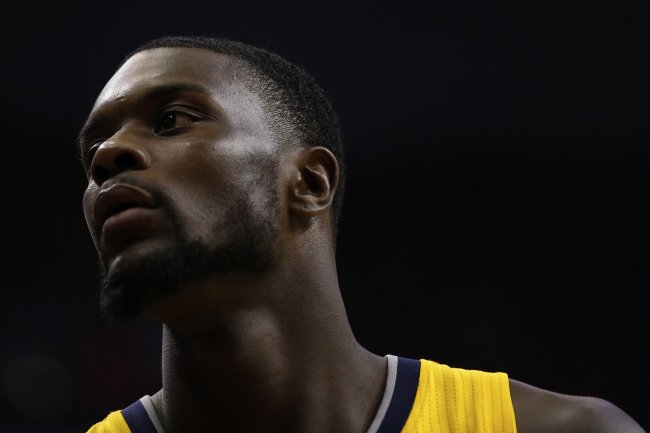 Alex Brandon/Associated Press
Save all your Brandon Jennings jokes for another comment thread—he wasn't the problem with Detroit's backcourt.
This was the problem: The Pistons finished 29th in the league in three-point shooting (32.4 percent) and 20th in overall field-goal percentage (44.7 percent), per NBA.com.
It doesn't take an R.C. Buford clone to conclude Detroit really, really needs more perimeter shooting.
With a good amount of cap space at their disposal, the Pistons have the means with which to bolster their backcourt this summer. My suggestion, which I posed back in April? Shoot for Thabo Sefalosha and Lance Stephenson.
Not only can both of them knock down the open three pointer—Stephenson, a potential star in the making, to increasingly effective degrees—they also give Detroit something they've sorely lacked the past handful of seasons: sound perimeter defense.
Not that these moves amount to Van Gundy's only recourse. Kentavius Caldwell-Pope could, with enough time and tutelage, develop into a fine shooter. And don't discount Detroit looking to snag a two-way wing in June's draft—someone like Michigan State's Gary Harris, whose sweet stroke and stifling perimeter D could well prove the perfect fit.
The Monroe Doctrine
Greg Monroe is one of the most versatile, offensively skilled power forwards in the league.
He's also most likely played his last game in a Detroit uniform.
The calculus, while callous, is crystal clear: With a number of teams expected to exceed Monroe's $5.5 million player option, Detroit must think long and hard about whether matching any subsequent offer sheet will be worth the price of positional redundancy.
We're talking, obviously, about Andre Drummond, the Pistons' freakish 20-year-old center almost certainly poised for a superstar leap over the next year or two (more on him later).
Statistically speaking, the pairing has proven a perilous one: According to NBA.com, Monroe and Drummond registered the lowest net rating (minus-6.4) of any two-man pairing with over 1,000 minutes logged.
Had the two been joined under any other contractual circumstances, Detroit's powerhouse pivots would certainly have been worth a second look. With Monroe expected to fetch a king's ransom, however, Van Gundy may have little choice but to part ways with the Piston's impressive power forward.
Which brings us, appropriately enough, to a guy who spent far too much time this past season not playing power forward.
The Josh Smith Problem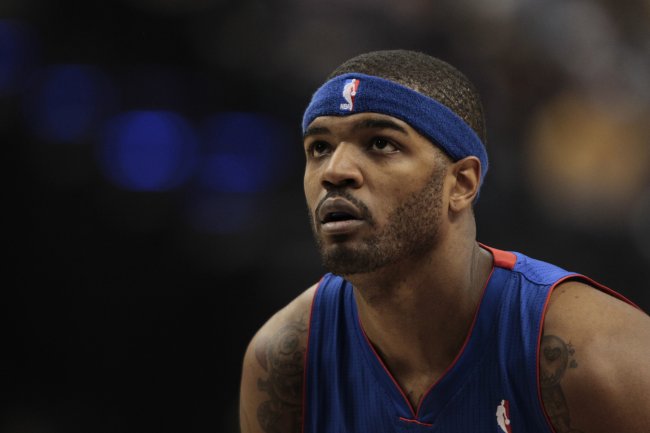 AJ MAST/Associated Press
If there's a more polarizing NBA player than Josh Smith—physical specimen, defensive terror, inconsistent to a comical degree—he'd better be a 7-footer who shoots nothing but off-balance corner threes.
The Pistons rolled the dice hard on signing Smith to a four-year, $56 million tender last summer. And while the upside was no doubt undeniable—few players, after all, boast Smith's two-way skill set—the positional shift it demanded wound up being a fatal one.
Remember those net-rating stats a few paragraphs back? Well, it turns out the Smith-Drummond-Monroe grouping registered the lowest (minus-8.0) of the eight Detroit lineups that registered 1,000 minutes or more.
And that's before we get to this: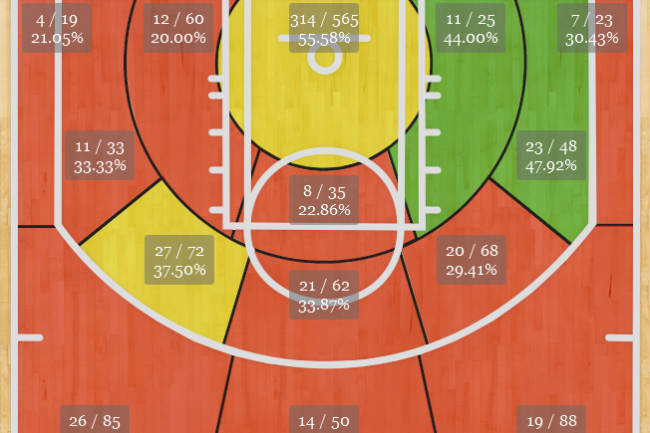 NBA.com
Josh Smith is a far better player than this horrendous, bloodstained shot chart indicates. The problem, at least last season, was that Smith was too often playing out of position at the small forward slot.
With Monroe out of the picture, Smith will be free to roam at his more natural position: power forward. That's not only good news for Smith's shooting numbers; it could well help accelerate the development of what Van Gundy must see as the raison d'être—from a personnel standpoint, anyway—for why he decided to patrol Detroit's sidelines.
Bang the Drummond Loud
Here's a fun chart:
Tale of the [Tall] Tape

| | | | | |
| --- | --- | --- | --- | --- |
| Player (season) | Points | Rebounds | Blocks | PER |
| Dwight Howard (2005-06) | 15.8 | 12.5 | 1.4 | 19.3 |
| Andre Drumond (2013-14) | 13.5 | 13.2 | 2.6 | 22.6 |
| | | | | |
Basketball-Reference.com
Those of you who reacted to Stan Van signing with a team as unsexy as the Pistons: Now you get it.
In Drummond, Dumars gave Detroit a bittersweet parting gift—a player who will prove his otherworldly mettle long after the guy who drafted him is gone.
Luckily, Detroit's franchise center is about to get the best tutelage possible.
In five full seasons as head coach of the Orlando Magic, Van Gundy' tutelage—equal parts hands-on and heartfelt—helped transform Dwight Howard from a raw athletic specimen into the NBA's most productive, defensively dominant center.
Sound familiar? It should: After leaving the University Connecticut following an inconsistent freshman season, Drummond was seen by many as the quintessential risk-reward project, a player as liable to land on his face as capitalize on his upside.
What two years ago would've seemed a fanciful fantasy has suddenly become reality for the rebuilding pistons: rebuilding around Drummond.
For Van Gundy, the blueprint couldn't be any more obvious. In Game 1 of the 2009 NBA Finals, the Magic's starting lineup read as follows: Rafer Alston, Courtney Lee, Hedo Turkoglu, Rashard Lewis and Dwight Howard.
Would you rather have Alston, or Brandon Jennings? Rodney Stuckey or Stephenson? Singler or Sefolosha? Turkoglu or Smith? Howard or—if things go as they're projecting to—the 20-year-old Drummond, a Defensive Player of the Year in the making?
There are some toss-ups and yet-to-bes here, for sure. But if Van Gundy's plan all along was to get back where he took the Magic—on the brink of the Finals glory—he's certainly taken the best first step possible.