The Yankees Hall of Shame, Pt. 2: Overrated Arms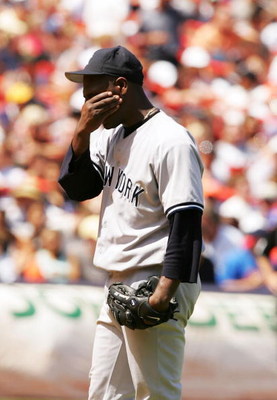 Well, here's the moment you have all been waiting for.
Ladies and gentleman, here is the second installment in my personal favorite journalistic series, the Yankees Hall of Shame.
In Pt. 1, I explored some players who are as far away from getting their busts in Monument Park as Sammy Sosa is from getting into Cooperstown.
Pt. 2 extends the invitations a bit further, to more players who deserve a seat next to guys like Carl Pavano and Hideki Irabu.
If you don't quite know what the criteria is for getting into the Yankees Hall of Shame, I am happy to explain my methods.
It includes anything from putting up atrocious numbers with the Yankees to being overpaid, to being a general heel on your own team in the Bronx.
Basically, when you think back on these guys' tenure in New York, you get a little sick.
Special thanks to anyone who commented on the last article and insisted any of these guys were included in the hall.
Jeff Weaver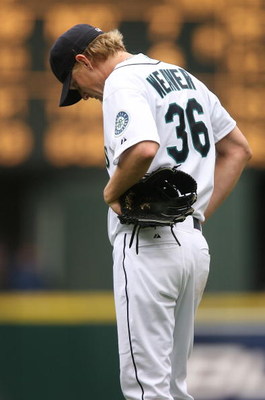 Jeff Weaver was one of those guys that was always an underachiever, anywhere he went.
Weaver has never won more than 14 games in a season, has a .449 mark in win percentage, and has never had an ERA below three.
So, it wasn't as surprising when he stunk up the Bronx during his tenure in pinstripes.
Through the 2002 and 2003 seasons in New York, Weaver was in and out of his starting job.
Weaver put up some incredibly bad numbers in two years for the Yankees, with a 12-12 record and an ERA over four.
Unfortunately, I got to watch him pitch, and lose, with my own eyes back in 2003.
Jaret Wright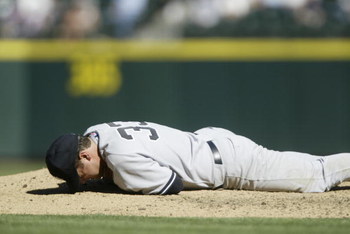 Question: Is Jaret Wright worth a three-year, $21 million contract?
Answer: NO.
Although you can't really blame the Yankees front office because everything looked OK in the beginning.
Jaret Wright had a fine season in 2004 with the Braves, with an overall record of 15-8 and an ERA of 3.28.
Everything seemed great until Wright put on pinstripes and started pitching in the Bronx.
What we Yankee fans didn't know at the time was: It was all downhill from there.
In 2005, his first season in New York, Wright started just 13 games, winning only five. He also lost five, finishing the year with a .500 win percentage.
Wright went 20-13 in just two seasons with the Bombers, and in 2005 had an astonishing ERA of over six.
Wright was promptly traded to the Orioles in Dec. of 2006.
Jose Contreras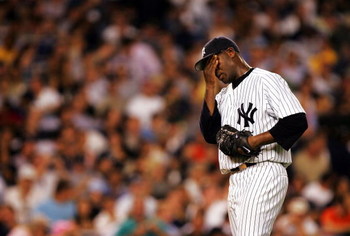 Here is a nice statistic that should explain why Jose Contreras is in the Yankee Hall of Shame.
The Yankees paid Contreras more than five million dollars in 2003, and he started nine games.
That's right, nine games.
The next year, 2004, he started 18, for a whopping two-year total of 27.
Contreras' numbers as a Yankee are ridiculous. He wasn't able to manage a 10-game season, or keep his ERA under three.
Not to mention he was 31 when he made his MLB debut. And you wonder why he was prone to injuries.
Contreras, once again, only started 27 total games as a Yankee, over two seasons.
With the White Sox, in the 2006 through 2008 seasons Contreras has started 32, 30, 30, and 20 games, respectively.
I guess being a Yankee wasn't part of Jose's baseball destiny.
Kevin Brown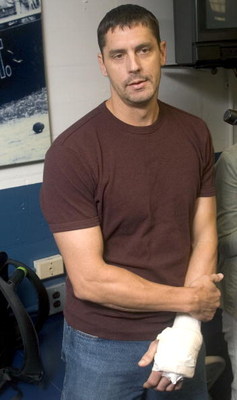 In this case, I don't think a picture is worth 1,000 words, just four: Yankee Hall of Shame.
Here we have Kevin Brown who thought it was a great idea to punch a wall after an argument with Joe Torre.
If he showed some more of that intensity against hitters and not walls, maybe he would have been able to compile more than 14 wins in two seasons.
Brown subsequently broke his hand and was out for the remainder of the 2004 regular season.
But Brown's problem wasn't his laughable anger toward walls.
Brown is another case of a pitcher being over-the-hill and getting paid for it.
Brown's numbers were almost as hilarious as his wall punching incident, incredibly sub-par in 2005, going 4-7 with a 6.50 ERA.
After the 2005 season, Brown retired, leaving myself and many other Yankee fans asking, "was he worth it?"
Answer: NO!
Keep Reading

New York Yankees: Like this team?