The Miami Heat and Indiana Pacers are just a pair of wins away from the Eastern Conference Finals showdown that so many expected heading into the 2013-14 season.
That was supposed to be a fantastic series, a battle between offense and defense as LeBron James attempted to hold off the young and hungry Pacers. Paul George was becoming a bona fide superstar, and the rest of the team was sure to be eager in its attempt to avenge its Game 7 loss from the previous season.
But then, the second half of the season happened.
The Pacers experienced an Icarian fall from grace, and things went from bad to worse during the playoffs. Indiana needed seven games to get by the sub-.500 Atlanta Hawks, and it escaped by the skin of its teeth. Things have gone more smoothly against the Washington Wizards, but even that minor revival hasn't given the Heat much to fear.
While the Pacers—owners of the No. 1 seed, in case their play has made you forget—have been struggling, the Heat have been steamrolling through the competition, sweeping the Charlotte Bobcats and then winning three of the first four games against a Brooklyn Nets team that went 4-0 against the defending champions during the regular season.
Why exactly should they be afraid?
Well, the answer is easy: They shouldn't.
All signs point toward the NBA getting the glamorous matchup in the Eastern Conference Finals. Even though it's going to be between the two teams so many wanted and expected to play each other during the regular season, it's still not going to be the desired series.
Wizards Aren't in the Same Class as Heat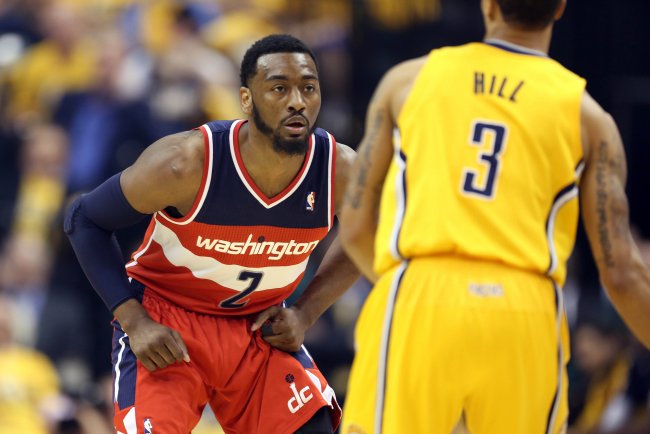 USA TODAY Sports
Whether you want to look at the regular season or the postseason, the Wizards simply aren't as tough an opponent as the Heat.
Quite frankly, it's not even close.
Ultimately, basketball is about scoring and preventing points, so let's turn to metrics that sum up those aspects of the game. Here's the comparison from the regular season:
Not Close

| | | | |
| --- | --- | --- | --- |
| | Offensive Rating | Defensive Rating | Net Rating |
| Miami Heat | 110.9 | 105.8 | 5.1 |
| Washington Wizards | 106.0 | 104.6 | 1.4 |
Basketball-Reference.com
And now for the postseason:
Still Not Close

| | | | |
| --- | --- | --- | --- |
| | Offensive Rating | Defensive Rating | Net Rating |
| Miami Heat | 115.0 | 105.8 | 9.2 |
| Washington Wizards | 101.9 | 101.9 | 0 |
Basketball-Reference.com
During each portion of the 2013-14 campaign, Washington was the slightly superior team on the defensive end, but offense pushed them too far behind. Miami's scoring machine just couldn't be stopped, while the Wiz were consistently vulnerable against teams that could take John Wall and actually contain him for significant stretches of the game.
And, lest you forget, Miami hadn't really flipped "the switch" for much of the season, instead playing and accruing those numbers in a somnambulant state that left it healthy and ready for the playoffs, even if that status came at the expense of the No. 1 seed.
Washington, meanwhile, was fighting for its life throughout the regular season. First was the struggle to gain postseason positioning, then seeding was up for grabs during the stretch run. Wall and Co. put the pedal to the metal right away and never took their foot off the gas.
That's not to sell the Wizards short, though.
Washington was a great basketball team for much of the year and looked completely dominant against the Chicago Bulls during the first round of the playoffs. In fact, they joined the Heat and Portland Trail Blazers as one of only three teams in either conference to take care of business without going to Game 7.
But the Wizards are not on the same level as the Heat, and the Pacers have already been struggling with them.
Heading into Tuesday night's Game 5 festivities, Indiana has taken four of the first five contests. But that 3-1 series mark is rather misleading, as every outing but a Game 3 blowout has been quite close. In fact, the Pacers are outscoring the opposition by only one point total if you take the 22-point onslaught out of the equation.
And the series would be tied at two games apiece if the Wizards didn't blow Game 4.
"It's tough. We really did put ourselves in position to win. A play here, a play there could have made a difference in us winning. I guess that's part of this team still growing," Al Harrington espoused after the loss, via NBA.com's Ben Standig.
Washington had a three-point lead with just over three minutes remaining, but that's when the wheels came off, highlighted (lowlighted?) by a failure to inbound the ball with 1:21 remaining and a one-point deficit up on the scoreboard.
Oh, and they were up 19 earlier in the game.
As Michael Lee wrote for The Washington Post:

The Washington Wizards had been a steady, confident bunch for most of this postseason, but in losing a 19-point lead Sunday night in a muddy puddle of terrible shots, nervous passes and shoddy defense, they went from feeling shocked to unsure to ultimately dejected.
Results can't be retroactively changed, but don't just see "3-1" and think to yourselves about how the Pacers are dominating the Wizards. Miami is dominating Brooklyn to the tune of the same margin, but not all series results are even.
Indiana Can't Score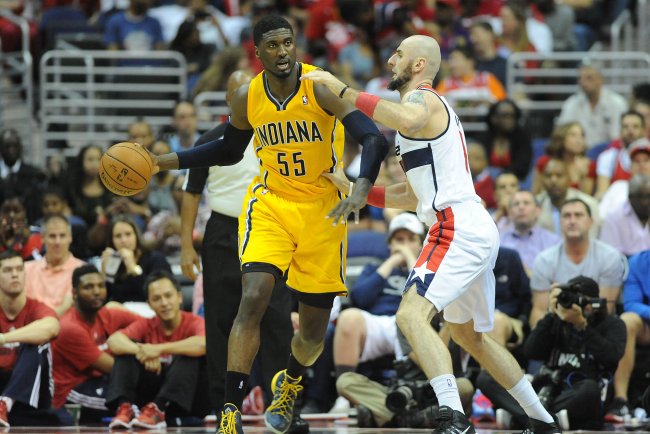 USA TODAY Sports
The Pacers boast an excellent defense, even when it's not at tip-top strength. That's been enough to take a seemingly insurmountable lead against the Wizards after surviving an opening-round clash with the Hawks, but it's not good enough to beat Miami.
Not if Indiana can't score.
Miami has lost only two games all season when an opponent failed to break past 90 points—once in late March against the Pacers and again during the postseason while facing the Brooklyn Nets. That's it.
In other words, the two-time defending champions are 17-2 when they hold an opponent to fewer than 90 points. And when the opposition can't break into triple digits, the Heat are a stellar 42-7.
Prorating that latter winning percentage to a seven-game series, Miami would go 6-1 against an opponent that fails to put up 100 points. The Pacers probably don't want to hear that, for obvious reasons.
What reasons, you ask?
These:
Pacers' Scoring Woes

| | | | |
| --- | --- | --- | --- |
| | PPG | Record | Times scoring 100 or more |
| Pre-All-Star Break | 98.54 | 40-12 (0.769) | 19 (36.5 percent) |
| Post-All Star Break | 93.63 | 16-14 (0.533) | 11 (36.7 percent) |
| Round 1 | 93.43 | 4-3 (0.571) | 1 (14.3 percent) |
| Round 2 | 90.50 | 3-1 (.750) | 0 (0 percent) |
Basketball-Reference.com
How exactly can Indiana hope to beat a fully engaged Miami when it can't score the basketball with any sort of consistency?
During the postseason, not a single player is posting efficient and high-volume offensive numbers. Paul George, scoring 23.5 points per game while shooting 44.3 percent from the field is as close as it comes, but there's a huge drop-off after that.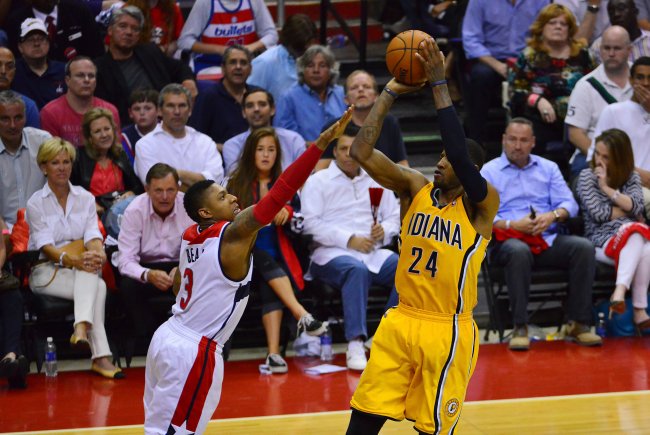 USA TODAY Sports
Where does the rest of the offense come from?
Lance Stephenson is the second-leading scorer, but he's averaging 13.5 points per contest while shooting 41.8 percent from the field. David West and George Hill are both just over 13, but neither player is making any more than 46.4 percent of his looks.
Roy Hibbert? Even after his 28-point outburst in Game 2 against Washington, even after combining for 31 points during the two subsequent outings, he's still averaging just 8.7 points per contest. The Pacers are just force-feeding him the ball, and Miami will be perfectly happy to focus on more potent scorers if it means Hibbert can score about 15 to 20 points per game.
According to Basketball-Reference.com, Indiana has produced 102.1 points per 100 possessions during its first 11 postseason games, down from the 104.1 it scored over the same stretch throughout the regular season.
That latter number is already an eyesore, bad enough to rank No. 23 among all 30 teams. But the former one? Had the Pacers produced a 102.1 offensive rating during the regular season, they'd have ranked ahead of only the Orlando Magic and Philadelphia 76ers.
The offense just isn't there. It hasn't been since shortly after the All-Star break.
We've Seen This Before
Rewind a year, and you might remember the Pacers and Heat squaring off in a hard-fought seven-game series, one that ultimately required some heroics from LeBron in order for the defending champions to advance.
What's happened since then?
The Heat have gotten marginally worse—or at least it seems that way—as losing Mike Miller to the Memphis Grizzlies hurt their rotation and started a few minor problems. The three-point specialists aren't connecting as frequently, and Dwyane Wade hasn't been superstar Wade quite as often.
However, things are worse for the Pacers.
Sure, they earned home-court advantage, but the much-discussed fall from grace hit them hard during the second half of the season. Hell, these Pacers were pushed to the brink of elimination by the sub-.500 Hawks—I can't emphasize that enough—before a late comeback in Game 6 and an easy Game 7 victory.
Hibbert—who became an Internet laughingstock when he completely disappeared for weeks—is looking better, but he may not be all the way back. B/R's Dylan Murphy broke down his resurgence, but it's tough to see him continuing this level of dominance against a Heat team that's superior to the Wizards in so many ways.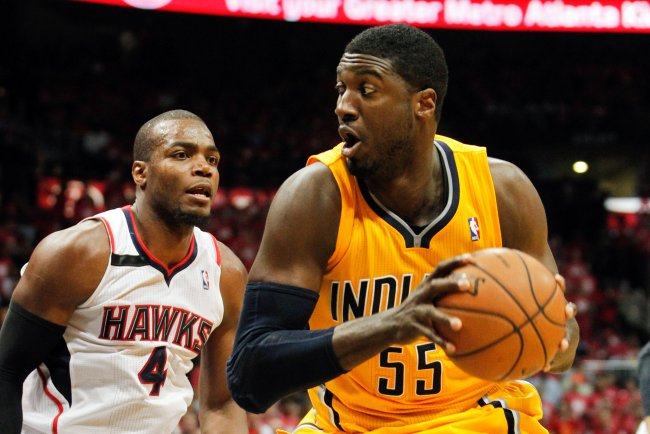 USA TODAY Sports
Unless Miami wants him to, of course, treating him as Atlanta did Dwight Howard when Superman was still wearing an Orlando Magic uniform.
This is a broken-down team, one that shows no semblance of the confidence, chemistry and—bear with me, because it's really the only word that works here—swagger that made it so dangerous at the start of the season. The Pacers are relying on their ability to get worked up at the sight of the Heat's jerseys, as Lee Jenkins explains for Sports Illustrated:
There are no guarantees the Pacers get past the Wizards (and Game 1 provided plenty of concerns), but if they do, they will rally for the Heat. Indiana has wanted Miami for the better part of two years. The Pacers finally have home-court advantage. And Roy Hibbert, who may have been a liability against the Hawks, presents a fundamental matchup problem at the rim for the Heat. Nothing seems to capture Indiana's attention anymore — except Miami.
If anything, that's a negative.
Indiana is going to get more excited about a series with Miami than it did a do-or-die Game 6 against Atlanta? The Pacers will get more hyped up for a shot at knocking off LeBron than simply surviving the early portion of the playoffs, when they stared death in the face?
That sounds like something that might describe a mentally fragile team, which isn't the type of squad that Miami typically has trouble with.
Assuming they meet, who wins?
Don't get me wrong, though. The Heat can't overlook an opponent that has made it through the first two rounds of the postseason and is especially motivated to knock them off, even if that opponent has looked absolutely awful at times throughout the past month.
But should they be quaking in their boots?
Not until they play someone from the Western Conference.