Every World Cup is always laden with the biggest star players on the planet, as talent oozes from almost every national side.
However, there are always a select band of individuals who successfully use the competition as a stage to highlight their magnificence, becoming global icons overnight.
With all of the major nations present in Brazil, which players will be the heroes of the tournament, propelling their stock through the roof and increasing their value?
Here, we take a look at some of the brightest candidates:
Luis Suarez - Uruguay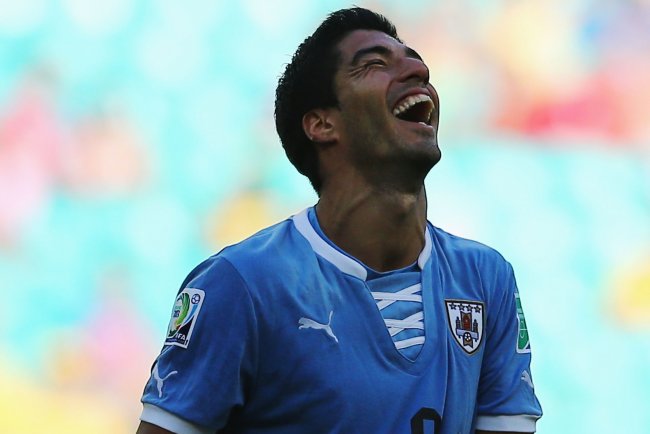 Miguel Tovar/Getty Images
Fans of Premier League football will know all about Luis Suarez from Liverpool, for good reasons and bad.
The controversial Uruguay magician took the Merseyside club to within a whisker of the Premier League title, with the team only falling two points short.
Suarez missed the start of the campaign due to a lengthy ban for biting Chelsea's Branislav Ivanovic, but he returned to put in a stunning run of form that saw him crowned Footballer of the Year.
Suarez ended the domestic league campaign with 31 goals from just 33 appearances, per Squawka, confirming him as one of the hottest attackers on the planet.
But the World Cup could see his value rocket upwards even further. With rumours of interest for the player from Real Madrid and Barcelona, Sky Sports' Gary Neville was clear that Suarez must confirm his future soon.
He said:
The rumours started the other day about Real Madrid and Barcelona and he's got to squash those straight away and that will give Brendan Rodgers the foundations to be able to mount a recruitment plan this summer.

If there's nonsense hanging over him all summer it won't do Liverpool any favours. He's got to come out pretty quickly and put that to bed.
Martin Mejia/Associated Press
But the talk of Suarez moving on after the World Cup will build as long as his form continues in the current mould.
A big World Cup for the player could see his value rise above the current world record transfer fee paid by the Galacticos for Gareth Bale.
It is questionable whether Suarez would want to leave Liverpool at this time, but the pull of playing for one of Latin football's two biggest clubs might be too much for a South American player.
Liverpool overachieved this season and have much building to do over the next couple of years. They might feel that if a bid of £90 million comes in for their talisman, who at 27 years old is now at the top of his value, they have no choice but to accept any such offer.
Marco Reus - Germany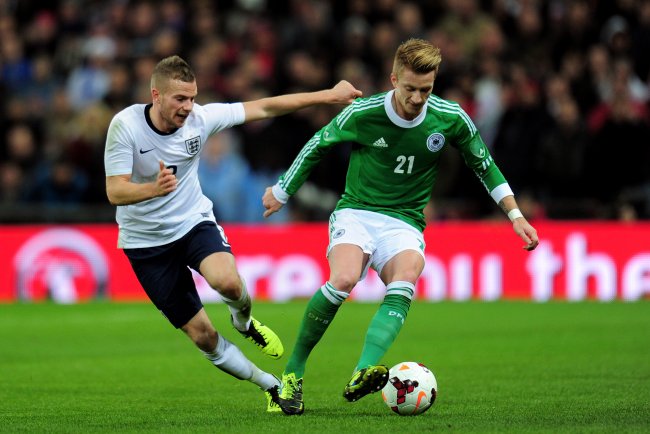 Shaun Botterill/Getty Images
The electrifying German wideman has had an excellent season with Borussia Dortmund, hugely contributing to his club's 80-goals-scored tally in the Bundesliga, per ESPN FC.
Reus himself has impressive individual figures for the year, having hit 21 goals in 39 league and European appearances, providing 15 assists, per WhoScored.com.
A successful World Cup will see the player's reputation and value grow. He has recently been linked with a move to Manchester United this summer as the deposed English champions look to rebuild their squad.
Kevin Palmer of the Sunday World tweeted about the possibility of the player joining the Old Trafford club:
Marco Reus links with United appear to be growing. Our reports in late January that this move would happen may prove to be accurate #MUFC

— Kevin Palmer (@kpsundayworld) May 8, 2014
But The Guardian's Marcus Christenson reports that Reus is willing to stay at Dortmund for the time being.
He quotes the attacker saying:
It's safe to say I will be playing for Borussia Dortmund also in the 2014-15 season. Basically I do not need to stress all the time that I am feeling great being with the club. As far as leaving [Borussia Dortmund] that is no issue for me, and I am not affected by the transfer release clause.
South American international sides will be the favourites in Brazil this summer but Germany have an excellent chance of causing a shock, and producing a European winner of the competition.
Any such win will likely have Reus at the heart of it. Reus' valuation is currently skewed by a release clause in his current Dortmund deal thought to be around the 35 million euro mark, per Christenson.
But if Germany become the world champions, Reus could easily be worth double that figure after the conclusion of the tournament.
Javier Hernandez - Mexico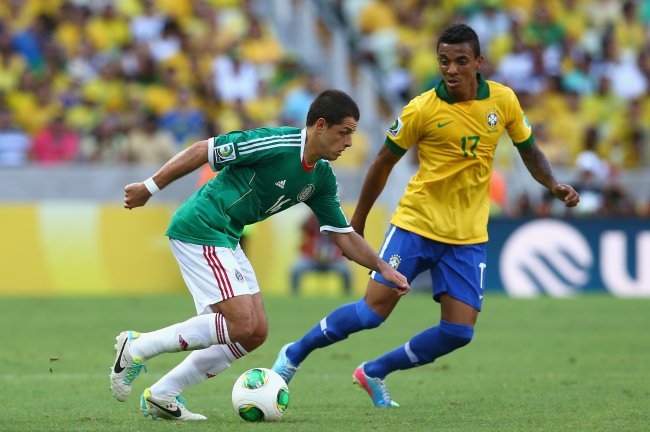 Robert Cianflone/Getty Images
Known to millions worldwide by his nickname Chicharito, Manchester United's predatory striker shot to fame at the last World Cup in South Africa, as Mexico made it to the Round of 16.
Chicharito has become a staple at United since his arrival at Old Trafford and is well known for his movement in the box and eye for goal.
But holding down a starting place with the Red Devils has been difficult for the player, and he might pursue a new challenge before the start of the next club campaign.
How many goals will Luis Suarez score at the World Cup?
The Little Pea has a devastating record at international level, and a South American World Cup is the perfect place for him and his Mexican team-mates to excel.
He has scored 35 goals in 58 appearances for the national team, per Soccerway, and the 7.5 million euros that United paid for him initially would surely be bettered as a total if the player moves on after a goalscoring summer.
In the right team Hernandez would score goals every week, and the World Cup will present him with the opportunity to show off his finishing prowess.