The Montreal Canadiens staved off elimination on Monday night, routing the Boston Bruins 4-0 in Game 6 of their Stanley Cup Eastern Conference semifinal playoff series to force a winner-take-all Game 7 back in Boston on Wednesday.
The Canadiens' official Twitter account confirmed the impressive result:
À mercredi, Boston! / See you on Wednesday, Boston! #GoHabsGo pic.twitter.com/sywtqwZgrP

— Canadiens Montréal (@CanadiensMTL) May 13, 2014
Montreal netminder Carey Price was brilliant in the shutout performance, recording 26 saves, and three different Canadiens lit the lamp en route to evening the series.
Jarome Iginla tallied a game-high six shots, but came unraveled late with Boston trailing to earn a 10-minute misconduct penalty, per NHL.com's Arpon Basu:
Jarome Iginla lost it there. Wouldn't have called him to be that guy.

— Аrpon Basu (@ArponBasu) May 13, 2014
Missed chances were the story for the top-seeded Bruins inside the Bell Centre all night long, while the desperate Habs were able to capitalize on every Bruins mistake.
Game 6: Canadiens 4, Bruins 0 (Series tied 3-3)

| | | | | |
| --- | --- | --- | --- | --- |
| | 1st | 2nd | 3rd | Final |
| (1) Boston Bruins | 0 | 0 | 0 | 0 |
| (3) Montreal Canadiens | 1 | 2 | 1 | 4 |
Source: NHL.com
Price set the tone for the Habs' Game 6 blowout immediately following their loss in Game 5, per The Boston Globe's Amalie Benjamin:
"Well, you back any animal into a corner, it's going to be desperate. I think we're going to be a desperate hockey club coming into next game."
With their season on the line, the Canadiens began the opening period with purpose, putting a ton of pressure on the Bruins and taking advantage of a costly mistake from Boston to take the lead just over two minutes into the game.
After a bad bounce of the off the boards, Boston defender Kevan Miller misjudged the puck and made an ugly turnover, setting the table for Montreal's Lars Eller, whose shot found the back of a wide-open net, per NBC 10 reporter Tony Gugliotta:
Oye... Bad bounce and puck spin leads to good luck goal for Lars Eller. #StanleyCupPlayoffs

— Tony Gugliotta (@NBC10_Tony) May 12, 2014
Afterward, CSNNE.com's Joe Haggerty pointed out a foreboding stat for the visitors:
The team that scores first has won the first 5 games of this Bruins/Canadiens series, so its an uphill battle now for Boston #BruinsTalk

— Joe Haggerty (@HackswithHaggs) May 12, 2014
Montreal didn't appear to be content with the early lead, though, as it continued to pressure Boston in the Bruins' zone.
The New England Hockey Journal's Kirk Luedeke noted the Bruins' sluggish play:
Bruins seem dazed and confused. Can't handle the puck. Losing edges in their own end. They're lucky to be down just 1-0.

— Kirk Luedeke (@kluedeke29) May 12, 2014
The puck possession would eventually even out, but Boston's misfortune would continue into the second period. Despite earning a handful of power-play opportunities and creating numerous chances in front of the goal, the Bruins were unable to get past Price.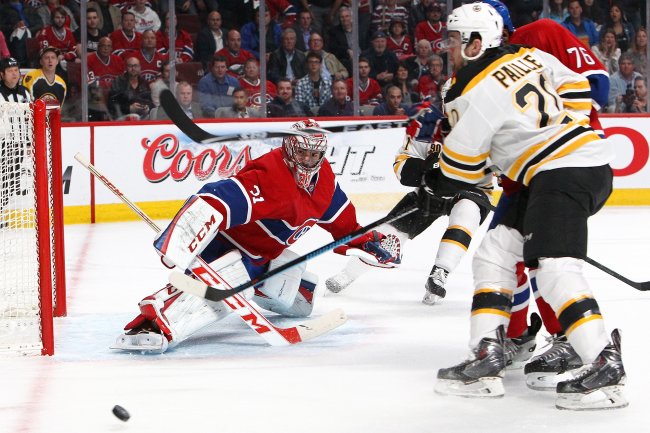 Francois Laplante/FreestylePhoto/Getty Images
Things would only get worse late in the second period when Montreal's Max Pacioretty broke free on a breakaway and beat Rask to double the Habs' lead.
By that point, the Canadiens were oozing with confidence, as pointed out by Rogers Sportsnet senior hockey writer Chris Johnston:
Pacioretty put his stick away like a sword. Oh my. Habs have swagger tonight.

— Chris Johnston (@reporterchris) May 13, 2014
Moments later, Montreal would capitalize on a power play to take a commanding 3-0 lead. Thomas Vanek was there to clean up Pacioretty's miss, per hockey writer John Toperzer:
Thomas Vanek cleaned up like a Zamboni Machine on that goal from Max Pacioretty. 3-0 Habs.

— John Toperzer (@JohnToperzer) May 13, 2014
Montreal maintained its intensity in the final period and remained stout defensively, preventing the Bruins from gaining any confidence or rhythm offensively.
Boston nearly broke through midway through the third period, but the close call was waved off by the referees, per Bruins Daily on Twitter:
Bruins may have made their final push. Potential goal under review. Didn't see the puck cross the line from this vantage point.

— Bruins Daily (@BruinsDaily) May 13, 2014
The puck was kept out by Montreal's David Desharnais, who made a brilliant defensive play to swat the puck away without closing his hand on it, which would have resulted in a penalty shot. The heads-up play was a microcosm of the Canadiens' overall performance on Monday.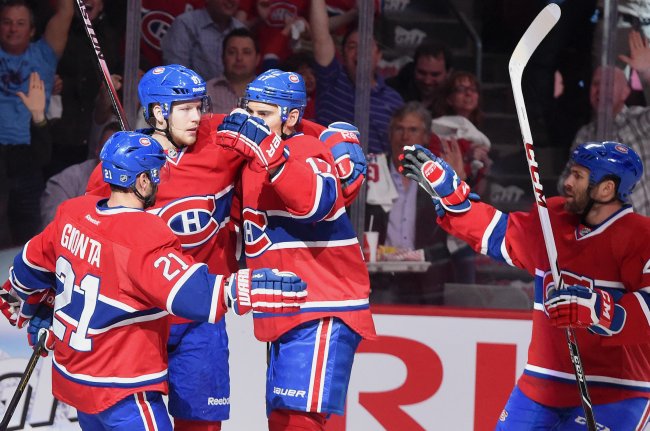 Francois Lacasse/Getty Images
Vanek would put the icing on the cake for Montreal with an empty-net goal with four minutes to play.
Unsurprisingly, tempers would flare in the waning moments as the Bruins began to lose their composure, as noted by Sports Illustrated's Peter King:
Bruins look totally bush league.

— Peter King (@SI_PeterKing) May 13, 2014
The game would be delayed briefly following a scuffle that saw a pair of Bruins throw punches.
Despite being out-executed on Monday, the Bruins will have a chance to regain momentum when they return home for Game 7.
If Boston is able to match Montreal's energy from the opening puck drop and get the crowd on its side, the Bruins will be awfully tough to beat inside TD Garden. They also have to find a way to help Rask in the crease.
Meanwhile, executing on the power play will be key for both teams as Montreal scored once with the man advantage in Game 6 and Boston went 0-of-3.
With very little separating these two squads through six games, the team that's able to focus on the small details is likely to prevail on Wednesday.
Follow Bleacher Report Featured Columnist Patrick Clarke on Twitter.