Tuesday's NHL playoff lineup features a pair of close-out games from each conference as the league whittles down the contenders worthy of hoisting the Stanley Cup.
First on the slate is a Game 7 matchup between two storied franchises in the New York Rangers and Pittsburgh Penguins. After that, it's time to watch the Chicago Blackhawks attempt to tame the Minnesota Wild and move another step closer to back-to-back NHL championships.
Here is a quick look at the essential information for the hockey action on tap Tuesday night.
2014 NHL Playoffs: Tuesday's TV Schedule and Info

| | | | | |
| --- | --- | --- | --- | --- |
| Matchup | Game | Series | Time | TV |
| Rangers at Penguins | 7 | TIE 3-3 | 7 p.m. | NBCSN |
| Blackhawks at Wild | 6 | CHI 3-2 | 9 p.m. | CNBC |
nhl.com
As always, the updated bracket for the Stanley Cup playoffs can be found here.
New York Rangers at Pittsburgh Penguins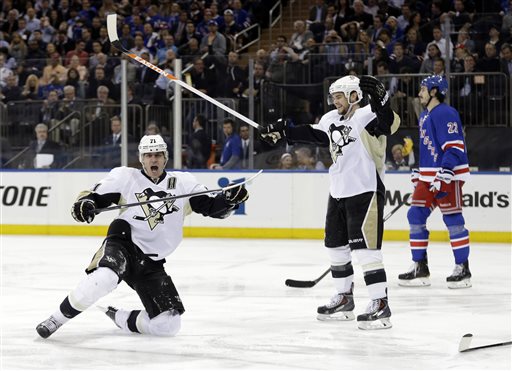 Frank Franklin II/Associated Press
The Penguins have had two chances to close out the series, but they just can't seem to put the Rangers away.
The Rangers have come back strong after losing three games by a combined score of 9-2. They won Game 5 by a score of 5-1, and they rode Martin St. Louis to an emotional 3-1 victory in Game 6 to give themselves a fighting chance.
St. Louis' mother passed away from a heart attack four days prior to the Mother's Day victory. He was excellent despite his heavy heart, scoring the opening goal just over three minutes into the game.
Rangers' goalie Henrik Lundqvist described the impact of that moment. Via Dan Rosen of NHL.com:
We set the tone right away, and when Marty scores that goal, it was such a beautiful moment. It really got emotional to watch that, and see him and what's he's been through. I think the entire team was feeding on that moment, and the entire building.
Which team will win Game 7?
The Rangers will rally around Martin, but they must still beware the Penguins offense in Game 7, even if it lay dormant over the past 180 minutes of action.
Center Evgeni Malkin has been indispensable for the Penguins, leading all skaters with six goals in the playoffs. The always-dangerous Sidney Crosby hasn't been quite as effective as usual so far, but he's always a threat to conjure up a timely goal or assist.
Malkin is confident in his team's chances, as per Shelly Anderson of the Pittsburgh Post-Gazette.
Listened more closely to Evgeni Malkin. Full quote was, "We know we can win tomorrow, and we'll do it." There's your prediction. #Penguins

— Shelly Anderson (@pgshelly) May 12, 2014
This game is going to be about as intense as they come, and the margin between these two teams is thinner than the blades under their skates. The Penguins will get a big boost from a rowdy playoff crowd and advance to the Eastern Conference Final.
Prediction: Penguins win
Chicago Blackhawks at Minnesota Wild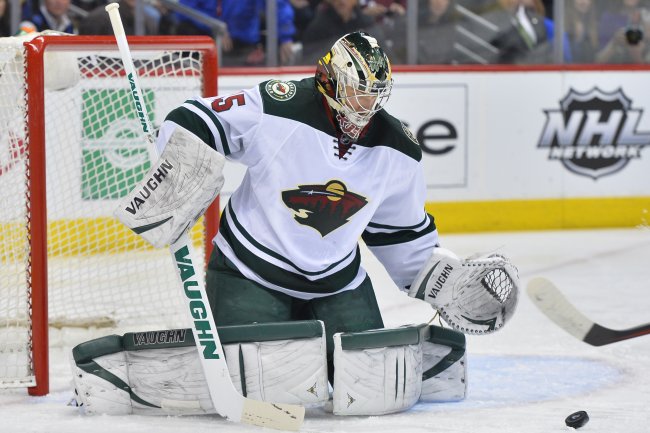 JACK DEMPSEY/Associated Press
The Blackhawks are one victory away from another trip to the Western Conference Final, but the Minnesota Wild aren't making it easy.
The Wild's Darcy Kuemper has been one of the strongest goalies in the NHL playoffs so far. The budding 24-year-old netminder played just 26 games during the regular season and posted a pedestrian 2.43 goals-against average, but he has brought it down to 2.03 in six playoff games.
The series has been something of a struggle for both teams. It's been tight, tense contests with very little margin for error, and neither team has looked fluid from night to night.
Blackhawks coach Joel Quenneville described the tense state of affairs, via CBSSports.com's wire service: "The whole game, the whole series has been very tight. Still not a lot of room and space, but that's what we've got to fight through. I thought we showed more determination in the puck area tonight."
The Blackhawks' determination was buoyed by the incredible depth on the team. The 'Hawks were able to roll out four different lines in Game 5, and it showed, as the team was balanced all night long. They've been forced into a three-line rotation at various spots in the playoffs, especially against the Wild.
Which team will win Game 6?
Winger Bryan Bickell was happy to get his chances in the contest, per Tracy Myers of CSNChicago.com: "It's always good to use four lines as much as possible to give those top lines an extra breather."
The Wild have given the Blackhawks all they can handle and have a strong foundation to build upon in 2014, but they don't have enough in the tank to overcome the defending champions this year.
Prediction: Blackhawks win