Cleveland Browns owner Jimmy Haslam has been enamored with his new quarterback Johnny Manziel—to the point that some thought he mandated Manziel's first-round selection himself. Before the Johnny Football era can get off the ground in Cleveland, though, Manziel will have to earn his spot atop the depth chart.
Haslam said point-blank Monday that Manziel is not the starter and insisted that general manager Ray Farmer made the call on the No. 22 overall pick, per The Associated Press' Tom Withers:
Haslam on Manziel: "He's not the starter." #Browns

— Tom Withers (@twithersAP) May 12, 2014
ESPNCleveland.com's Tony Grossi says a source told him the Browns were ready to select Louisville product Teddy Bridgewater, but Haslam changed the card at the last minute in the war room:
A source told me that the card prepared to be given to Commissioner Roger Goodell for the official announcement in Radio City Music Hall originally had Bridgewater's name on it. Then with 10 seconds to go, a new card replaced it with the name of Johnny Manziel, as a result of owner Jimmy Haslam's order.
Browns spokesman Zak Gilbert denied it, per Grossi's report, as did the owner:
Haslam on Bridgewater rumor: "That's crazy. That's nuts." #Browns

— Tom Withers (@twithersAP) May 12, 2014
Whatever the circumstances may have been surrounding Cleveland's selection of Manziel, he is with the maligned franchise now, figuring to be its long-term savior under center. However, he'll have to beat out pseudo-incumbent Brian Hoyer first.
ClevelandBrowns.com's Vic Carucci noted that coach Mike Pettine has told Manziel to act like a second-stringer:
#Browns owner Jimmy Haslam says coach Mike Pettine made clear to @JManziel2 on Fri that he is the "backup" QB & needs to act accordingly.

— Vic Carucci (@viccarucci) May 12, 2014
Something about Manziel's competitive DNA suggests that won't really be the case. The buzz he is already generating is palpable—and evident in ticket sales, per ESPN's Darren Rovell (via Adam Schefter):
Browns president Alex Scheiner told @darrenrovell that, in 12 hours after Johnny Manziel was selected, team sold more than 1,500 season tix.

— Adam Schefter (@AdamSchefter) May 9, 2014
It's possible Hoyer won't prove to be much of an obstacle for Manziel to hurdle for the starting gig. With just four NFL starts under his belt and not much of a head start over Manziel thanks to another regime change and a new offense, there is a chance Hoyer will be surpassed in training camp.
Hoyer is also coming off a torn ACL, and even though he appears to be ready to roll for the 2014 campaign, he's far from a sure bet to stay healthy. Here's the caveat: If he can emulate the flashes of brilliance he had last season, Cleveland would have a hard time benching him.
Nathan Zegura of CBS Sports believes Manziel does indeed need to ascend to the starting role based on merit, not through a popularity contest or overall hype:
Yep...has to earn it. Hoyer is starter RT @SportsCenter: Browns owner says he made it clear to Johnny Manziel that Manziel is the backup QB.

— Nathan Zegura (@NathanZegura) May 12, 2014
In any event, it appears the Browns are gearing up to ground and pound the rock under new offensive coordinator Kyle Shanahan, based on what Haslam said Monday, per Cleveland.com's Mary Kay Cabot:
#browns haslam keeps stressing "we're going to run the ball and pass when necessary." Bucks the nfl trend.

— Mary Kay Cabot (@MaryKayCabot) May 12, 2014
The Browns' draft strategy reflects that paradigm as well. By selecting athletic offensive lineman Joel Bitonio at the top of the second round, Farmer added an ideal fit for Shanahan's zone running game.
Cleveland then chose bruising Towson running back Terrance West in the third round, likely to back up Ben Tate. Cleveland invested its top draft choice in cornerback Justin Gilbert and its other third-rounder in linebacker Christian Kirksey.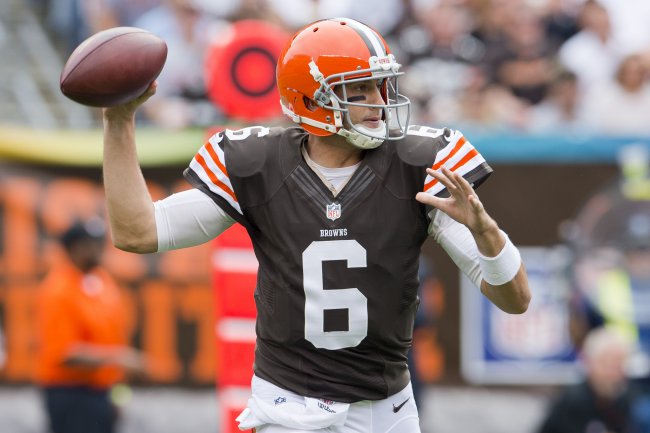 Jason Miller/Getty Images
Pettine is a defensive-minded coach who expressed a desire not to start a rookie QB even before the Browns chose Manziel in the draft.
For an organization that has seen 20 quarterbacks come and go with minimal success since 1999, though, it's hard to resist plugging in a dynamic, dual-threat talent like Manziel into the lineup. Shanahan worked with Robert Griffin III as a rookie in Washington and took that team to an NFC East division title.
This is a win-win for the Browns no matter what they decide to do with regards to the 2014 quarterback situation. The crux of that reasoning rests on the silver lining of superstar wide receiver Josh Gordon's potential season-long suspension for a reported failed drug test.
Should Hoyer hold on to the job, he has the veteran savvy to run an efficient offense and perhaps get the team by without Gordon, allowing Manziel to contribute on occasional packages or just sit and learn. If the Browns hold on to their troubled wideout, Manziel could be developed enough and ready to take the reins from Hoyer in 2015 with Gordon back in the fold.
When should the Browns start Johnny Manziel?
If Gordon is indeed out for the year and the Browns turn to Manziel either in Week 1 or later on in the 2014 campaign, the young QB can learn to adapt without a marquee target on the outside. That should help him play on instincts, while still adjusting to avoid so much contact at the NFL level, which is a concern many of his detractors cite as a reason why Manziel won't succeed.
But the season is far away. Looking more toward the immediate future, this is a brilliant move by the Browns and Haslam. They passed on him twice in the draft before trading up to get him, helping rescue Manziel from his free fall.
Between his diminutive size, his prolonged wait in the green room during the draft and the fact that Cleveland won't hand him the keys to the offense right away, Manziel has to have the biggest chip on his shoulder to prove everyone he belongs as an NFL starter. One thing is certain: Manziel has brought unquestionable excitement to the Browns franchise, and this QB battle will be the most compelling one to watch before Cleveland's season opener in Pittsburgh.