Those well-versed in the realm of horse racing truly understand how important a post position can be, so Wednesday's post draw for the 2014 running of the Preakness in Baltimore is as critical as the race itself.
Many fans set to tune in are carryovers from the Kentucky Derby, where the post position was a topic beaten to death and back before the actual event.
Some jockey-horse combos want to avoid being close to the rails. Others don't want to be too far outside. The right spot typically boils down to history and the skill set of those who occupy it.
So, yes, the draw is quite a noteworthy event. Here's the scoop on how it goes down, followed by a look at a few names to watch regardless of post position.
What: 2014 Preakness Post Positions Draw
When: Wednesday, May 14 at 6 p.m. ET
Where: Pimlico Race Course, Baltimore, Maryland
TV/Live Stream: HRTV.com (subscription required)
Contenders to Watch
California Chrome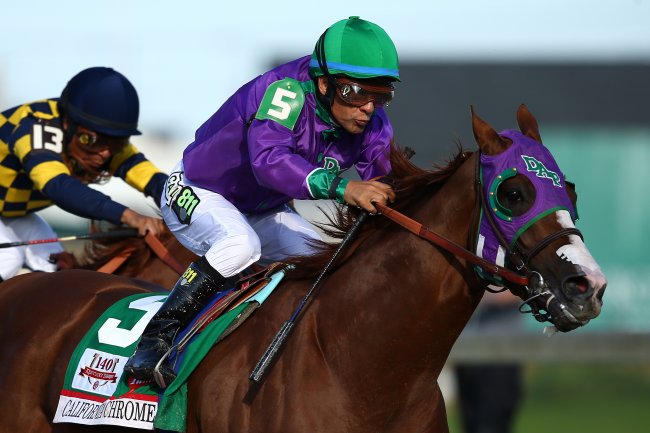 Andy Lyons/Getty Images
One simply cannot murmur the word "contender" and not highlight California Chrome, this year's Kentucky Derby winner and the best chance the globe has seen for a Triple Crown in a decade or more.
That sounds like hyperbole on first pass, but California Chrome entered Churchill Downs having won four races in a row by more than a combined 24 lengths and would have greatly added to that total had jockey Victor Espinoza not let off the gas with the race already won.
That last bit is why some, such as Randy Moss of NBC Sports, are quick to point out that California Chrome wasn't the fastest:
For those who care, based on @TrakusRacing data, CCurve ran 9 feet farther than CChrome. So CChrome ran race 54.09 ft/sec, and CCurve 54.04.

— Randy Moss (@randy_moss_TV) May 5, 2014
It's a fair point, and we could certainly buy into the notion that California Chrome will wear down at some point, but that narrative has been alive and well for five consecutive races.
Each time, the post position has mattered little, but we're entering the territory where it just might. Keep a close eye out on Wednesday.
General a Rod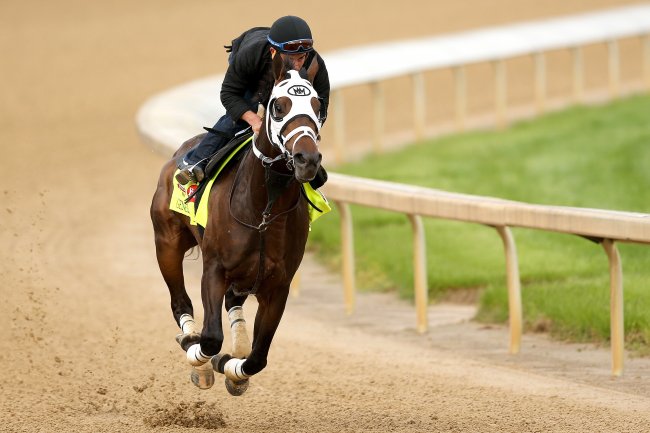 Matthew Stockman/Getty Images
It seems General a Rod is suddenly flying under the radar, as if a shaky performance at Churchill Downs is a sudden guarantee of poor performances for the rest of the season.
That's simply not the case.
General a Rod and jockey Joel Rosario got off to a hot start in the Kentucky Derby, but could not pull away enough to get inside and avoid the pack.
While disappointing, General a Rod was fired up after the event and has trainer Mike Maker ecstatic about his chances on Saturday, as he told Jay Privman of Daily Racing Form:
He was very fresh. We took him back to the track earlier than we normally would have. When we got him back to the track, he was carrying good flesh. His energy level was good. He's a big, stout horse. If anyone can come back in two weeks, he can.
Even better for General a Rod is the fact that the track at Pimlico is shorter than the one at Churchill Downs, meaning that early burst can garner a victory this time around—especially from a favorable post position.
Bayern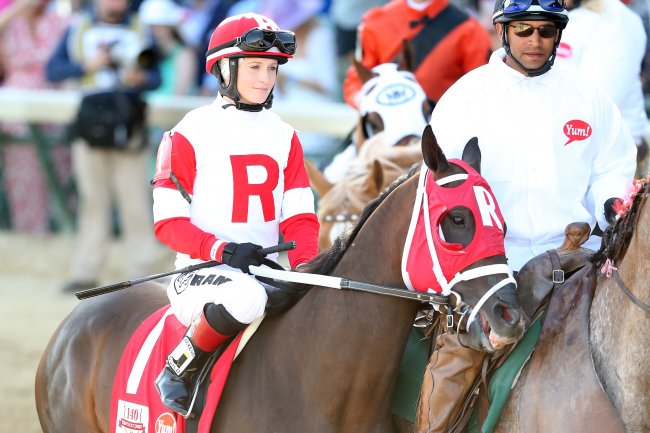 Matthew Stockman/Getty Images
Led by Hall of Fame trainer Bob Baffert, Bayern is not the typical contender who relies on post position. This will especially be the case with hometown jockey Rosie Napravnik during the proceedings in Baltimore.
Bayern is a tad inexperienced, but there is no doubt Napravnik has what it takes to squeeze every ounce out of the horse. She has too much on the line not to, as she told Jennie Rees of The Courier-Journal:
It's a Triple Crown race. It's my home track with all my friends and family around. We'd have half the grandstand cheering for us — that's what would make it special. I would feel like — if I was able to ride the winner of the Preakness — that I was doing it for everybody who got me started in Maryland.
But don't forget about Baffert, who led Bodemeister to a stunning triumph at Pimlico two seasons ago. Given the trio's talents, a good draw would be the icing on the cake.
Note: Horse lineup can be found at Preakness.com. All info courtesy of Preakness.com unless otherwise specified.