Roy Hodgson has named his 23-man England squad for the 2014 FIFA World Cup, a selection that has sent the Twitterverse into overdrive.
As revealed by the FA's official website, players including Michael Carrick, Tom Cleverley and Andy Carroll are set to miss the tournament after being included on Hodgson's stand-by list.
There's a fresher feel to the squad, with young players such as Luke Shaw, Ross Barkley and Raheem Sterling being rewarded for fantastic seasons, as noted by Bleacher Report UK:
England's World Cup Squad: http://t.co/5gYKC2o9Vm pic.twitter.com/KssHxnY74q

— Bleacher Report UK (@br_uk) May 12, 2014
Former England striker and current Match of the Day host Gary Lineker analysed the squad shortly after it dropped:
England's squad: Bags of attacking talent, much unproven but exciting nevertheless, blatantly short defensively through the centre.

— Gary Lineker (@GaryLineker) May 12, 2014
Matt Dickinson of The Times believes Hodgson had an easy task picking his squad due to the number of injuries accumulated:
If Walker, Walcott, Townsend, Rodriguez had been fit then we might have had debate. As it is, squad mostly picks itself

— Matt Dickinson (@DickinsonTimes) May 12, 2014
One such fitness problem was suffered by Kyle Walker, who spoke about his omission with dignity:
Gutted to miss the World Cup because of my injury. I'm still a few weeks away from being fit so I understand why the gaffer has left me out

— Kyle Walker (@kylewalker2) May 12, 2014
Carrick was arguably the biggest exclusion from Hodgson's squad. The Manchester United midfielder has never reached his potential on the international stage and has often been overlooked by England's managers across the years. While Hodgson was willing to give him a chance earlier in his reign, the 32-year-old's poor season with United sees him miss the cut.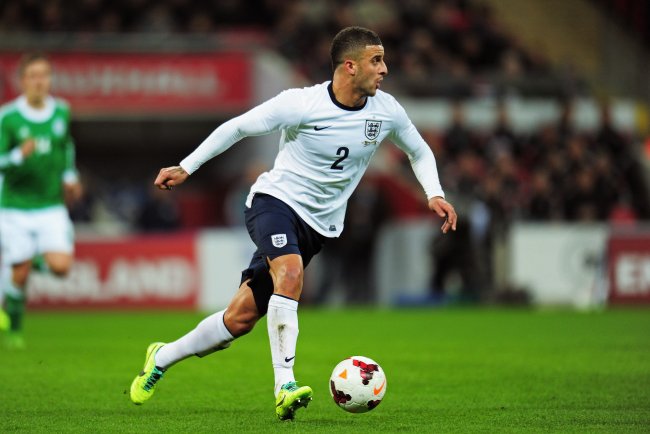 Shaun Botterill/Getty Images
Understandably, Carrick admitted his disappointment shortly after the squad announcement:
Disappointed to be left out of the squad, World Cups are special and to miss out hurts. Want to wish the boys the very best of luck.

— Michael Carrick (@carras16) May 12, 2014
The nation showed less sorrow over Cleverley's omission, as summed up by Football Vines' tongue-in-cheek tweet:
When you hear Tom Cleverley and Andy Carroll have made the standby list for the World Cup. http://t.co/Bzx38iDbHu

— Football Vines (@Vine_Football) May 12, 2014
Hodgson appears to be looking toward the future with his selection. Sterling heads to his first major tournament after a memorable season with Liverpool. His pacey, incisive attacking play has the potential to be a real danger in Brazil, especially if the boiling heat takes its toll on defenders.
Wayne Veysey of Goal.com would deploy the versatile forward against the very best:
Sterling has been the best English player in PL in last few months. Has been sensational. Roy should build team around him but doubt he will

— Wayne Veysey (@wayneveysey) May 12, 2014
Barkley is another youngster whose metaphoric rise has been impressive to witness this year. Oliver Kay of The Times highlights just how far the 20-year-old has come across the past 12 months:
This time last year Ross Barkley was left out of England U21 squad by Stuart Pearce. Went away with U20s instead. Now going to World Cup

— Oliver Kay (@OliverKayTimes) May 12, 2014
Kay also remained realistic ahead of a challenging Brazilian test:
Am I allowed to be happy with the squad yet remain gloomy about England chances in Brazil? Will be tough to get past Italy, Uruguay, Costa R

— Oliver Kay (@OliverKayTimes) May 12, 2014
Miguel Delaney of ESPN FC highlighted the lack of experience within the team:
25% of England's outfield players have less than five caps.

— Miguel Delaney (@MiguelDelaney) May 12, 2014
Rounding off our selection of tweets, Lineker summed up the feeling that England's squad will head to Brazil with the full backing of the nation:
Congratulations to the 23 players who have made Roy Hodgson's England squad. It's young, energetic and exciting. Do your country proud!

— Gary Lineker (@GaryLineker) May 12, 2014
Hodgson's selection undoubtedly highlights a transitional side. This is not a team that is riddled with guilt after crashing out of previous competitions, aside from old heads like Steven Gerrard, Wayne Rooney and Frank Lampard, who will act as leaders across the tournament.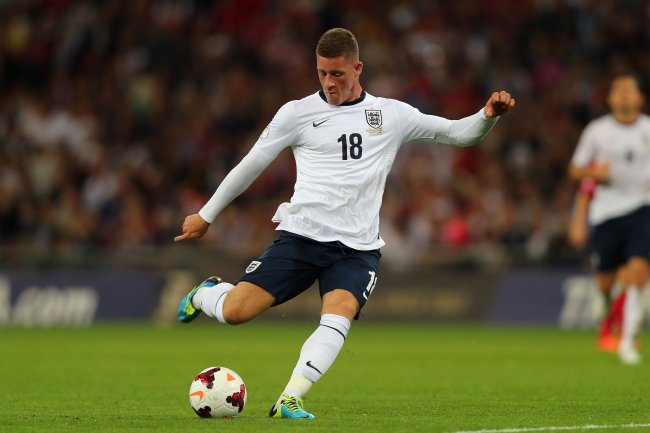 Clive Rose/Getty Images
Instead, there's a feeling of energy and excitement around the camp. The nation's expectations are low and escape false hope for the first time in recent memory. English supporters will demand a confident showing in Brazil, but with youngsters such as Shaw, Barkley and Sterling in tow, very few are expecting the Three Lions to triumph.
A lack of expectation lends itself to a lack of fear, something Hodgson's players will hopefully feed off during the summer festivities.