The NBA playoffs may be heating up, but the immediate fortunes of some of the league's lesser teams this year are hanging in the balance.
The New York Knicks may be close to finding their new head coach, the future of the Cleveland Cavaliers' coaching spot is up in the air and some of the top players in the draft may not be attending the NBA combine.
With all that in mind, let's dig a bit deeper into the latest rumors from the Association.
Steve Kerr heading to the Big Apple?
Steve Kerr played for Phil Jackson back when he was a Chicago Bull, and he may just be working for his former coach in the near future. Ian Begley of ESPN New York passed along some details:
Sources say Steve Kerr and #Knicks are "getting closer" & negotiations will "pick up" Monday. NYDN reports deal may be done early this week.

— Ian Begley (@IanBegley) May 12, 2014
Will Steve Kerr lead the Knicks to the playoffs in his first year as coach?
Ideally, the Knicks could get this deal done sooner rather than later if Kerr is their man. The draft combine is on the horizon, and even though New York doesn't have a pick, there are bound to be unsigned free agents in this loaded draft class. Having a coach in place would give the Knicks an idea of the direction they want to head in the near future after the draft.
Jackson had previously commented on the similarities between himself and Kerr, via Mitch Abramson of the New York Daily News: "I know philosophically we have a strong connection. Whether he's able to take a job like this, I don't know. I'll get in the conversation with him later on this month and talk to him about it, and see where he's at as far as his desire to coach."

Mike Brown on the way out?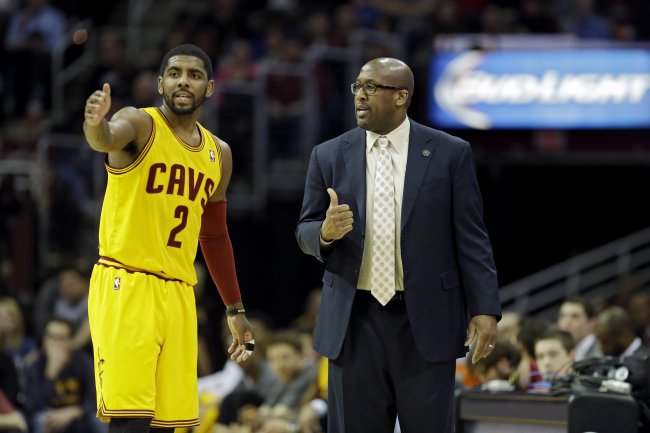 Mark Duncan/Associated Press
Sam Amico of Fox Sports Ohio filled Cleveland fans in on the latest rumblings regarding the Cavaliers:
Within about a week, David Griffin should be named the Cavaliers' new general manager, sources told FOX Sports Ohio on Sunday. ... While the status of Griffin seems to be coming into focus, sources familiar with the Cavs' thinking said things with head coach Mike Brown are a little less certain. One source described Brown's standing as "very much up in the air." ... Sources have said Gilbert will support any decision made by a new GM on Brown.
The decision on Brown will be an interesting one to watch because the Cavs certainly have the talent on paper to at least challenge for a playoff spot in the middling Eastern Conference. The fact that Cleveland finished a disappointing 33-49 this season has to at least fall partially at Brown's feet, so how this situation unfolds will likely be a direct result of how much trust Griffin has in Brown.
It would also provide some insight into the front office's opinion on Brown's ability to attract free agents, since Cleveland could very much be in the race to land a couple of impact players soon.
NBA combine could be missing some big names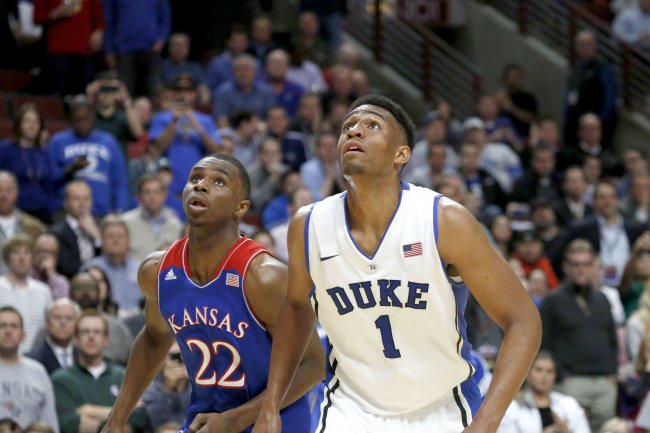 Charles Rex Arbogast/Associated Press
The 2014 NBA draft class has been heralded as a game changer for many months, but general managers may miss out on a chance to see some of the top prospects at the draft combine. Scott Howard-Cooper of NBA.com and Baxter Holmes of The Boston Globe shared some of the details on Andrew Wiggins and Jabari Parker:
Front offices have noted for a while Parker was not in great shape last season. If his agent still needs to hide him, it's a concern.

— Scott Howard-Cooper (@SHowardCooper) May 11, 2014
Have also heard that potential top-3 pick Andrew Wiggins is unlikely to attend the Chicago draft combine this week.

— Baxter Holmes (@BaxterHolmes) May 11, 2014
Interestingly enough, Kansas big man Joel Embiid may also reportedly miss the combine, according to Yahoo Sports' Adrian Wojnarowski.
Who will be the top pick in the draft?
Projecting ahead, there is a real chance that these will be the top three picks in the draft. All three players have the tape to prove how talented they are, but the rumors about Parker's conditioning serve as something of a red flag.
What's more, Embiid missed the NCAA tournament because of health concerns, so an appearance at the combine from him and Parker could go a long way toward quelling some of those concerns. However, seven-foot centers with huge upsides, and stretch forwards with an NBA game and a year under Mike Krzyzewski's tutelage, don't exactly grow on trees.
Ultimately, Wiggins, Parker and Embiid will be the top three picks in the draft in all likelihood, even if they don't attend the combine.
Follow me on Twitter: