If there was any doubt beforehand, Paul George solidified his status as a superstar Sunday in Game 4 of the Indiana Pacers' series against the Washington Wizards.
The Pacers, led by George's 39 points, 12 rebounds and two steals, overcame a 19-point deficit to shock the Wizards to the tune of 95-92. The Pacers won the second half 57-37 and completely dominated Washington when it mattered most. George hit the critical free throws and baskets down the stretch and was simply too much to handle.
It's difficult to envision the Wizards overcoming a collapse like this going forward now that they face a 3-1 series deficit.
Facing a 2-1 hole heading into Game 4 at home, the Wizards knew the home crowd had to be a factor for them to be victorious. Michael Grady of 1070 The Fan and the team's official Twitter page gave fans an inside peak at the rally towels in place:
Wizards fans will have red, white, and blue towels tonight. pic.twitter.com/1TlVDleuya

— Michael Grady (@Grady) May 11, 2014
#dcRising rally towels courtesy of @GEICO in full effect #WizPacers https://t.co/yiNE7O2D0N

— Washington Wizards (@WashWizards) May 12, 2014
Chris Mannix of Sports Illustrated provided better news for Wizards supporters than just the fact that there would be some rally towels:
John Wall, walking onto floor to warm up: "Man, I can see now." Wall suffered a scratched cornea during Game 3

— Chris Mannix (@ChrisMannixSI) May 11, 2014
Unfortunately for John Wall, his improved vision only meant he had a good view of the Pacers' fast start. The NBA on ESPN noted that almost everything was falling for George and company in the early going:
Pacers are shooting 73% and lead the Wizards 17-13 midway through the first in Game 4. #INDvsWSH

— NBA on ESPN (@ESPNNBA) May 12, 2014
However, there were some positive signs at the start of the game for the Wizards, as Casey Phillips of Monumental Network pointed out:
The @WashWizards may be down early but at least it's fast paced, which favors them in the long run. #wizpacers #dcrising

— Casey Phillips (@caseyreporting) May 12, 2014
Eventually, that fast pace led to Washington points, as the team and Adam McGinnis of ESPN recognized:
John Wall steal, bucket, arena explodes, #Wizards have weathered the storm, place is refreshingly electric

— Adam McGinnis (@adammcginnis) May 12, 2014
The Pacers led 27-26 after an up-and-down first 12 minutes, but it was clear the Wizards had the momentum moving forward.
That momentum was in full swing at the start of the second quarter, as the Pacers' reserves were absolutely dreadful. In fact, Indiana didn't even score a point until nearly five minutes into the second frame.
Radio host Kent Sterling, Pacers public address announcer Michael Grady and Candace Buckner of the Indianapolis Star pointed out how awful Indiana's bench looked:
Terrible focus from #Pacers second unit. Stephenson awful in the 1st. Entire 5 brutal in the second. Lack of urgency appalling.

— Kent Sterling (@KentSterling) May 12, 2014
Al Harrington is 46 years old....and making Scola look 75.

— Michael Grady (@Grady) May 12, 2014
As #Wizards get contributions from Al Harrington, mostly, and their bench, #Pacers reserves stinkin' up the joint: 5 missed shots, 2 TOs

— Candace Buckner (@CandaceDBuckner) May 12, 2014
In addition to the second-unit struggles, Indiana fell behind by double digits because the pace was simply not in its favor. Scott Agness of Pacers.com and Grady provided the details:
Wizards coach Randy Wittman talks all the time about pace, and it's playing in their favor right now. Quick tempo, 16-0 fast-break points.

— Scott Agness (@ScottAgness) May 12, 2014
Pacers can't settle for jumpers just because they're down double-digits. That's a clear sign of panic...

— Michael Grady (@Grady) May 12, 2014
During the extended run, the NBA's Twitter page captured an impressive play from Andre Miller and Martell Webster. Michael Lee of The Washington Post highlighted the fact that maybe it's time to look beyond Miller's age and recognize his accomplishments:
Special Delivery! Martell Webster throws down a ridiculous alley-oop from Andre Miller. #NBARapidReplay http://t.co/zwJU9F1etU

— NBA (@NBA) May 12, 2014
Instead of old man jokes, we might need to start calling Andre Miller, "Ninth all-time," to remind folks he's been dealing dimes #wizards

— Michael Lee (@MrMichaelLee) May 12, 2014
The half ended in dramatic fashion, as Wall took the ball the length of the floor, put it behind his back and finished at the rim to give the Wizards a 55-38 lead at intermission. ESPN's Myron Medcalf was certainly entertained:
If John Wall had pulled off that around-the-back stuff on the playground, they would have shut the game down, sent everyone home.

— Myron Medcalf (@MedcalfByESPN) May 12, 2014
ESPN Stats & Info pointed out the most important stat of the first 24 minutes:
Wizards outscoring the Pacers 20-0 in transition

— ESPN Stats & Info (@ESPNStatsInfo) May 12, 2014
Once the second half began, it didn't take long for the Wizards to reach their total from an abysmal Game 3, via ESPN Stats & Info:
The Wizards surpassed their Game 3 point total with 7:55 left in the 3rd quarter

— ESPN Stats & Info (@ESPNStatsInfo) May 12, 2014
The Pacers put together a mini spurt, but Buckner noted that it was a giant hole the Pacers were trying to dig out of, and Mannix and the NBA on ESPN highlighted a couple of reasons why they were struggling:
So, now as they try to mount a comeback (getting good contributions from D West and and PG), they're still down 62-49

— Candace Buckner (@CandaceDBuckner) May 12, 2014
Classic Lance Stephenson: Looks off Hibbert after Hibbert establishes good position, takes a contested three.

— Chris Mannix (@ChrisMannixSI) May 12, 2014
Pacers have turned it over 14 times and trail the Wizards by 15, 68-53, midway through the third quarter. #INDvsWSH

— NBA on ESPN (@ESPNNBA) May 12, 2014
Then, all of a sudden things started clicking late in the third quarter for the Pacers:
Pacers are on a 17-2 run and have cut the Wizards' lead to 2 with 1:30 left in the third quarter. #INDvsWSH

— NBA on ESPN (@ESPNNBA) May 12, 2014
Buckner, Lee and Kevin Pelton of ESPN all had various explanations for the giant run, from production from various Pacers to Space Jam-like possession of talents:
The #Pacers bench has possessed the bodies of the #Wizards starters. Only way to describe this sloppiness

— Candace Buckner (@CandaceDBuckner) May 12, 2014
Open 3 by Paul George and - what! - #Pacers down 70-66 with less than 2 mins to go

— Candace Buckner (@CandaceDBuckner) May 12, 2014
John Wall is having another rough outing. George Hill has been a monster on D, completely disrupting JW & #wizards offense

— Michael Lee (@MrMichaelLee) May 12, 2014
Not putting up the same stats, but Roy Hibbert has been as good this quarter as he was in Game 2.

— Kevin Pelton (@kpelton) May 12, 2014
The defense certainly helped Indiana get back in the game, which was critical in its Game 3 victory as well, as George said, according to the Associated Press, via ESPN.com:
"This was probably the ugliest game of the postseason thus far. This is our style of basketball. That's what we do. Whether you like it or not, are a fan of watching our games or not, defense is what we hang our hats on."
Despite Indiana's momentum, the Wizards were the ones who came out with energy at the start of the fourth. What's more, the run came from some unexpected sources:
6-0 run by the Wizards after buckets from Beal, Gooden & Harrington. We got a good one coming down to the wire. WAS up 80-74. Who ya got?

— NBA (@NBA) May 12, 2014
Al Harrington and Drew Gooden have a combined 1,795 games of NBA experience, and they're coming up big for the Wizards in the 4th. #INDvsWSH

— NBA on ESPN (@ESPNNBA) May 12, 2014
Wiz's best lineup is one with Drew Gooden, Al Harrington and Andre Miller in it. If you called that coming in, go buy a Powerball ticket

— Chris Mannix (@ChrisMannixSI) May 12, 2014
Indiana's bench was atrocious to say the least, and Bruce Feldman of Fox Sports delivered the damning statistic:
#Wizards bench has outscored #Pacers bench 27-2 tonight. Ouch.

— Bruce Feldman (@BruceFeldmanCFB) May 12, 2014
The Wizards' bench, on the other hand, was terrific.
Washington built a nine-point lead through the first half of the fourth quarter after the Pacers came all the way back to tie the score from the earlier 19-point deficit. However, George drilled two consecutive three-pointers and was fouled on the latter one.
Paul George is having the playoff game of his career. 4point play coming up

— Candace Buckner (@CandaceDBuckner) May 12, 2014
The teams traded blows and baskets heading down the stretch, and the Wizards held a narrow one-point lead with just more than two minutes remaining. George was on fire, and the contributions of Washington's bench were keeping the Wizards afloat.
Safe to say, the series was completely on the line. But George did his part to spoil Washington's party.
39 points and 11 rebounds now from @Paul_George24, and the #Pacers hold a 1-point lead. 1:24 left in the 4th: IND 92, WAS 91

— Indiana Pacers (@Pacers) May 12, 2014
With the Pacers up 92-91 with just more than a minute remaining, Roy Hibbert drained a baby hook over the outstretched arms of Nene that took the air out of the entire building:
When's the last time you saw the #Pacers TRUST Roy this much? Ball goes to the Big Fella and he responds, turns and hooks it in. 94-91

— Candace Buckner (@CandaceDBuckner) May 12, 2014
Bradley Beal missed a three on the next possession, Indiana followed that up with two critical turnovers and the Wizards hit a free throw to cut the lead to 94-92 with less than 10 seconds remaining. George Hill then went to the free-throw stripe with a chance to ice it.
He didn't do it.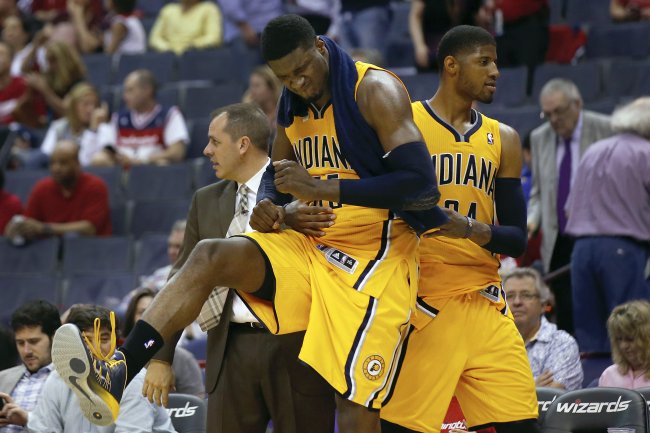 Alex Brandon/Associated Press
After Hill hit one of two free throws, Washington got the ball down 95-92 with six seconds remaining. The Wizards responded by throwing the ball away in the backcourt, validating all of those "this team is too young and inexperienced to succeed in the latter stages of the playoffs" narratives with an inexcusable mistake.
After the crippling turnover, the Pacers won the game 95-92.
What's Next?
Game 5 is Tuesday back in Indianapolis, and it is difficult to imagine the Wizards stealing it on the road after Sunday's heartbreaking loss.
The Wizards blew a 19-point lead on their home court in a must-win game and that may be too devastating to overcome. In a playoffs that has been dominated by stories about the mindset of the Indiana Pacers, it may just be the Wizards that fall apart down the stretch of this series.
What's more, George played like an absolute superstar in Game 4, and he will likely carry that momentum forward into Game 5.
It looks like we are going to get that Miami Heat and Indiana Pacers Eastern Conference finals matchup after all.