Rafael Nadal came from behind to win his fourth Madrid Open men's singles championship on Sunday, defeating Kei Nishikori after the ailing No. 10 seed retired trailing 3-0 in the third set.
The 2-6, 6-4, 3-0 victory means another Masters 1000 title for the decorated Spaniard, per ATP World Tour on Twitter:
.@RafaelNadal wins 27th #Masters1000 crown with victory at @MutuaMadridOpen. http://t.co/5YoH3NAXii #ATP #tennis pic.twitter.com/pxofeX1hb3

— ATP World Tour (@ATPWorldTour) May 11, 2014
On the other side, the 24-year-old Nishikori was playing in his first-ever Masters 1000 tournament final, and was on the verge of winning before his body began to turn against him.
But despite falling into a deep hole early, Nadal's confidence never wavered, which is fitting considering he addressed the subject on Saturday, per the Associated Press, via USA Today:
Psychologically speaking about Monte Carlo and Barcelona, whenever I had nerves, I was not ready and I was a little bit down. I am mentally more stable and more confident things will go well. This is great news going into tomorrow's match and for the future.
The opening set was completely dominated by Nishikori, who took advantage of some shaky play from Nadal, breaking the 13-time Grand Slam winner twice en route to winning comfortably, 6-2.
Tennis analyst Darren Cahill was among the many who were in awe of Nishikori's remarkable start:
Has anyone told Kei that he's playing in his 1st Masters final? that it's on clay? he's playing Rafa? that he's 0/6 v Rafa? #justchecking

— Darren Cahill (@darren_cahill) May 11, 2014
Although Nishikori was playing with immense confidence and freedom, the top storyline early was Nadal's lack of sharpness as he committed an eye-popping 12 unforced errors, drawing the attention of tennis analyst Brad Gilbert:
Wow really poor game from Rafa leads to early break for Special K

— Brad Gilbert (@bgtennisnation) May 11, 2014
With only having recorded two total winners in the first frame, Nadal was reeling heading into the second set and desperate for a shift in momentum.
The shift nearly arrived at the start of the second set, when, after being broken in the opening game, Nadal fought his way to triple break point in the very next game, only to lose five straight points and concede the game.
Sensing that the opportunity was getting away from him, Nadal began to express his frustration, as pointed out by the Wall Street Journal's Tom Perrotta:
Racket punch for Nadal. Closest you'll get to a racket throw.

— Tom Perrotta (@TomPerrotta) May 11, 2014
Nadal would finally get on the board in the third game, but took another step backward moments later, squandering another excellent opportunity to break and pull level.
Midway through the set, with time running out, Nadal began to trade patience for aggressiveness, firing away with the forehand in hopes of landing winners. The game plan would pay off as Nadal won four straight games to seize the set, converting on his first break point of the match in the process.
After Nadal broke for the first time to level the set at 4-4, the shift in mood was palpable as the crowd came to life, feeding off of Nadal's enthusiasm.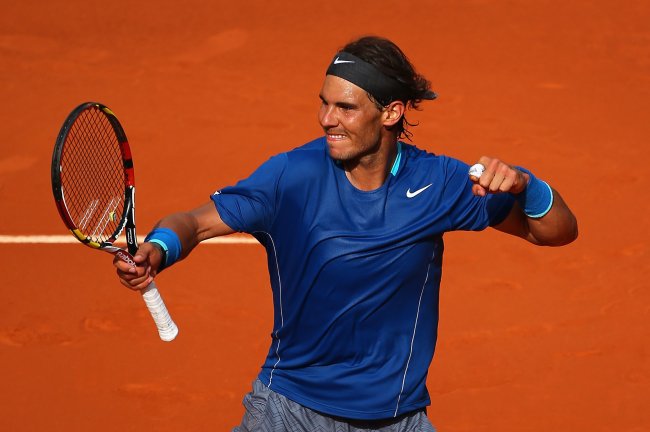 Julian Finney/Getty Images
But Nadal's improved play was aided by Nishikori's drop in form. Toward the end of the second set, Nishikori took several extended breaks on the sideline to receive treatment on his lower back and hips.
Nadal also cleaned up his game significantly in the second set, committing just six unforced errors compared to 15 for Nishikori.
Nishikori, frustrated by more than just Nadal's play, was in obvious discomfort to start the deciding set and provided little resistance down the stretch. After quickly falling behind 3-0, the top-ranked Japanese player was forced to retire, per Tennis TV on Twitter:
Kei #Nishikori retires! 3-0 down in the decider and Rafa #Nadal is the #MutuaMadridOpen champ. #tennis pic.twitter.com/RQnUtOAaPT

— TennisTV (@TennisTV) May 11, 2014
Although the loss is sure to sting for Nishikori considering he was two games away from the title, he can take solace in the fact he was able to push the greatest clay-court player of all time to the brink. Nishikori's success this past week in Madrid elevates him into the top 10 of the ATP World Tour rankings and makes him a serious dark-horse contender heading into the 2014 French Open later this month, assuming he can recover physically.
For Nadal, the victory is a positive, but the fashion in which it came is somewhat disconcerting. This time last year, the the "King of Clay" was virtually untouchable on his preferred surface. In 2014, he looks more vulnerable than ever before.
But despite hiccups in Monte Carlo and Barcelona, Nadal can carry significant momentum into the season's second Grand Slam if he can secure another clay-court title in Rome next week.
Follow Bleacher Report Featured Columnist Patrick Clarke on Twitter.