Manchester City were able to celebrate the 2013-14 Premier League title with a 2-0 win over West Ham United on Sunday, ensuring Liverpool's 2-1 over Newcastle had no bearing on the final league standings.
Samir Nasri opened the scoring for the Sky Blues right before half-time, taking a cheeky pass from Yaya Toure on the edge of the box and firing it home via the upright.
The Citizens held control of the ball for most of the match and West Ham hardly ever threatened the goal of the hosts. When captain Vincent Kompany doubled his team's lead from close range following a corner, the title seemed to be in the bag for City.
The team would hold onto the ball as the minutes counted down, and following the final whistle, the Etihad Stadium erupted as fans stormed the pitch.
The Associated Press' Rob Harris shared this image:
Pitch invasion pic.twitter.com/17rCNzJhYK

— Rob Harris (@RobHarris) May 11, 2014
Team officials had to clear the pitch to conclude the trophy ceremony, but that wouldn't hamper the enthusiasm of the fans.
The visitors never played a starring role in this final match of the season, and according to The Mirror's Dan Silver, the match might have been a microcosm of Sam Allardyce's tenure with the Hammers:
If this is Sam Allardyce's last game in charge then he's dying as he lived: unimaginative, uninspiring, unloved.

— Dan Silver (@dansilvermirror) May 11, 2014
BBC's Phil McNulty shared the manager's pre-match comments, something Liverpool fans clearly wouldn't appreciate:
Allardyce: "For us a draw is like a win." Not sure Liverpool fans will share those sentiments Sam.

— Phil McNulty (@philmcnulty) May 11, 2014
On the other end of the scale was Manuel Pellegrini, who guided his team to their second title win in three years, and his very first trophy managing a club in Europe.
Gary Lineker believes the manager deserves all the credit in the world for City's wonderful season:
Much credit must go to Manuel Pellegrini. Living proof that you can be a gentleman, play attractive attacking football and be a winner!

— Gary Lineker (@GaryLineker) May 11, 2014
Bleacher Report's Anthony Lopopolo highlights how Pellegrini joins some pretty elite company:
Mourinho, Ancelotti, Pellegrini -- all won the Premier League in their first season.

— Anthony Lopopolo (@sportscaddy) May 11, 2014
While Pellegrini was being tossed in the air by his players, Sam Allardyce took place behind the microphones. His position as manager of West Ham has been under fire for much of the season, and many wonder whether he'll be back for the 2014-15 season.
Per The Huffington Post's Samuel Luckhurst, he was having none of that, however, suggesting his longevity is proof of his competency in managing a Premier League team:
Allardyce: 'I competed at the highest level in the world for many years. There's only Arsene Wenger that's competed longer longer than me.'

— Samuel Luckhurst (@samuelluckhurst) May 11, 2014
Luckhurst thought it was clear West Ham were in no mood to extend their press-moment any longer than needed, as Allardyce clearly didn't want to talk about the future. When the manager brought up finances, the presser was effectively over:
#whufc press officer keen to wrap up quickly as Allardyce was asked about future. Suggested he needs more money to improve West Ham.

— Samuel Luckhurst (@samuelluckhurst) May 11, 2014
Pellegrini seemed humbled when asked how it felt to win the Premier League title with his club:
Pellegrini: "It's a great experience, it's not easy to come to the Premier League - the most difficult league in the world"

— Rob Harris (@RobHarris) May 11, 2014
Per the Premier League's Twitter account, his own players largely seemed to dedicate the title to their manager, led by stopper Joe Hart:
.@MCFC goalkeeper Joe Hart: "Manuel Pellegrini is a winner. He believes in what he does." #BPLfinale #MCIWHU

— Premier League (@premierleague) May 11, 2014
Harris also shared the congratulations Brendan Rodgers sent Pellegrini and City's way from Liverpool:
B Rodgers on 5Live: "Congratulations to Manchester City..have some outstanding players." Praises Pellegrini for quickly adapting to England

— Rob Harris (@RobHarris) May 11, 2014
As reported by the Daily Mail's Adam Shergold, Pellegrini himself wanted to congratulate a great group of players and the fans for a wonderful season, stating he did believe they were the best team in this year's competition:
It was very special, it is my first year here in England and it has now been easy. I think that I manage a great group of players and great fans.

We were the best team in the Premier League. It was a very special season for us, we were hardly never top, we had games postponed. But the players believed in me. It's a very special group.

I must be calm during the game because I have to make decisions. And over the whole year, there have been lots of difficult moments.

The players always believed what I told them. To play the way I like, because that is what football must be like in a great team.
Like all great managers, he immediately started looking to the future as well:
"I think this team cannot be satisfied with just one title. We have two titles this year. We will celebrate today and on Monday. On Tuesday, we will start to prepare for next year."
With two domestic titles in three seasons, it is now safe to say Manchester City officially belong to the core group of teams considered to be elite.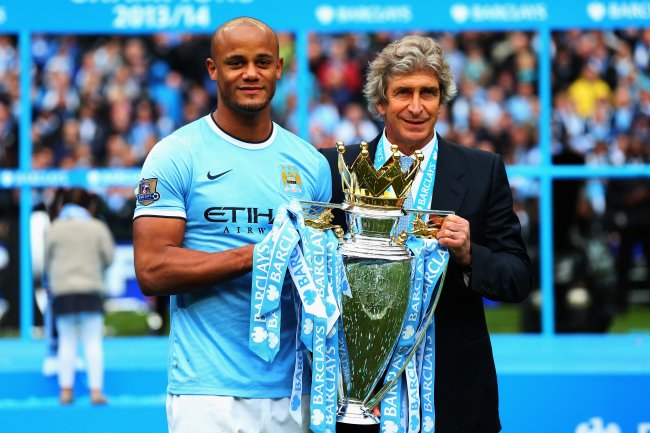 Alex Livesey/Getty Images
The next step for the Sky Blues will be international glory, as the Citizens have disappointed in UEFA Champions League competition in recent years.
Fielding one of the most expensive squads in sports history, fans will be looking for City to do more than just win the Premier League. The Mancunians want to call themselves the best team in the world, a tag that would justify their extraordinary wages.
But all of that is talk for the future. Today, City and their fans can celebrate another hard-fought Premier League title, their second in three years and first under Pellegrini.
And if the way the team rallied in recent weeks to overtake Liverpool is any indication, it won't be the last time the Citizens will be lifting the Premier League trophy.