Manchester City players will parade the Premier League trophy through the streets of Manchester on Sunday, just a day after their 2-0 home win over West Ham confirmed their second league title in three years.
Unlike two years ago, when City only claimed the title thanks to a last-gasp winner from Sergio Aguero against QPR, Sunday was a relatively nerveless affair for the Sky Blues and their supporters.
Samir Nasri bagged the first of City's goals with a long-range effort in the 39th minute of the game, and captain Vincent Kompany sealed the result when he jabbed the ball home just after half-time.
Despite needing only a draw to pip Liverpool to the title, City put on an impressive performance in front of their fans, who stormed the pitch on the final whistle to celebrate with the players.
Pitch invasion pic.twitter.com/17rCNzJhYK

— Rob Harris (@RobHarris) May 11, 2014
Read on for all the information about their celebration parade.
Date: Monday, May 11
Time: 5 p.m. BST
TV Info: Sky Sports
Live Stream: You can watch the parade at Manchester City FC's official YouTube page.
The Route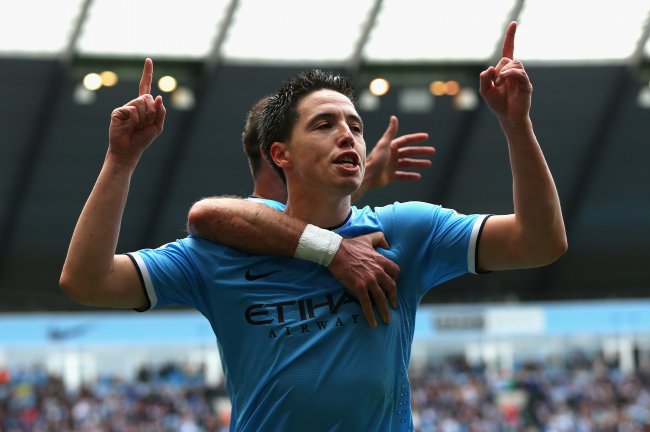 Alex Livesey/Getty Images
Manuel Pellegrini and his players will start the parade with an on-stage appearance at Manchester's Albert Square before setting off on their open-top bus tour at 6:15 p.m. on Monday, per Jennifer Williams in the Manchester Evening News.
The same publication also provides a map of the route, which will go down Mount Street, Peter Street and Deansgate before finishing in Exchange Square.
REVEALED: Manchester City's Premier League trophy parade route http://t.co/gC8YswA4nI pic.twitter.com/PYzo1r2ml1

— Manchester News MEN (@MENnewsdesk) May 11, 2014
The reason that the parade will not finish at City's Etihad Stadium is reportedly because the team needs to get on a flight to take it to Abu Dhabi.
Williams' report indicates that the parade will finish at 8 p.m. and that an estimated 100,000 City fans will line the streets to congratulate and celebrate with their team.
It may be a good time for Manchester United fans to make themselves scarce in the city centre.
It is the second time that City have been able to have such a parade in three seasons, with the 2012-13 title being taken by United.
Though being run close by Liverpool, Pellegrini's side end the season two points clear of the Reds and having scored 102 goals, just shy of Chelsea's all-time record, per 8 Fact Football:
Chelsea retain their PL record of 103 goals in a single PL season (Man City end on 102, Liverpool on 101). (OPTA)

— 8 Fact Football (@8Fact_Footballl) May 11, 2014
The celebrations on the final whistle against West Ham were raucous, with the players carrying on in the dressing room, per Sky Sports:
#MCFC captain @VincentKompany with Joleon Lescott and Joe Hart. http://t.co/2izyb8F4XX #SkyFootball pic.twitter.com/fjcqpFRYaO

— Sky Sports Football (@SkyFootball) May 11, 2014
Goalkeeper Joe Hart was quick to compliment his manager post-match talking of the Chilean in glowing terms, per the Premier League:
.@MCFC goalkeeper Joe Hart: "Manuel Pellegrini is a winner. He believes in what he does." #BPLfinale #MCIWHU

— Premier League (@premierleague) May 11, 2014
Goalscorer Nasri also hinted at the influence of Pellegrini, suggesting that team spirit has proved a key part of this title winning season, per The Telegraph's Sumant Singh Bhatia:
Nasri: the difference this season ' we were friend in the dressing room.. We put egos to one side.' Good on Pelligrini

— sumant singh bhatia (@sumantbhatia) May 11, 2014
Impressive all season, City deserve their victory and there will likely be much more celebrating before Monday's parade.
The next aim must be to retain the title next season, something they failed to do at the first attempt, perhaps because they had lost the intensity that goes with winning a first Premier League.
However, before they get to next season's planning there is a parade to be had, and Manchester city centre will be awash with sky blue colours for Monday's event.