On June 7, the sporting world will fix its gaze on California Chrome, the Triple Crown and the 2014 Belmont Stakes.
After all, everyone loves to watch history in the making.
That's exactly what the thoroughbred will aim for with the ever-elusive Triple Crown title in his sights in New York.
With 2014 Kentucky Derby and Preakness wins already in tow, everyone wants to know: Can California Chrome and his handlers become the first Triple Crown winners since 1978, or will his bid for the historic achievement fall short like War Emblem's, Funny Cide's and Smarty Jones' before him?
Much of the answer will likely hinge on the performances of the other contenders in the race. Here's a look at the provisional field from the Belmont Stakes' official site.
Belmont Stakes 2014 Field

| | | |
| --- | --- | --- |
| Horse | Owner | Trainer |
| California Chrome | Steven Coburn & Perry Martin | Art Sherman |
| Commanding Curve | West Point Thoroughbreds | Dallas Stewart |
| Commissioner | WinStar Farm | Todd Pletcher |
| General A Rod | Skychai Racing LLC & Starlight Racing | Mike Maker |
| Kid Cruz | Vina Del Mar Tb's & Black Swan Stb. | Linda Rice |
| Matterhorn | Mrs. John Maginer, Michael Tabor, and Derrick Smith | Todd Pletcher |
| Medal Count | Spendthrift Farm LLC | Dale Romans |
| Matuszak | George Prussin | Bill Mott |
| Ride on Curlin | Daniel J. Dougherty | William Gowan |
| Samraat | My Meadowview Farm | Richard Violette Jr. |
| Social Inclusion | Rontos Racing Stable | Manuel Azpurua |
| Tonalist | Robert S. Evans | Christophe Clement |
| Wicked Strong | Centennial Farm | James Jerkens |
belmontstakes.com
For now, all that's available is a list of contenders. When the official draw for post positions takes place June 4, the odds will provide a clearer picture of what California Chrome will be up against.
However, with the amount of experience in the field, it's already clear which horses figure to be major factors.
The Runners-Up: Commanding Curve and Ride on Curlin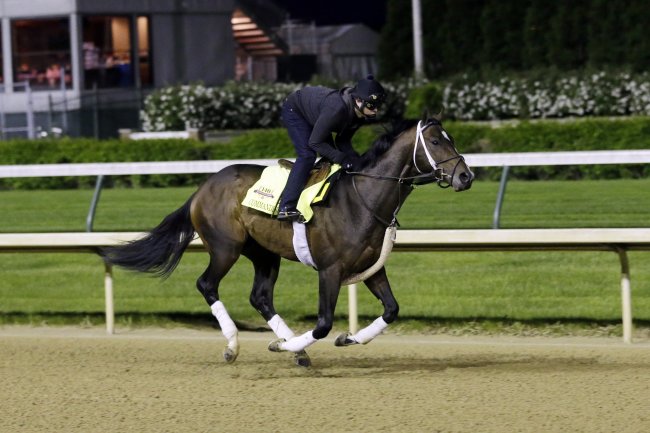 Morry Gash/Associated Press
If you're looking for horses with the potential to upset California Chrome's bid, you won't have to look down the list of Derby and Preakness results. Both Commanding Curve and Ride on Curlin are slated to be in the field on Saturday.
Commanding Curve should be one of the most menacing challengers for the Derby and Preakness winner. He not only took second in the Derby, but he also stayed out of the Preakness. The extra weeks of rest might just be enough to compensate for any speed deficiency the colt may have against California Chrome.
Most importantly, he's showing the kind of endurance needed to succeed in the 1 1/2 mile race, per Mike Welsch of Daily Racing Form:
Commanding Curve certainly looks fit and ready for Belmont gallops impressive 2 3/8 miles the last 1/2 mile stronger than the first.

— Mike Welsch (@DRFWelsch) May 30, 2014
Ride on Curlin's performance to this point can't be discounted either.
The William Gowan trained colt has steadily gained momentum—and distance—on California Chrome in his previous Triple Crown performances while finishing seventh in the Derby and second in the Preakness.
As the NYRA tweeted, the horse has looked impressive training at Belmont:
[Video] Preakness runner-up Ride On Curlin turned in a strong gallop this morning over the Belmont Park main track http://t.co/Vz2xWdD8Xo

— NYRA (@TheNYRA) May 27, 2014
Well-Rested Long Shots: Wicked Strong, Samraat and Medal Count
When picking winners of the Belmont, Marty McGee of Daily Racing Form brings up a startling trend: Seven of the last 14 winners in New York competed in the Kentucky Derby and sat out the Preakness before ultimately winning the Triple Crown's final leg.
This year, the list of horses who ran in the Derby and skipped the Preakness includes not only Commanding Curve, but also Wicked Strong, Samraat and Medal Count.
Of those, Wicked Strong could be the most problematic for California Chrome. The colt was considered a strong contender in the Derby after winning the Wood Memorial Stakes, but ultimately finished fourth.
With plenty of time to ensure the horses are in top condition for the final leg, it's a good bet these three will put in a strong showing to finish out the Triple Crown series.
The Favorite: California Chrome
Regardless of historic trends and the large field of contenders, California Chrome is still the best horse in this race.
There are reasons that he won the first two legs of this Triple Crown.
His ability to keep up with the fastest sprinters out of the gate while maintaining the stamina needed to pull away down the stretch makes him ideal to break the Triple Crown's title drought.
Concerns over his ability to run three races in five weeks are apparent, but as Welsch reports from Belmont, his times are consistent with a horse ready to make history.
California Chrome looks super in final Belmont prep cruises 4F in :47.47 with monster gallop out, :59.59, 1:12.76, 1:26.34 up mile 1:40.92

— Mike Welsch (@DRFWelsch) May 31, 2014
That certainly won't be easy.
Several horses have come this far since Affirmed in 1978 only to come up short. From a strong field of contenders to the sheer length of the Belmont track, there's plenty of adversity for California Chrome to overcome Saturday.
Then again, adversity hasn't stopped him thus far.