Throughout the 2014 NBA playoffs, we've seen some dramatic twists and turns, down-to-the-wire finishes and unexpected results.
On Saturday, two series' enter Game 3: The Brooklyn Nets will attempt to regain their regular-season form against the Miami Heat, and the Portland Trail Blazers look to climb out of an early hole against the San Antonio Spurs.
Both the Heat and Spurs are up 2-0 against their respective opponents, but both teams now face the daunting task of keeping their momentum going on the road.
Certainly, each of these pivotal games shouldn't be missed.
Let's take a look at both games' pertinent viewing information and predict the outcome of each.
Miami Heat vs. Brooklyn Nets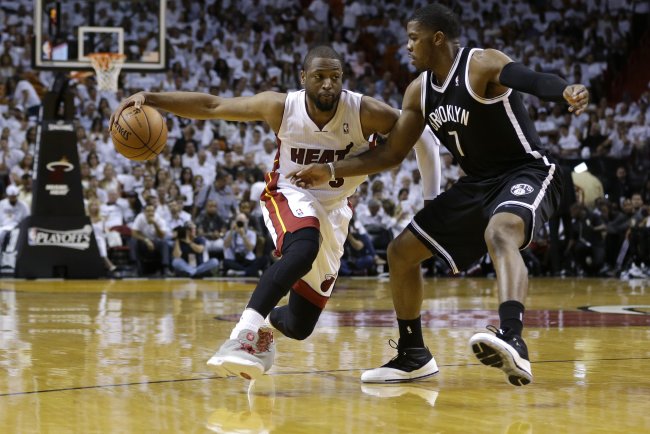 Lynne Sladky/Associated Press
Series: Miami leads 2-0
When: Saturday, May 10
Where: Barclays Center in Brooklyn, New York
Time: 8 p.m. ET
Channel: ABC
Prediction
After the Nets dominated the Heat during the regular season, the tables have turned in a big way.
Not only have LeBron James and Co. won the first two games of the series, but they have done so in decisive fashion, routing the Nets in each contest.
Miami continues to get solid production from each of its starters. It's certainly not a one-man show for the Heat, as five different players scored double-digit points against the Nets in Game 2.
Heat beat Nets in Game 2, 94-83. LeBron James drops 22 in win as Heat remain undefeated (6-0)in playoffs. pic.twitter.com/BEv8RaA3VC

— SportsCenter (@SportsCenter) May 9, 2014
During a press conference with the Associated Press, via ESPN.com, after Game 2, James put his team's production simply: "That's what our team is all about. We don't really care who scores."
Although the Nets found production from multiple players as well, the dismal performance of Deron Williams—he went 0-9 from the field—didn't set the team up for success.
Not only does Williams need to step up in Game 3, but Kevin Garnett and Co. must keep dominating the boards and out-rebounding Miami.
Expect a better performance from the Nets at home. They'll win the battle in the paint, and we should see far better output from Williams. Although, stopping the Heat onslaught is a daunting task. This one should come down to the final seconds..
Heat 98, Nets 94
San Antonio Spurs vs. Portland Trail Blazers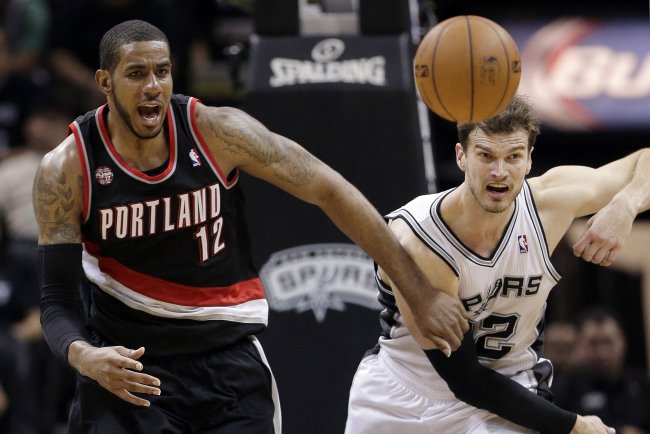 Eric Gay/Associated Press
Series: Spurs lead 2-0
When: Saturday, May 10
Where: Moda Center in Portland, Oregon
Time: 10:30 p.m. ET
Channel: ESPN
Prediction
Through two games, the lack of the Trail Blazers defense has shown through in a big way.
San Antonio has scored 116 and 114 over the series' first two games, respectively. Meanwhile Portland simply doesn't have the offensive firepower to keep up.
The experience on the Spurs' roster continues to shine in the playoffs, with seven different players coming through in the clutch and scoring double-digit points in Game 2.
The Trail Blazers still have no answers for the Spurs' offense, as SA rolled to a 114-97 Game 2 rout of Portland. http://t.co/czlh1MSw0c

— Sports Illustrated (@SInow) May 9, 2014
Although the Trail Blazers have seen some shining moments from their stars, the depth simply isn't there. Portland has done a fine job in the paint; however, accuracy issues have been a problem for this team.
After the game, LaMarcus Aldridge spoke to the Associated Press, via ESPN.com, regarding his team's offensive struggles:
"We missed a lot of shots. I definitely wasn't in a good rhythm tonight. I missed two dunks and four or five layups, so if those shots go in, then the whole game is different."
Portland hung in there for three quarters during Game 2; although, the 41-25 onslaught from the Spurs in the second quarter was simply too much to overcome.
If the Trail Blazers can't find their rhythm at home immediately, this series will get completely out of hand. Portland is a great home team, so the team should be able to steal one away on Saturday.
Trail Blazers 104, Spurs 97