The Cleveland Browns pulled the improbable in the first round of the 2014 NFL draft. They made logical, bold picks with cool calculation. After countless incompetent regimes at the helm, fans no doubt held their breath as new general manager Ray Farmer took matters into his own capable hands, swinging three total trades.
When the dust settled, any lingering uncertainty as to whether Farmer was the right man for the job was extinguished. Farmer had, for lack of a better term, crushed the pivotal opening stretch of the most important draft in Browns history. At age 39. In his first time ever running the war-room show.
Not only had he landed the most talented cornerback in the draft, but he took a flier in his final maneuver to draft Texas A&M Heisman Trophy-winning quarterback Johnny Manziel at No. 22 overall.
Manziel was thought to be a target following the first trade, in which the Buffalo Bills gave up a 2015 first-round pick along with another to snag Clemson's Sammy Watkins. Incurring such a steep cost for a receiver in a draft absolutely loaded at the position had to seem too good to be true when Farmer got the call for that deal.
That dropped Cleveland to ninth overall before Farmer called for another move, up one spot and at the cost of a fifth-round pick, to No. 8 in place of the Minnesota Vikings. There the Browns selected Oklahoma State cornerback Justin Gilbert, a potential All-Pro to pair with Joe Haden in the secondary.
At least where yours truly was watching the draft unfold, few were smitten with the decision. If any clamoring fans were present at the time of that pick with the Browns brass, President Alec Scheiner may have had to play referee, a la Dr. Strangelove.
"...You can't fight in here—this is the war room!"
Disappointment was the initial reaction, because by moving ahead of Minnesota, speculation swirled that Cleveland might nab Manziel. There was even talk of Farmer attempting to move to No. 11 after choosing Gilbert, but that deal with the Tennessee Titans fell through, per ESPN's Adam Schefter:
Cleveland made a strong effort to trade up again to No. 11 just now. But ultimately, Browns just bailed. Titans picking.

— Adam Schefter (@AdamSchefter) May 9, 2014
So the draft wore on. Fans may have been impatient, but Farmer was not. The quarterback who soared to the top of many experts' draft boards sat in the green room at Radio City Music Hall. On that big stage in the Big Apple, Manziel was humbled beyond his own evident belief, sipping water, seeming uncomfortable staring into the camera for the first time.
The quarterback-starved franchise that passed on Manziel twice sat tight at 26th overall, and through 21 picks, was still available—oddly vulnerable, and a somewhat sympathetic figure.
That's when Farmer pulled off the gutsiest maneuver to outdo them all, sacrificing one of the team's two third-round picks in this year's draft to snag the potential savior under center. Not a bad exchange, in the opinion of NFL Network's Andrew Siciliano:
So the Browns ended up trading Trent Richardson and a 3rd round pick for Johnny Manziel.

— Andrew Siciliano (@AndrewSiciliano) May 9, 2014
The fired Joe Banner-Mike Lombardi brain trust traded Trent Richardson to the Indianapolis Colts and in the end afforded Farmer the chance to get Manziel. Too often in the past Cleveland has not capitalized on these extra potential players, though. None of them seem to pan out.
Manziel is the splash that will steal headlines, put the Cleveland Browns back on the map and embellish the impassioned organization's brand before he even sets foot on the gridiron. But Farmer had to lay it all on the line when the rest of the league felt Manziel was unworthy. He had to cannonball into the murky abyss that could accompany such a high-risk investment.
In his opening news conference, Manziel discussed how he embraced the big stage—something he's backed up on the collegiate gridiron and intends to in the NFL—per the Browns' official Twitter account:
Manziel: "I feel like the bigger the stage, the more energy and the more passionate I am."

— Cleveland Browns (@Browns) May 9, 2014
If Johnny Football does indeed bring that "it" factor and winning football back to Cleveland, Farmer deserves a massive amount of credit for his brilliance on draft day. There was no tougher spot for a first-time GM to be in, charged with saving the franchise from another calamitous draft of wasted top picks and rebuilding for next year, as always.
By snagging the 2015 first-rounder from Buffalo and landing Gilbert and Manziel, Farmer didn't blink in the face of unimaginable scrutiny.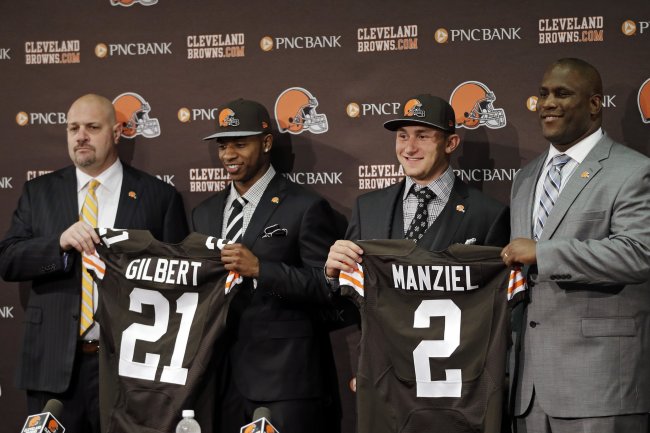 Mark Duncan/Associated Press
What grade would you give Ray Farmer for Round 1 of the Browns' 2014 draft?
The man who kicked off his tenure by
releasing
longtime defensive leader
D'Qwell
Jackson got perhaps the NFL's next
lockdown
cornerback in Gilbert and the potential culture-changing face of the franchise in
Manziel
. All in one night. Combine that with a strong haul in free agency, and Farmer is looking well up to the task of being a stable, decisive force in the front office.
It's dangerous to lionize either Farmer or Manziel for their merger before anything's been proved on the field, but every time Manziel has been doubted before, he's exceeded the hype and lit up the scoreboard. Look no further than the plethora of future NFL studs he torched in two games against Alabama in college.
The good faith displayed by Farmer to take such a risk, combined with the chip on Manziel's shoulder that had to grow at an exponential rate on Thursday, makes this a perfect marriage. Not to mention, by the way, offensive coordinator Kyle Shanahan is the ideal play-caller to fit Manziel's unique skill set. NFL Network's Jeff Darlington says as much:
You'll hate on this tweet, guaranteed, but Browns OC Kyle Shanahan and Johnny Manziel will be great for each other in Cleveland.

— Jeff Darlington (@JeffDarlington) May 9, 2014
Former undrafted free agent Brian Hoyer, starter of three NFL games, stands between Johnny Football and trying his hand as the 21st starting QB for Cleveland since 1999. While Manziel remained respectful in his presser, Hoyer is apparently eager to embrace the competition, per Cleveland.com's Mary Kay Cabot:
Manziel on Brian Hoyer: "I want a guy who's competitive and I wouldn't expect anything less."

— Cleveland Browns (@Browns) May 9, 2014
#Browns GM Ray Farmer reached out to Brian Hoyer about Manziel. He said "bring him on.''

— Mary Kay Cabot (@MaryKayCabot) May 9, 2014
Manziel's Twitter biography reads, "Nothing Was The Same." For the sake of Browns fans, the organization and Farmer's job security, the hope is that holds true for Manziel as he seeks to turn around years of misfortune and choleric ineptitude at the most important position in sports.
Cleveland deserves a winner. Farmer and Co. believe Johnny Manziel will deliver. Aversions to taking the plunge on Manziel earlier in the draft order aside, there is a genuine conviction from Farmer's decision-making that has been sorely lacking in his predecessors.
Farmer knew what he wanted, and he did what he had to in order to get it. Far from a novice, let's be honest—Farmer is the first executive in recent memory who can be trusted. Cleveland is moving into this new Browns era packing more promise and punch than prior plighted, platonic platoons.