On Day 1 of the 2014 NFL draft, the Carolina Panthers made only one selection—Florida State wide receiver Kelvin Benjamin—but the night gave insight into the team's intentions for the remainder of the draft.
Hint: Carolina's giving quarterback Cam Newton what he asked for.
Leading up to the draft, concerns were rising that no viable first-round receivers would be left on the board by the time Carolina went on the clock with the 28th pick. Similar fears rose about whether talent would remain at a position of bigger need—offensive tackle.
However, the expected run on receivers and linemen instead turned into a run on defensive backs, of which nine were selected in the first round.
This left the Panthers with a handful of directions to head in with their pick, as the remaining talent was rife with receivers and tackles.
Read on to find out what Benjamin's selection tells us about Carolina's intentions for Day 2 of the draft and beyond, as well as how the team will react to the draft moves made by its division opponents.
That Was for You, Cam
Ronald Martinez/Getty Images
It's fair to assume that Cam Newton was looking for a little bit of help on the offensive side of the ball heading into the draft. With zero receivers on the roster who caught a pass for the Panthers in 2013, the team was bound to bring in help at the position. However, it was tough to nail down which round it would find that player in.
In the end, it appeared Carolina was set on taking Kelvin Benjamin if he was available at No. 28 overall, as it took only 90 seconds to send in its selection.
Newton has yet to play with a big-bodied receiver like Benjamin (6'5" 240 lbs) so he was predictably happy with the choice, sending out a welcome tweet on the inaugural day of his Twitter account.
Welcome to the @Panthers Kelvin Benjamin! Congrats and get ready to #KEEPPOUNDING

— Cameron Newton (@CameronNewton) May 9, 2014
Cam has battled issues with overthrowing receivers throughout his professional career, so Benjamin is likely a better fit in Carolina than anywhere else.
Offensive Line on Day 2?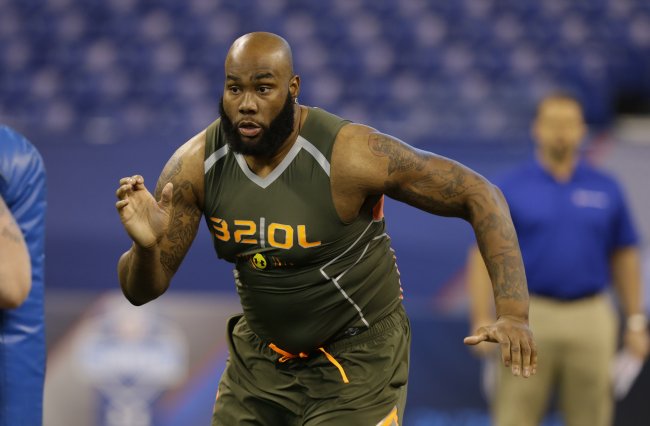 Michael Conroy/Associated Press/Associated Press
The downside to drafting a receiver in the first round is that the Panthers ignored a position of bigger need—offensive tackle. While general manager Dave Gettleman is confident in Byron Bell's ability to slide over to the left side, per Joseph Person of The Charlotte Observer, the team is then left with a hole at right tackle, where Bell started in 2013.
The upside is that no offensive tackles were taken in the first round after Carolina's pick, and three talented options remain: Virginia's Morgan Moses, Alabama's Cyrus Kouandjio and Nevada's Joel Bitonio.
Each comes with their share of issues, but you aren't going to find perfect prospects on Day 2. Moses struggles to stay in shape, Kouandjio is maddeningly inconsistent in pass protection, and Bitonio projects to bump down to guard due to his lack of size (6'4", 304 lbs).
Kouandjio seems to be the best fist for the Panthers, as he's the best run-blocker out of the three and projects to begin his career on the right book end.
Double Dipping at Receiver Is a Possibility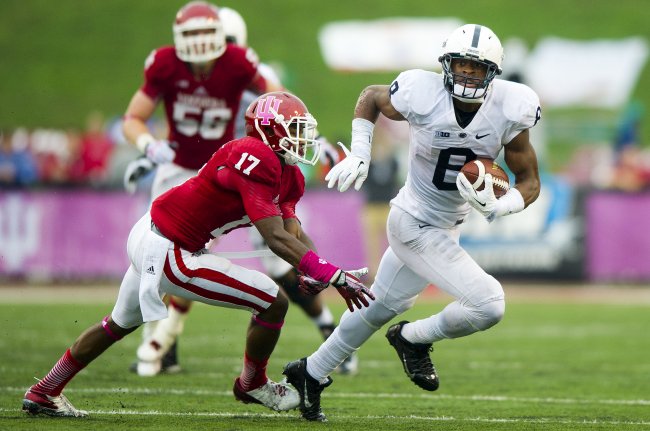 Doug McSchooler/Associated Press/Associated Press
What's better than getting one true No. 1 receiver in the draft? The answer: getting two No. 1 receivers in the draft. And the good news is that the Panthers won't have to trade up to accomplish that.
Penn State's Allen Robinson is a prospect who's receiving little attention from NFL teams, but Carolina is one of the few that showed definite signs of interest.
Interesting RT @Rand_Getlin: The #Panthers are traveling for a last minute meeting with former #PennState WR Allen Robinson, per a source.

— Ian Rapoport (@RapSheet) May 3, 2014
And apparently the interest is reciprocal, with Robinson speaking about the Panthers on CBS Radio's Mac Attack: "I think it's a great place, a great organization and they have amazing coaches. It would be a great opportunity for me."
Robinson was the Big Ten's leading receiver for the past two years, looks like a running back with the ball in his hands and should be available when the Panthers' second-round pick comes up.
The issue here is that drafting another receiver would not only ignore the team's need at tackle, but it would also give the squad too many receivers—you never imagined that that would be a problem facing the Panthers this offseason, did you?
With four starter-caliber players—Benjamin, Jerricho Cotchery, Jason Avant, Tiquan Underwood—already on the roster, drafting a receiver could be a poor allocation of resources, but don't rule it out.
Carolina Is Content with Its Secondary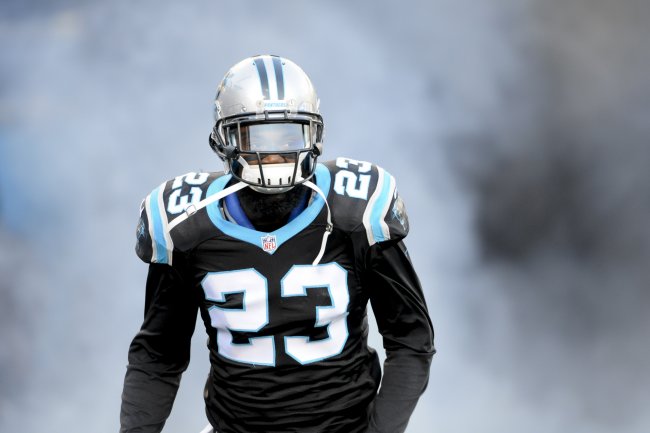 MIKE MCCARN/Associated Press
Selected with the No. 24 and 25 picks, just a few spots ahead of Carolina, were talented cornerback prospects Darqueze Dennard and Jason Verrett. Both are good enough to have started for the Panthers in 2014, but the team appears happy with the defensive backs already on the roster, opting not to trade up a few spots to draft either.
The Panthers are very young in the secondary, with only one player, safety Roman Harper, over the age of 30.
However, it's tough to doubt the strategy of withholding resources from the cornerback position after the team's success with similar talent last season. With a league-leading pass rush, the Panthers don't need elite cornerbacks to be effective in pass defense.
Division Rivals Are Targeting Panthers' Defensive Weakness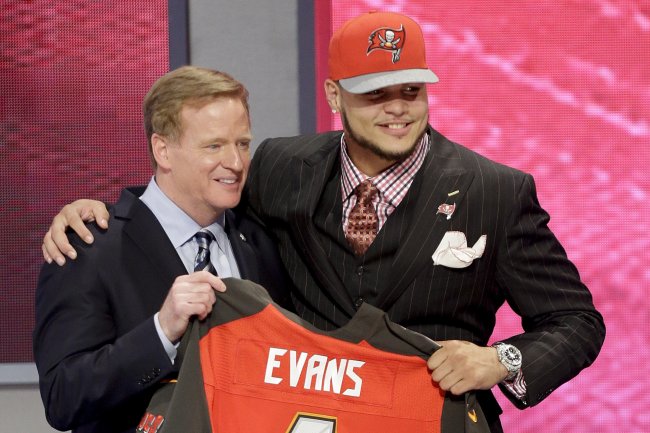 Frank Franklin II/Associated Press
While the Panthers were ignoring the weak point of their defense in Round 1, division rivals New Orleans and Tampa Bay were targeting it. New Orleans traded up to draft Oregon State receiver Brandin Cooks and Tampa Bay selected Texas A&M receiver Mike Evans.
Both will challenge the Carolina defense in different ways—Cooks is a speed demon with excellent lateral agility and after-the-catch potential, while Evans is a 6'5" possession receiver similar to Carolina's Benjamin.
This is not all negative for the Panthers, however. Both teams had big needs on the offensive line and ignored them in the first round. If they are unable to fill those holes later in the draft, they may not have enough time in the pocket to get the ball to their first-round picks.