Updates from Friday, Oct. 10
Sky Sports has an update on the FA's plan to use B-teams:
BREAKING NEWS: FA Chairman Greg Dyke admits proposals to introduce Premier League B-Teams won't go ahead #SSNHQ pic.twitter.com/0Q8XaCzapY

— Sky Sports News HQ (@SkySportsNewsHQ) October 10, 2014
Original Text
FA chairman Greg Dyke has detailed plans to install a Premier League B-team structure into the English football system, adding League 3 to accommodate the new idea, in a bid to promote homegrown talent throughout the country.
Dyke's 80-page report called upon 650 figures within the game and can be read in full on the FA's website. While the commission details changes to the loan system and work permit proposals in the national game, the creation of a fifth professional league is sure to grab most headlines.
Sky Sports News provided details of the proposed system's intricacies:
'B' teams to compete in newly-created League 3, can not progress to the championship or compete in FA or League cups

— Sky Sports News (@SkySportsNews) May 8, 2014
'B' team squads of 25 must include at least 20 home-grown players, only three can be over 21-years-old - tune into SSN for further details

— Sky Sports News (@SkySportsNews) May 8, 2014
Dyke indicated he wishes to increase the number of English players regularly participating in Europe's top five leagues, per the FA:
GD: What is our target? By 2022, we want 90 English players playing regularly in the top 5 Euro leagues,compared with 66 today #FACommission

— The FA (@FA) May 8, 2014
Such a dramatic change has understandably produced a number of reactions across the footballing sphere. Oliver Kay of the Times indicates Dyke's initiative has received the backing from key Premier League clubs:
Dyke says Liverpool, Man City, Man Utd, Stoke and Tottenham all support the recommendations re 'B' teams in lower divisions

— Oliver Kay (@OliverKayTimes) May 8, 2014
Henry Winter of the Telegraph believes B-teams could negatively impact the Football League's currently quality:
The risk with B teams is they will damage the Football League's historic, competitive ebb and flow (forming blockages)

— Henry Winter (@henrywinter) May 8, 2014
Lower league clubs may find the implementation of a new league irritating, particularly as Premier League B-teams are likely to halt established sides from gaining promotion. Darragh MacAnthony, chairman of Peterborough United, believes the idea prioritises top-flight clubs and the national side too readily:
My thoughts on this B team scenario - It's all about ME,ME & ME from the FA/Prem & to hell with the rest of you. Cant be allowed to happen!

— Darragh MacAnthony (@DMAC102) May 8, 2014
Manchester United centre-back Rio Ferdinand, who took part in the commission, urged the need for debate and indicated such changes won't be celebrated by all:
1) Anyone who cares about the game in our country knows something needs to be done about the lack of England players..

— Rio Ferdinand (@rioferdy5) May 8, 2014
2) playing regularly in the Premier League. That's why the work of The FA Chairman's England Commission matters...

— Rio Ferdinand (@rioferdy5) May 8, 2014
3) ... and I was buzzing to be involved. We spoke to lots of people from grassroots to the top level of the European game

— Rio Ferdinand (@rioferdy5) May 8, 2014
4) We don't have to agree on everything, but I urge all England fans to read the report. The debate needs to be had...

— Rio Ferdinand (@rioferdy5) May 8, 2014
5) If you care about English football and it's players, join the debate #facommission

— Rio Ferdinand (@rioferdy5) May 8, 2014
Leading European nations such as Spain and Germany utilise a similar system, where B-team players are provided with the opportunity to face experienced professionals away from the nation's top flight. Barcelona B—a team that used to host Andres Iniesta, Xavi Hernandez and Lionel Messi alongside many other legends—is perhaps the most famous example of a successful second side.
Dyke's commission called upon numbers from Spain, where a greater percentage of homegrown talents represent top clubs, per Sam Wallace of the Independent:
Dyke: Spanish players aged 18-21 years play 2.6 times more competitive (league) football than their English counterparts

— Sam Wallace (@SamWallaceIndy) May 8, 2014
The report also outlined plans to tighten work permit restrictions, as too many players are currently accepted on appeal, noted by Sporting Intelligence:
Work permit overhaul another recommendation. Since 2009, 122 non-EU players to England, 50% failing to meet criteria but in via appeals.

— sportingintelligence (@sportingintel) May 8, 2014
Winter believes this tightening up is long overdue:
Greg Dyke's attack on work-permit loopholes excellent and not before time. Too many who shouldn't qualify get through on appeal

— Henry Winter (@henrywinter) May 8, 2014
Dyke also wishes to see the number of homegrown stars increase in the Premier League, while dramatically cutting the use of non-EU players outside the top flight. Kay provides the details:
Dyke report also proposes drastic increase of no of "homegrown" players per Prem Lge squad - from 8 (out of 25) to 13 by start of 2020/21

— Oliver Kay (@OliverKayTimes) May 8, 2014
Dyke report also proposes NO non-EU players outside of the Premier League: "The players are either of exceptional talent or they are not"

— Oliver Kay (@OliverKayTimes) May 8, 2014
Greg Dyke re English football: "We want the very best non-EU players [...] but not the many mediocre players"

— Oliver Kay (@OliverKayTimes) May 8, 2014
Dyke highlighted a strategic loan system that will allow teams to establish partners in the same vein as feeder clubs, detailed by Winter:
Dyke has proposed SLPs, Strategic Loan Partnerships, a new system which would effectively lead to feeder clubs by allowing wealthy clubs to place eight players in two clubs in League One or Two. The lower-league clubs would have the bitter pill sugar-coated by financial recompense from the Premier League and FA.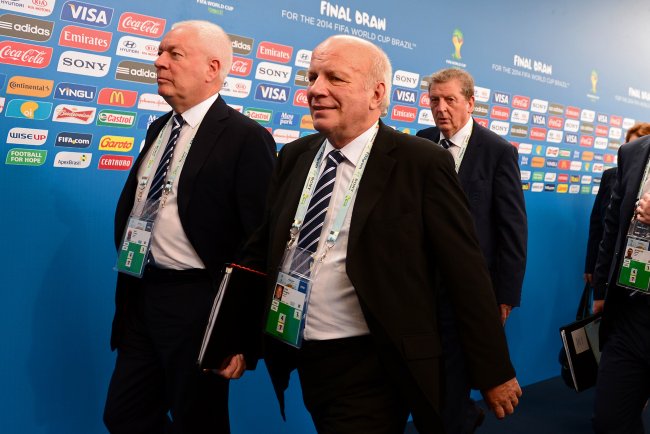 Buda Mendes/Getty Images
Do you back Greg Dyke's plans to introduce League 3, made up of Premier League B-teams?
Whether all of Dyke's plans come to fruition remains to be seen, but at last, English football is subject to a debate that has been needed for years.
The implementation of B-teams and League 3 is likely to excite if you support a Premier League outfit and frustrate if your alliance remains lower than the Championship. Dyke would be foolish to remove the importance of traditional football league sides and will need to convince many his plans can work without belittling a host of senior teams.
A fallout can be expected now the report is public. Dyke's intricate plans have the potential to dramatically change English football, and will certainly allow young talent greater opportunities to shine, but he must ensure the finalised scheme doesn't unravel other areas of the traditional setup.