Lightning in a Bottle: Five Players the Celtics Should Draft at No. 58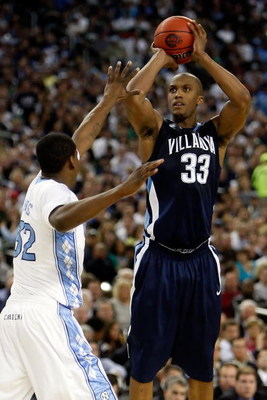 With Danny Ainge reassuring (or at least supposedly) Celtic fans that the team would not part with any of their stars to move up in Thursday's NBA Draft, Ainge and company will begin to zone in on the lone pick they do have-58th overall.
While this probably won't draw Boston fans away from tuning in for John Smoltz's Red Sox debut on the same night, there are some difference-making players who the could be a nice fit with the Celtics.
Every year we see it. Late in the draft there is seemingly always one player that ends up being a big steal-or at least someone who comes in and gives a team some quality play.
In 2006, there was Paul Millsap, Leon Powe, and Daniel Gibson. 2007 contained gems like Glen Davis, and although early, it appears that Mario Chalmers could be that guy from the 2008 class.
Other notable second round picks are Gilbert Arenas, Rashard Lewis, Carlos Boozer, and Manu Ginobili.
Here are five guys who could be great options for the Celtics at No. 58:
Jerel McNeal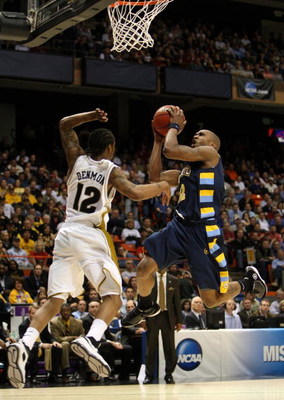 McNeal has been one of my favorite college players for the last two years. He is someone that will bring great energy and on-ball defense to the Celtics, adding to Rajon Rondo in the backcourt.
He has good range on his jumpshot and is fearless in taking the ball to the basket. He is a leader, and has a high basketball IQ that makes him a solid draft pick.
The concern I have is whether he can play point guard in the NBA. He played mostly shooting guard at Marquette in a guard-heavy offense. He is very undersized for a 2 guard in the NBA (at about 6'3").
This concern is a big one, because the Celtics already have one undersized SG in Eddie House. McNeal is a better defender than House, but not nearly the shooter.
If he ends up being capable to play the point, look for McNeal to have a nice career as a role player in the NBA.
Robert Dozier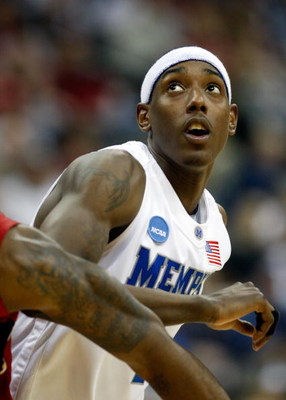 The senior from Memphis, Robert Dozier reminds me of a Darius Miles-type player.
With great height and length to go along with a decent mid-range game, Dozier could present matchup problems, and give the Celtics' bench the flexibility they desperately need.
At 6'10", Dozier could play some SF and some PF, allowing the Celtics to go either big or small.
He needs to get stronger, but he is someone who will rebound, defend, and hit jumpers over smaller defenders. He likes to get out and run, and he is good at finishing on the break.
With a decently refined offensive game, and a little more experience than other players in the draft pool, Dozier could step in right away and emerge as a stopper on the defensive end.
Dante Cunningham
Similar to Dozier, Cunningham is someone who will give the Celtics some flexibility off the bench.
At 6'8"-6'9", Cunningham is someone that can play the post, as well as outside. He is much stronger than Dozier, which gives me more reason to believe he could defend an NBA big man, although defense his not his strong side.
On the offensive end, Cunningham has a smooth jumper, and is a great scorer. He can post up smaller defenders if teams try to cover him with a SF, and he has a very trustworthy outside shot that PF's will have trouble contesting.
As I stated before, Cunningham is someone that could play the 3 or the 4, which would allow the Celtics to play with either a small lineup or a big one. He would provide some much-needed scoring firepower off the bench.
Jeff Pendergraph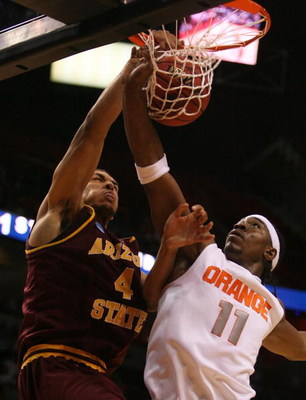 Coming out of the Pac-10, Pendergraph has been underrated in this draft class.
He is a big presence (6'10" with a 7'1" wingspan) who has above-average touch for a big man.
He has been said to have a great work ethic, and understands offense well. He was the biggest threat when he ran the pick and roll or pick and pop with James Harden at the top of the key.
He is able to finish at the rim, as well as shoot the mid-range jumper. Pierce and Harden have a lot of similarities, and Pendergraph could develop a similar chemistry with 'The Truth'.
With the Celtics lacking size on the frontline bench, Pendergraph could be a great role player at either PF or C. He is someone who will come in, and work hard, and provide instant energy off the bench.
DaJuan Summers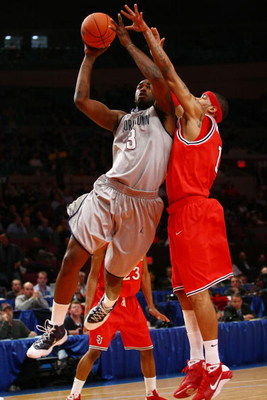 Out of all of these picks, Summers has the most upside. He is also probably the biggest project.
With the label of someone who doesn't always play hard, Summers would find his life as a Boston Celtic difficult if he does not commit himself. If he does get over his attitude problem, he could turn into a big-time NBA player.
Similar in stature to Cunningham, Summers is a bit of a tweener between a 3 and a 4.
I see him in a similar fashion to Cunningham, in that he could play the 3 or the 4 well, allowing the Celtics to play with more flexibility.
He has an NBA body, and has a good outside jumper as well as blow by ability if guarded by bigger defenders. He is someone that could present huge matchup problems in the future.
He will certainly score a lot off the bench, and if he gets an attitude make-over, he has the tools and athleticism to be able to hold his own on the defensive end and on the glass as well.
Keep Reading

Boston Celtics: Like this team?