Nuts & Bolts: Sean Avery, Mark Sanchez, Michael Irvin, & Strippers
June 24, 2009
Nuts and Bolts is the new, better name for Hetero-tainment.  This edition includes Sean Avery's newest conquest, LeBron's uncool attire, Mark Sanchez getting undressed, Tom Brady's ex-wife celebrating Fathers Day, a Michael Irvin Stripper story, and a hint of Megan Fox.
SEAN AVERY GETS SLOPPY SECONDS
Via Page Six:
HILARY Rhoda isn't just a football fan — she's also a hockey fan. Having dated new Jet QB Marc Sanchez (after posing with him in GQ and helping him celebrate his $50 million contract), the curvy brunette looked very cozy with Ranger Sean Avery last night at Brother Jimmy's in Murray Hill. "They were doing shots of Jack Daniels and Patron, and she had her hands on his arm as they canoodled at the corner of the bar," said our spy. "Sanchez was nowhere to be found."
LEBRON ROCKS D-BAG MESSAGE SHIRTS
He's set to unveil is "EASTERN CONFERENCE FINALS PARTICIPANT" shirt next week.  Disco Stu never needed to advertise.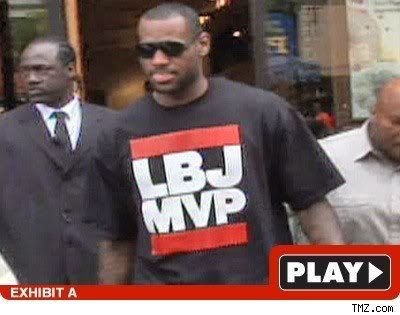 SANCHEZ IS TOO SEXY FOR HIS SHIRT
Via WithLeather:
Jimmy at Hot Clicks (via Maj) just ruined my childhood. Here's former Bengals/Jets/Cardinals quarterback Boomer Esiason is here onstage with current Jets quarterback Mark Sanchez, and they're…actually, I don't know what the hell they're doing. In fact, I stopped the video here because I really didn't want to find out what happened next. It's bad enough that Pete Rose is banned from baseball and that Johnny Bench is probably gay. There's only so much abuse a Cincinnati-area sports fan can take. Those curious can take a gander after the jump.
TOM BRADY'S EX-GIRLFRIEND SPENDS FATHERS DAY WITH FRIENDS
You know… because she's a single mother now.
Via JustJared:
Bridget Moynahan arrives at a friend's house on Father's Day in Brentwood, Calif. on Sunday (June 21).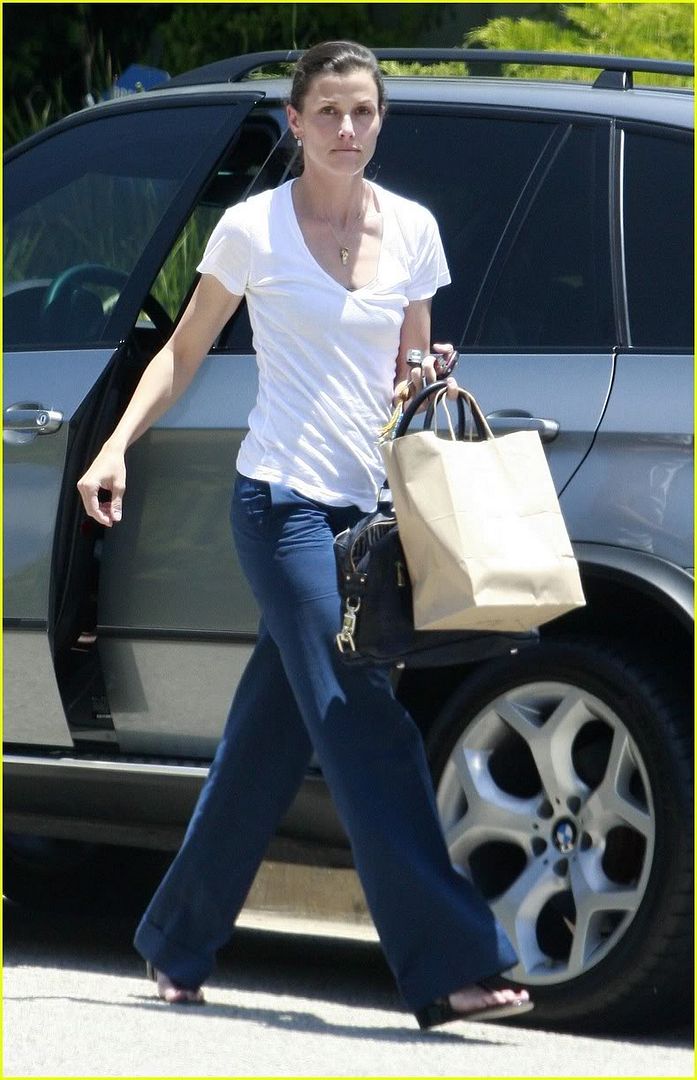 THE MICHAEL IRVIN STRIPPER STORY
When I saw Michael Irvin in Phoenix during Super Bowl weekend 2008, he immediately tried to steal abscond with a girl that was with us. So yes, he's a dog. And yes, I said abscond. This story is excellent.
Via SbB:
Well, add another one to the pile. Last night, I'm following blogging maestro Spencer Hall's live-Tweeting of Michael Irvin's new show, 4TH AND LONG, when my memory jogs and I casually ask him, "Hey, did I ever tell you about the time Michael Irvin picked up our tab at the strip club?" You can see where this is headed.

I've told this story to friends and acquaintances over the years, but this is the first time it's ever appeared in print. Is it true? Is it BS? That's for you to decide, dear reader. Only a small group of young men from northern Illinois – and one Dallas Cowboy legend – know the truth. Here's the story as I told it last night via instant messenger, edited for clarity and to protect the guilty.
COWBOYS LINEMEN SIGNED — AS A BAND
Via FanHouse:
Marc Colombo, Cory Procter and Leonard Davis are members of the Cowboys offensive line and they have this heavy metal group called Free Reign. The man who plays guitar is Justin Chapman — he's not a NFL player, but he's good at what he does.
TIGER PARTNERS WITH TONY (ROMO)
Via DC Sports Bog:
AT&T National host Tiger Woods will be grouped with Dallas Cowboys Quarterback Tony Romo during the Earl D. Woods Memorial Pro-Am on Wednesday, July 1. Also playing in the Pro-Am will be Washington Redskins Quarterback Jason Campbell, Redskins Wide Receiver Antwaan Randle El and Washington Capitals Head Coach Bruce Boudreau.
MEGAN FOX NAMED WORLD'S SEXIEST
Megan Fox is the world's sexiest woman according to FHM… which isn't even printed in the United States anymore.
Via SplashOnline:
Once again Megan Fox look stunning on the red carpet for the premiere of Transformers (need proof? Click here, here, and here). This time it was in Los Angeles at Grauman's Chinese Theatre and although Megan always plays down her gorgeous looks, the 23-year-old beauty was named the "Sexiest Woman in the World" today by FHM Magazine.